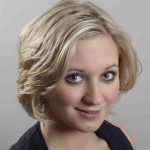 By Charlotte Smith
26 August 2010
The 2012 London Olympics will be a sensational experience for tens of thousands of talented athletes from around the globe, but for Britain's synchronised swimming team – who have failed to qualify for the Olympics far too often since it became a medal sport in 1984 – this Games will, hopefully, be the realisation of what might have been the impossible dream.
As the host nation, Britain is offered Europe's qualifying spot. The girls still have to prove that they are top-eight standard in the world to seal that place, and must convince the British Olympic Association of that before they can compete, but at least their chances of competing have improved from unlikely to probable.
Why? In part because of the way that an innovative private sector firm in the entertainment industry has helped to provide work – and therefore some money – to athletes training full-time with limited funding.
The company is Aquabatix, which provides synchro swimmers for events ranging from parties (they were the star turn at David Walliams' wedding, pictured below right) to charity events (at Hampton Court, hosted by Mikhail Gorbachev) to corporate PR work and photoshoots.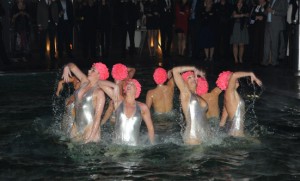 Many of the Aquabatix swimmers are on the British team, and while we're not talking about loads of money necessarily, a bit can go a long way in helping an athlete within a "fringe" sport make a decision whether to stay in that sport or not. I write as someone who's competed herself (past tense), and who's been involved with Aquabatix.
Getting to the Games is still going to be an uphill struggle for the GB swimmers, both physically and financially. Katie Fried and Adele Carlsen, the brains behind Aquabatix and both former members of the GB synchronised swimming team – remember all too well how hard it was to fund their way through their training.
"As a former British athlete, I know how difficult it is to train full-time without a salary," Katie says. "And taking time out of training to do a part-time job isn't an easy option either."
Katie took on various small jobs here and there whilst she was training, in an attempt to support herself through training.
"Obviously pool-time, coaching and accommodation [at training camps] was all paid for, but other than that, you were on your own. We just wished that there was something we could easily do for some cash here and there, which wouldn't jeopardise our training."
It was in 2005 that Katie and Adele came up with the idea of setting up a completely unique events company to realise the potential of synchro as entertainment.
Since then, Aquabatix has added a number of services to its repertoire including photography, advertising campaigns, films and even hen parties. They've travelled the world to perform in in Hong Kong, Monaco, Bejing, Portugal and Korea among other places.
Although Katie knows how talented Aquabatix athletes are, she never fails to be encouraged by the feedback.
"Sometimes it's hard to keep everything in perspective. I have spent a substantial amount of my life watching synchronised swimming, so I expect a certain standard. At some of these events, we are performing for guests who may never have seen the sport before, especially not live, so it really is quite magical for them."
Adele and Katie between them competed at European and world level as members of the GB team, and Adele won a bronze medal at the Commonwealth Games in the duet event. Katie was forced to retire after a devastating accident which left her with a back injury just days before she was due to perform at the World Championships in Perth, Australia.
"I never really wanted to give up. When I retired, I felt like there was so much more I wanted to do in sport."
She went on to work for an events company called Limelight Projects before she set up Aquabatix with Adele.
"I've worked in events management since I retired from swimming, so it's something which comes naturally to me. There is something extremely rewarding about working so hard on a mass participation event which might seem impossible at the beginning, but turns out to be a huge success. I've always said that the more you put into an event the more you get out. You have to think big to get big results."
Aquabatix represents a variety of athletes, which include world champions, Olympic medallists and of course, members of the GB team. Adele, who is also the High Performance Manager for the British team, wishes that Aquabatix had been around when she was still competing.
"Now that British synchro has centralised, there is more funding available for the athletes, but it is never enough," she says. "Aquabatix not only helps the athletes earn a bit of extra cash here and there, it's also great to promote the sport – using skilled athletes – through quality events."
And the British athletes love performing in a non-competitive environment. Lauren Smith, captain of the Great Britain team says: "Sometimes it's nice just to perform without the enormous pressure we're usually under. The audience is always impressed by what we do and we enjoy entertaining the crowd."
The company has enjoyed great success, glittering reviews and considerable media attention. Eight athletes recently performed at Shoreditch House for Walliams' wedding reception. Aquabatix met the bride and groom as well as other stars of British comedy and TV.
"It was the most fantastic event and the girls attracted quite a lot of celeb attention," says Adele. "Patrick Kielty and Davina McCall squabbled over who would tweet a picture of the girls – in their silver costumes and pink flowery caps – first. And Natalie Imbruglia told the girls that their performance was amazing."
Other highlights include that charity performance for Mikhail Gorbachev, the launch of Chanel's J12 Marine diving watch and swimming a routine as part of the Red Bull Flugtag. In 2008 Aquabatix were highly commended at the Events Awards and this year they've been shortlisted for Entertainment Act of the Year.
As for 2012, if GB make it and thrive on the international stage, you'll know part of the reason why.
You can contact Aquabatix via the website, and for a flavour of their work, have a look at their gallery.
.
Sportingintelligence home page
.
Want to comment on this story?
The subscription and comments policies of sportingintelligence have recently changed. Any user can comment on any story, however, by emailing using this link and including the story topic in the subject box. Your comments will then be manually posted by an administrator.