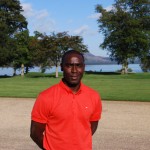 By Andy Cole
in Johannesburg
11 June 2010
The World Cup is probably going to be won by Brazil, with Spain and Argentina absolutely capable of lifting the trophy too. I expect the final to feature Brazil and one of the others. I think England, with a fair wind, could get as far as the semis before losing to Brazil.
I am fortunate enough to be in South Africa, doing some work for charity, catching a couple of England games, at least, and working in my role as an ambassador for England's 2018 World Cup bid.
I flew in yesterday and spent part of the flight puzzling over the many permutations. I can guarantee that a lot of the following predictions won't happen because our game is so full of surprises, and Amen to that.
But here is how I think, for today at least, the 2010 World Cup might pan out.
In Group A, I take the French to find form when they need it, and blimey do they need it. They are struggling to score, producing performances below the sum of their parts, and face tough competition from Mexico (who beat Italy 2-1 the other day) and Uruguay.
Big-occasion experience will tell though, and I think France will win the group and South Africa will confound expectations and go through as runners-up thanks in part to vociferous home support.
In Group B, I cannot see past Argentina. They're my dark horses for the trophy, although with Lionel Messi, Carlos Tevez, Diego Milito, Sergio Aguero and so many others, they're not exactly outsiders. They have so many goals in that team it will be frightening for opponents, especially at the early stages. The South Koreans have a tremendous work rate and the Greeks shocked everyone at Euro 2004 but I think Nigeria, on African soil, with plenty of good players from top-division sides in England, Spain and Germany, will go through.
Group C is by no means as easy as some people would have you believe. In fact I'd say England are far from certain to top that group and if the United States beat them tomorrow I would not be shocked. The MLS is a half-decent league these days, and in any case most of the Americans play at a high level in Europe.
I think the group will be won by the side who comes out on top in the England-US game and I think England can just pip their opponents to that. The other team will be runners-up while Algeria and Slovenia will battle for the wooden spoon.
The group containing Germany is a tough one but the Germans always produce at major tournaments – always. I take them to qualify ahead of Ghana but it would not surprise me if Australia toughed it out and compensated for lack of flair with sheer obduracy to squeak through. Serbia are by no means a weak link. It's Germany plus one from three, with Ghana's squad having the edge for me.
In Group E, I take the Dutch to win and I tossed a coin to pick Denmark over Cameroon as runners-up: both have merits and drawbacks. In Group F, the holders Italy will come good when it is needed and top the section ahead of Paraguay.
The so-called "Group of Death" is intriguing and if there were no doubts about the fitness and participation of Didier Drogba for the Ivory Coast, I think we could be in for fireworks and surprises. But there are doubts, and he's such a massively important player, so I take Brazil to top the section over Portugal. If Drogba is able to play and thrives, all bets are off.
That leaves Group H, which is as close as a certainty as you can get for Spain, and then I really struggle to make up my mind about the next slot. Probably not Honduras, so on a coin toss I go for Chile over Switzerland but I'm not that knowledgeable about these nations and have not seen them play enough to give resounding verdicts.
If anything, the second round becomes a little more straightforward, if the teams progress as I've suggested.
France will go through but Nigeria could easily shock them; otherwise I see wins for Argentina, England, Germany, the Netherlands, Italy, Brazil and Spain.
In the quarters England can beat France, and Argentina can beat Germany. Ossie Ardiles is always worth listening to and he said the other day Argentina have their strongest squad since 1978. Their manager might be a bit bonkers but quality should out.
The Brazilians can beat the Dutch, and Spain will beat Italy.
That gets us to the Brazil-England semi in one half (sorry Fabio, but arrivederci), and a toss-up between Spain and Argentina.
What a prospect! I'm still in two minds. A Brazil-Spain final? Fantastic. Brazil-Argentina? Dreamland. It's one of those three for me.
.
The fee for Andy Cole's column is donated to Alder Hey hospital and sickle cell anaemia research. He works on charitable projects with the sport and media team at law firm Thomas Eggar. Andy Cole's columns, or abbreviated versions, also appear in The Independent.
.
Sportingintelligence home page
.