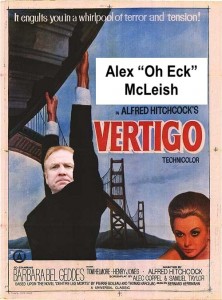 By Brian Sears
26 February 2010
Never before in Premier League history have there been so many "big cushion" wins, and by that I mean wins by three clear goals or more. Already this season there have been 50 of them altogether among 196 wins by all teams combined. In the whole of last season there were 53. The percentage of "BC" wins is running at a whopping 25.5 per cent, which is much higher than in any previous season, as today's top table (Margins of Victory) shows.
As recently as last weekend, Blackburn (by beating Bolton 3-0) and West Ham (by beating Hull 3-0) joined the other 12 clubs who have already had at least one BC win this season. Manchester United have had 10 BC wins, the greedy tinkers, while Arsenal have had nine, Chelsea eight and Tottenham five. A full list of the BC winners and losers (Hull most often take a three-goal spanking or worse) is below the top table.
And then there are six sides yet to inflict a BC win: Birmingham, Bolton, Burnley, Hull, Wigan and Wolves.
And among that goal-shy sextet, unquestionably the most remarkable story, in terms of finding a way to win by doing so as tightly as possible, is Birmingham's.
Alex McLeish must be suffering from vertigo, riding this high in the table. His team have 37 points from 26 games before this weekend's fixtures, putting them considerably closer to the Champions League places (a mere nine points upwards) than to the relegation zone (a huge 14 points below).
And yet does his side secure wins the easy way? Do they Eck? Do they 'eck.
Birmingham have won 10 Premier League matches this season, and I'll give you half an hour to guess how many of those 10 wins have been by a single goal. Go on, have a really good think . . . .
Done? Well done, that's right. All 10. Once his side go ahead, McLeish and his men spend large periods hanging on by their fingertips. But hang on they have. [Saturday evening update, 27 Feb: they did it again! All 11 wins by one goal].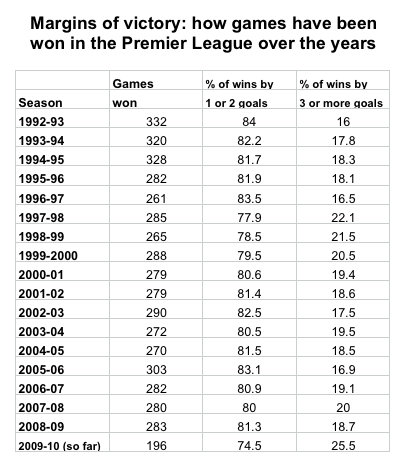 This season's winners by three or more goals
10 times: Man Utd
9 times: Arsenal
8 times: Chelsea
5 times: Tottenham
3 times: Aston Villa, Fulham, Liverpool
Twice: Man City, Sunderland
Once: Blackburn, Everton, Portsmouth, Stoke, West Ham
Yet to win by three: Birmingham, Bolton, Burnley, Hull, Wigan, Wolves
This season's losers by three or more goals
7 times: Hull
6 times: Blackburn, Burnley, Wigan
5 times: Wolves
4 times: Portsmouth
3 times: Bolton
Twice: Everton, Tottenham, West Ham
Once: Arsenal, Aston Villa, Birmingham, Man City, Man Utd, Stoke, Sunderland
Yet to suffer such a defeat: Chelsea, Fulham, Liverpool.
.
United still ahead on decisive first goal
Until last weekend, when they lost at Everton having scored first, Manchester United had won all 17 the matches in which they'd scored first. A massive 76 per cent of Premier League points overall go to the teams that score the first goal. United's figure is still 94 per cent despite last week's hiccup, and the second-best team in this regard is United's "noisy neighbour", City, whose figure is 90 per cent. In fact City are the only team of 20 not to have lost a single game this season after scoring first; they've won 11 of 13 when that happened and drawn the other two.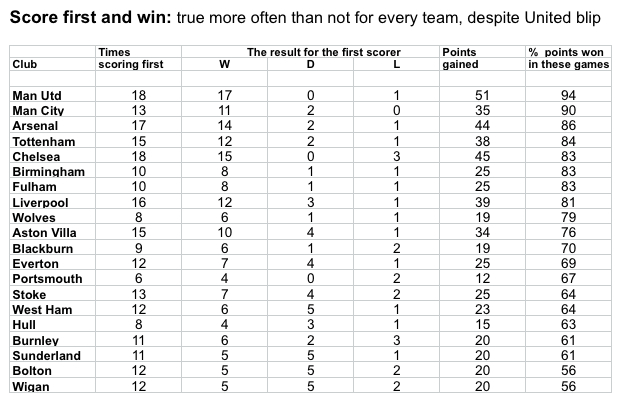 .
Have a look at the sportingintelligence home page
More articles on this site that mention Birmingham
More articles on this site that mention Manchester United