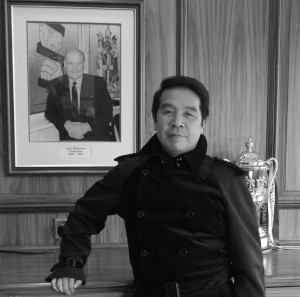 16 April 2010
Carson Yeung, the owner and president of Birmingham City, has been a man of mystery to fans and media alike since he first arrived at the club in 2007 hoping to buy it.
Most recently, yesterday, he was in the spotlight amid claims the club was about to fall under the control of investment bank Seymour Pierce because of an unpaid debt of £2.2m, although Yeung himself was not around. He was on other business in Hong Kong, from where he insisted the £2.2m is "immaterial" and will be paid if necessary, if a legal challenge fails.
If this all helps to create an impression that Yeung is elusive, then that's partly because he has been elusive, until now. Sportingintelligence's editor, Nick Harris, also writes for The Independent and for FC Business magazine, and in that capacity, he conducted the first and only in-depth interview with Yeung, for pieces in The Independent, today, linked here, and for the current issue of FC Business, whose website is here.
The interview took place in the boardroom at Birmingham on Easter Sunday, after Blues had drawn 1-1 with Liverpool. Also present was Peter Pannu, one of Birmingham's vice-chairmen, mainly to assist with translation when needed.
Space restrictions and the need to write for the specific audiences of The Indie and FCB mean there was more material than could possibly be used. And let's be frank, not every answer was going to warrant space in a piece.
But for Blues fans and anyone else wanting to hear more from Yeung himself, here is the majority of the interview, in straightforward Q&A fashion. Other material, either quotes or background, is only in the other pieces.
.
NH: Why invest in the Premier League, and why in Birmingham City specifically?
CY: This is the second city in Britain, with a population of about one million people, and if you include the conurbation of the city, you're approaching 2.2m people. If you think about Manchester as a city, that's only about 400,000 or so. We think the opportunities are just immense here. This city has got so much potential.
NH: What makes the Premier League so special? What makes you want to own a Premier League club?
CY: The Premier League is the league in the world. There are other big leagues like La Liga in Spain and Serie A in Italy but the sort of exposure that the Premier League gets is unparalleled and unrivaled. Among all [the major leagues], I'm the first man from Asia, from mainland China at any rate, to get involved and that will give me a head start in Asia, based on my businesses and connections in China. So I think I can help to promote the Premier League as a whole in China, as well as promote Birmingham.
NH: Why will you succeed where others haven't?
CY: The reason is very simple. In China, you've got to have proper business connections. China society in business terms is a very open, business-minded society. But at the same time it's a society where people like to move step-by-step. So Birmingham having a Chinese owner just might help to facilitate matters. We're not saying Manchester United or any other club is destined to fail where we might succeed. But I think that we have an advantage in terms of guanxi*. I believe for us to build up the necessary repertoire with partners is easier because of that. Other clubs probably need more time, even if they can achieve it at all. We have that benefit.
.
NOTE: *guanxi roughly translates as 'relationship' or 'connection' but is more complicated than either of those. It's an important concept in Chinese society, especially business, and describes a complex set of obligations and understandings between people.
.
NH: You have already signed the Xtep [kit] deal [for five years from summer 2010]. What other specific projects can you tell me about, that will help to grow the business in China?
CY: We've got many deals under consideration and we're having discussions about a lot of projects. Obviously I cannot tell you too much in detail because these are commercial secrets. But as part of this Xtep deal, we've got a relationship within that company and outside it that allows us to explore merchandising opportunities, and image-rights possibilities of some of our future players, which could be valuable in a country of between 1.3bn and 1.4bn people. I can't tell you too much detail because it's sensitive commercially.
Something I can tell you is our pre-season tour, when you'll see quite obviously some of the impact we're making in China. You'll see the exposure and the publicity around the club then. The tour will be three or four games, probably four although the last date has to be confirmed. There will be a game in Hong Kong against the national team, then in Liaoning, Beijing, and maybe Shanghai. It starts from about 14 July to about 28 July.
NH: I've heard that at Hong Kong airport, there is now a huge BCFC advertisement when you arrive. How has the recognition of BCFC increased already?
CY: A lot, and not only in Hong Kong, but in China too. Everyone knows Birmingham now. We're promoting a lot, including through the newspaper. The display in the airport is in association with Xtep and other sponsors and ourselves.
NH: How much of a force can Birmingham be in China?
CY: This is anybody's guess but what we can promise is promotion, strengthening of the team, and exposure. Of course I accept the fact that there are other, bigger, clubs with a well-established fan base in China; I mean the "big four" from England for example, Manchester United, Liverpool, Arsenal, Chelsea, and a few other big European teams. But China is so big that they haven't got all the fans accounted for! It might be hard to persuade some fans to change allegiance and that's not our goal. Our aim is to generate new fandom, and the country is so big that there are lots of fans to be won over, and I think we can aim to have a big share of new fans.
NH: In Hong Kong, the Premier League overseas TV rights are worth a lot of money. From summer 2010, the rights will switch from Now to i-Cable in a new deal worth about £150m over three years for Hong Kong alone, and that's with a small-ish polulation of 7m people. What does that day about the appetite for Premier League football?
CY: Premier League audiences are very faithful in Hong Kong. Most people in Hong Kong love the Premier League and it's an important competition for people there. Everywhere I go in Hong Kong people want to talk to me about it. The same in China.
The TV people in Hong Kong are also trying to engage me to promote the club and there is a station that wants to hold a competition to select some boys [from Hong Kong and China to train with BCFC coaches]. So we'll have some promotional activity with the club on TV. We'll send coaches from England, and the top boys who are selected will have a promotional attachment with our training school. We're working out the details now and the programme is imminent. That will give us exposure on TV on a weekly basis, starting in Hong Kong, then hopefully in China, from selection of these kids to what happens to them in our [affiliated] academy.
NH: The Yao Ming example in basketball showed how a Chinese player could make a foreign sport huge in China, in that case America's NBA. The NBA spent years laying groundwork for the NBA to be big in China, then when Yao Ming played there for the Houston Rockets, it became the No1 foreign sport in China. What can you learn from that?
CY: The NBA took off thanks to the combination of the potential market, then Yao Ming igniting it. I'm mindful of the promotional effect of Yao Ming, so we have something like this in our minds, that having a good Chinese player at our club could increase popularity in China. But obviously we're not going to just bring in a mediocre Chinese player. We will source the best Chinese player, in due course, and we're already looking for that player. And then we will promote him at Birmingham, and involve him in the club some way.
NH: What do you mean by "involve" him?
CY: Who knows? It could be that we can't find a player good enough to play. So we could try to find players with potential. Maybe it's actually better to sign someone who is on the verge of being very good, and then grooming them to be better within the British system, rather than taking any established player, maybe one towards the end of his career. I have already ordered colleagues in China to identify players and explore this area.
But let me be clear that this is not something that we are just doing in isolation. Alex McLeish is on top of the situation and aware of what we want to do. And there is no notion that we would ever tell Alex McLeish how to do his job or who to play.
McLeish is excellent. We couldn't ask for anyone better. He has a very good commercial sense. We're not suggesting we're going to impose a [Chinese] striker and remove James McFadden! That would be ridiculous.
But McLeish understands there is a commercial connotation if we can find a promising Chinese player. And he's excited that if we can unearth potential, and under his hand a player could be groomed to become English football's Yao Ming, that can be positive for the club.
But we're not going to get a Chinese player and replace [Cameron] Jerome or whoever. We're going to try to find players, get them to come in, train, and take it from there.
NH: In October, you said there was a plan to "support the club for £20m-£40m in January". Was that a sensible thing to say?
CY: I was in a catch-22 situation at the time. Fans wanted to know who this Chinese guy was, and what my commitment is. Had I not indicated my intention, people would have said I'm reluctant to give commitment. So I indicated my intention to invest, and I have to emphasise that the intention to invest is still there.
But to talk about specific amounts of money, in hindsight, I can see that wasn't the best thing to do for any number of reasons. We learned one lesson that suddenly prices shot up.
Money will be spent as and when it's warranted. We're not going to spend £20m on a striker or £35m on this or that player. But I will support the manager in the summer. I'm just not going to talk about figures. If it's a good investment, we'll do it.
The fans wanted to know my commitment, and I tried to indicate that. I also think we have happy fans. Our season-ticket sales have shot up, morale is high, the fans are singing. And to go back on those figures from January, in any case we were the second-highest spending club in January on two players [Michel from Gijon and Gardner from Villa, each for £3m], and it's well known we tried for more. And we will be targeting new players for this summer. But we won't be putting a figure on that.
NH: Premier League club revenues are so high now that there should be no need for the kind of financial problems we've seen at Portsmouth, for example. Coming into the League with a fresh pair of eyes, what are your views on running a sustainable business in the League?
CY: That's a very good question. Me and my management team are always discussing football finances, and control of player wages has to zealously guarded. With the sort of wages you pay in the Premier League, you need to have a fall-back option in case you are not in the Premiership. There has to ingenuity in the contracts, with clauses to protect the club in case it does not remain in the League. The magic formula of 60-70 per cent wage to turnover ratio is something we think all the clubs should be looking at.
NH: Is that something you have here, or are committed to?
CY: We're gradually changing the culture. We are moving towards that. It's about sensible, sustainable management.
NH: Have you been surprised by the relative success of this season, looking comfortable inside the top 10 and mathematically safe with five games remaining?
CY: Yes, it's been better than I expected. But we know we have a good manager in Alex McLeish, and that he understands he needs to work with certain resources. It's positive that he understands that. There are other managers who have attitude 'I don't care about how we get the money, just give me money to spend. Let me make my name at your expense.' Alex McLeish is not like that. He's a smart guy.
NH: Can you tell me a bit more about your background, your age, your family?
CY: I've just turned 50. And I've got a son, age 16, studying in England, in London, at school. His name is Ryan, named after Ryan Giggs. Really! I have been watching English football for many years, more than 30 years, and I have admired Manchester United in the Premier League, and I love Ryan Giggs. My son is a United fan.
NH: People are intrigued that 10 years ago you were a hairdresser or a barber and . .
CY: [Interjecting] . . . that was not 10 years ago. That was 30 years ago. And it's just a rumour that I was actually a hairdresser. I was the owner of a salon, which became a chain of salons, and I was also in the fashion business and expanded into clothing, and from there into other business.
NH: How would you describe your current portfolio now?
CY: The football club is part of the entertainment sector of my businesses. We also have a newspaper and magazine as part of a media company. The newspaper is called the Sing Pao. So there is entertainment and within that an interest in a casino, and investments in energy, water, property, a range of businesses.
NH: Are you involved for the long term?
CY: Yes, the very long term. I've been watching English football from when I was 16, 17, and I want to stay.
NH: Clubs including Crystal Palace, Everton and Manchester City have tried and failed to make inroads into the Chinese market. It's a difficult place to do business. When will we see if you can do better?
CY: I think from the pre-season tour, you'll see for yourself how the growing exposure in China can help us. We'll have politicians welcoming our plans, we'll get exposure.
NH: What's your dream scenario in English football?
CY: My dream for Birmingham is to do better than we're done before. If we try our best and improve from where we have been in the past, we'll be happy. I want to push them up the table but not set unrealistic targets. I want to have a realistic plan to run a football club well, and expand the reputation and business in China. I'm personally involved. I have many, many other businesses demanding attention but I come over for most home matches, flying 12 or 13 hours each way each time. Our players know about my commitment, and I think they know the boss is committed and they're putting in effort too.
NH: Are you absolutely filthily rich? How much are you worth?
CY: I'm rich enough to have a company that buys a football club for £81m. And to buy a house in London, my second home.
.
Sportingintelligence's front page
..