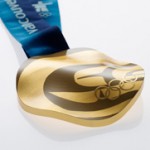 By Nick Harris
9 February 2010
Just as America is ahead in the all-time Summer Olympics gold medals table and an American (Michael Phelps) is way ahead in the all-time summer Games individual golds table, so one nation is also ahead at the Winter Olympics, in the collective and individual senses. And as the build-up to the 2010 Vancouver Games gathers pace ahead of this weekend's start, some may be surprised that it isn't a Goliath in population terms out ahead, but Norway (with 4.8m people).
In 20 Winter Games to date, Norway has won 98 Winter Olympic gold medals, as well as 98 silvers and 84 bronzes, to be No1 in the all-time list, ahead of the USA in second place, with 78-80-58. (See table below for more details). Between 12 and 13 golds is typically enough to top the medals table at any Winter Games, so Norway's place at the top looks solid whatever happens in Canada in the coming weeks. Canada will want to do well, while a record 14 golds, topped by ice hockey victory against arch rivals USA on the final day would be pure heaven.
The winning-most Winter Olympian of all time is also a Norwegian, Bjørn Dæhlie, a cross-country skier who won eight Games golds between 1992 and 1998, as well as four silvers. Dæhlie's eight golds mean that only five Olympians currently have more. All that quintet are or were Summer Games competitors: Phelps (with 14 swimming golds, plus two bronze), gymnast Larissa Latynina of the Soviet Union (nine gold, five silver and four bronze), runner Paavo Nurmi of Finland (9-3-0), swimmer Mark Spitz of the USA (9-1-1) and athlete Carl Lewis of the USA (9-1-0). More details of the most successful individual Winter Olympians are below the table.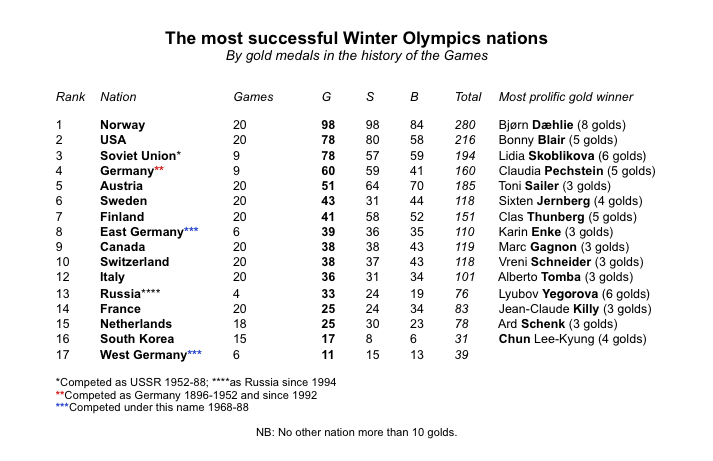 .
10 most successful individual Winter Olympians
Ranked by gold medals
RANK — NAME — COUNTRY — SPORT — G-S-B=TOTAL
1 Bjørn Dæhlie: Norway, cross-country skiing, 8-4-0 = 12
2 Lyubov Yegorova: Russia, cross skiing, 6-3-0 = 9
3 Lidia Skoblikova: Soviet Union, speed skating, 6-0-0 = 6
4 Ole Einar Bjørndalen: Norway, biathlon, 5-3-1 = 9   STILL ACTIVE, only person among these 10 to be competing in Vancouver
5 Claudia Pechstein: Germany, speed skating, 5-2-2 = 9   SERVING 2-YEAR BAN for blood doping, failed appeals to CAS then Swiss courts
6= Larisa Lazutina: Russia, cross-country skiing, 5-1-1 = 7
6= Clas Thunberg: Finland, speed skating, 5-1-1 = 7
8 Thomas Alsgaard: Norway, cross-country skiing, 5-1-0 = 6
9 Bonnie Blair, USA: speed skating, 5-0-1 = 6
10 Eric Heiden, USA: speed skating, 5-0-0 = 5
No other individual with more than five Winter Games gold medals