By Alex Miller and Nick Harris                                                            
28 July 2014
Manchester United's £47 million-per-year shirt sponsorship deal with Chevrolet has helped boost the combined shirt sponsorship income of the Premier League's 20 clubs to a record £191.35m for the 2014-15 season.
United's world-record deal was agreed and signed in 2012 on terms of $559m over seven years, starting with the coming season. The £47m-a-year is calculated at exchange rates at the time of the deal. Chevvy replace United's previous deal with Aon, worth 'only' £20m a year.
The Old Trafford club separately have on ongoing £17m-a-year sponsorship deal with AON that includes their training kit and sponsorship of the Carrington training ground. That is not included in the 20 clubs' total in the first graphic below.
Three other clubs in 2014-15 have more valuable shirt sponsorship deals than last season among those clubs in the top flight both years: Swansea's deal with GWFX has risen by £2m to £4m, Everton's with Chang has gone up £1.3m to £5.3m and Hull are making a bit more money from 12Bet than Cash Converters.
The 20 Premier League clubs combined have added £23.6m to last year's combined total of £165.75m, with only Tottenham and West Brom seeing a dip in their deals.
It is worth noting the the 'big six' clubs between them account for 79 per cent of the value of the 20 deals – or for £151m of £191m. And United's deal by itself is worth more than the 14 smallest deals combined. But even most of the smaller clubs now have multi-million pound-per-year deals, evidence of the value of having global reach via the PL shop window.
Article continues below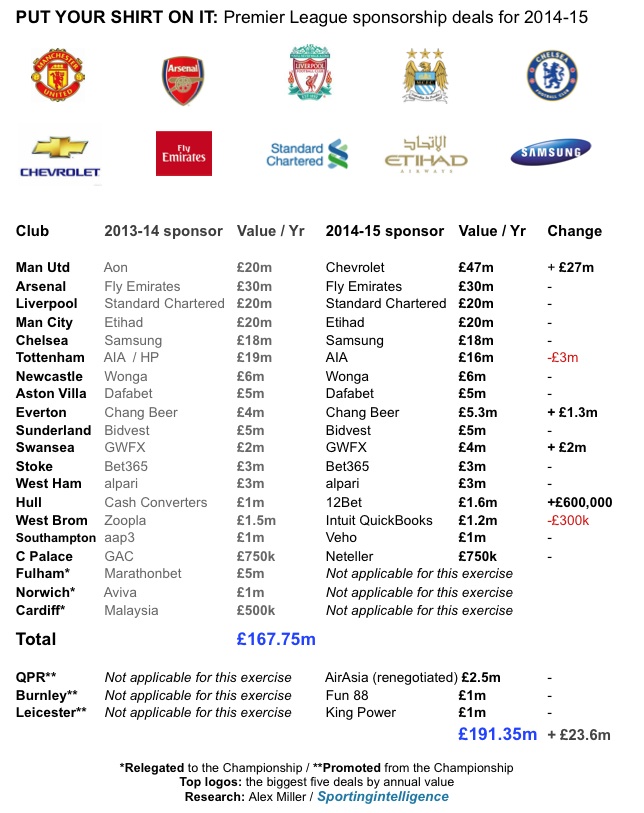 .
Spurs sponsorship arrangement last season saw AIA sponsor club shirts in domestic games and Aurasma in the Europa League for a total of £19m. That deal has been replaced with a simpler £16m-a-year deal with AIA.
Zoopla decided not to extend their sponsorship deal with West Brom following former striker Nicolas Anelka's controversial quenelle goal celebration last season. The club has signed a new deal with Intuit QuickBooks worth around £300,000 a year less.
The overall figure was also reduced as relegated clubs Fulham, Norwich and Cardiff earned a combined total of £6.5m from their shirt sponsorships last season, while promoted sides QPR, Burnley and Leicester pull in a lower combined total of £4.5m, a drop of £2m.
The global reach of the Premier League is reconfirmed with an increasing number of foreign-based companies continuing to adorn club shirts. This season 14 shirts feature overseas-based companies, compared to 10 last season. Companies from the United Arab Emirates, South Korea, the US, the Philippines, South Africa, Thailand and China are represented.
Despite a football-wide ban on betting, gambling companies continue to feature prominently in the Premier League. This season four shirts feature gambling companies: those at Aston Villa (Dafabet.com), Stoke (Bet265), Hull (12Bet) and Burnley (Fun88) – compared to three last season.
The total value of the Premier League's shirt deals have almost doubled in five seasons. In 2010-11 (details here) they were worth £100.45m; this coming season represents a 90.5% rise since then.
Article continues below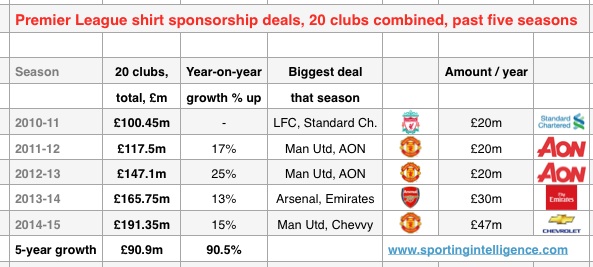 .
The season by season deals for other years can be seen here: 2011-12 sponsorships; 2012-13 sponsorships here; 2013-14 sponsorships.
.
Follow Alex on Twitter @AlexMiller73
.
More on Chelsea / Man Utd / Arsenal (or search for anything else in box at top right)
Follow SPORTINGINTELLIGENCE on Twitter