By Nick Harris
SJA Internet Sports Writer of the Year
in Krakow
4 December 2012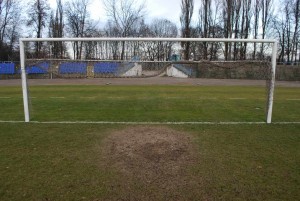 Since the draw for Euro 2012 on Friday, when England were thrown together with France, Ukraine and Sweden in Group D, based in Ukraine, the FA has come in for all manner of criticism for having already picked a base in the southern Polish city of Krakow.
In fact, the FA can reasonably be accused of being too late, not too early, with their decision making.
Why? Because they took so long to decide where they'd go that they missed out on the best two training facilities in Krakow for Fabio Capello's England during Euro 2012.
The Netherlands have bagged the home ground of top-flight Polish side Wisla Krakow to use as a training pitch, and Italy secured the other top-division ground in the city – that of Wisla's rivals, Cracovia.
With the FA not settling on Krakow until late Autumn, it meant the next-best stadium available nearby was the Stadion Suche Stawy, the council-owned home of a fourth division side, Hutnik Nowa Huta. And as a trip there  revealed, Hutnik's pitch is so poor – bobbly, and with a camber, and with goalmouths of rough dirt (see left) – that Capello has already made it known it's not good enough for England as it stands.
HUTNIK'S FUTURE THREATENED BY ENGLAND
So as part of a general refurbishment of the stadium, which local estimates say will cost the FA up to £250,000, the pitch will either be 'extensively amended' (flattened and re-sown), or completely dug up and re-laid. A final decision will be made in January, Hutnik sources confirm.
The English FA are the only competing FA at Euro 2012 who spurned all of Uefa's recommended training venues to go to Hutnik, where the FA's contract (with the city council, not the local club) gives them effective ownership of the stadium from 1 February to 7 July 2012.
It is clear the FA would have preferred Wisla or Cracovia because there was a contingency that if Italy had been drawn in a Ukraine-based group, the Italy FA may have changed bases from Poland to Ukraine. England would then have 'upgraded' to use Cracovia's fit-for-purpose ground instead.
The FA painted the decision to go to Hutnik as a sign of humility but it seems the Dutch and Italians just planned a lot further ahead.
England's lodgings during Euro 2012 will be at the plush boutique Hotel Stary in the centre of historic Krakow. The Dutch will stay at the Sheraton, about a mile away by the riverside, while Italy will stay in posh suburban hotel. England's trip to Hutnik will be 30 minutes each way each day by bus; the Dutch and Italians will have much shorter journeys as well as better facilities.
.
QUIET KRAKOW – FORGET IT!
England won't be able to have the peaceful time envisaged in Krakow if a plan by city tourism bosses to attract 15,000 England fans to stay in the city comes to fruition. The FA picked Krakow because there are no Euro 2012 matches being staged in the historic and beautiful tourist location – and hence believed there wouldn't be masses of fans milling around.
But I can reveal that a 'Visit Krakow' promotion push will unfold early in the new year, and local government officials will encourage English fans to use Krakow as a base during the tournament, and are planning a 'fan zone' with giant screens and a capacity to hold 15,000 supporters, in a city park.
The mayor of Krakow, Jacek Majchrowski, has already stated he will provide plenty for the England WAGS to see and so during the tournament; but the prospect of thousands of travelling supporters staying in the vicinity of England's hotel makes peaceful stay unlikely.
Neither will the location of Hotel Stary, right on the edge of the city's main square, a hub of restaurants, bars and all-night clubs in the summer, make it likely that England players will be able to wander around and enjoy the city unhindered.
.
HOTEL STARY – A-LIST GLAM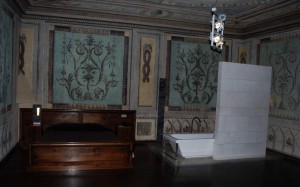 The Hotel Stary is a favourite hangout of pin-up actress Alicja Bachleda-Curus, and when staying at the hotel over the past few days I also bumped into Joanna Krupa, recently voted the world's sexiest supermodel. England won't face any such distractions: the FA will have exclusive use of the hotel for Euro 2012.
I can reveal that Fabio Capello will stay in the presidential suite (pictured right), which has a bath tub right next to the bed, an office side room and murals on the walls and ceiling. Guests who've stayed in the room in recent months include Ukraine's defence minister, and the president of Poland.
The hotel food is delicious and one starter is a finger-sized trout fillet in a bees' wax shell served in small pool of honey with a polenta crisp. If Wayne Rooney fancies something a little more mundane, there's a McDonalds two minutes away, and Hard Rock Café across the square.
The Hard Rock memorabilia includes a jacket owned by Elvis, a poncho owned by Jimi Hendrix, Roy Orbison's shoes, Miles Davis' trumpet, a tambourine used on tour by Liam Gallagher of Oasis, and a pair of Keith Moon's boots, as well as gold discs and tour posters featuring stars from Led Zep to Tom Waits, Bananarama to The Beatles.
It's more likely to be up the players' street than Capello's. He's more likely to be found in the Hotel Stary's salt room, a dark basement retreat with salt on the walls that apparently helps heal all manner of ailments, especially headaches. And Capello is sure to have those.
.
ENGLAND IN TOWN: ROAD SHUT
Sources at both the Hotel Stary and within the local council say that side street where the hotel is based will be closed off between 1 June and whatever date England depart Krakow – although local businesses sure to be affected by such a move have not yet been informed.
Mata, a saleswoman in a shoe shop just along the road said no local businesses had been told of the road closure, a move that appeared to shock bar staff at The Legends music club (Happy Hour 10am to 4pm daily), right next to the Stary.
Also in the dark about any potential threat to business is the owner of the Rooster pub (a Polish version of the Hooters chain), who is expecting business as usual next summer and even has a countdown blackboard on the bar, chalking off the days to go.
..
Follow SPORTINGINTELLIGENCE on Twitter
Sportingintelligence home page today
.
.
.
An abbreviated version of this column appeared in Sunday's MoS.