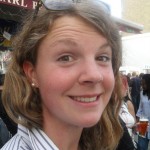 ALEXANDRA WILLIS is a multimedia sports journalist who flits between Wimbledon, SportingIntelligence, the TennisSpace and a few other outlets, while tweeting copiously and trying to improve her (terrible) backhand in her spare time. Follow @alex_willis on twitter
On first viewing, American Football is pretty baffling. It looks very much like a lot of helmeted people running around crashing into each other. Each passage of play takes place at a hurtlingly-intense speed, but only for a few minutes at a time, stop-start, stop-start, the clock halting for injuries, timeouts, commercials, and cheerleaders at odd and inopportune moments.
Try figuring out what's going on from the commentary, and you'll almost be more confused. There's endless terminology – snaps, downs, huddles, fumbles, rushing yards, sacks, punts, pick sixes, field goals, touchdowns. Then all the positions – quarterback, running back, wide receiver, tight end, offensive lineman, defensive lineman, linebacker, cornerback, kicker, punter.
Then add the fact that you can't easily spot who's who because they are covered up in helmets and pads to prepare for when they certifiably will crash into each other.
And just when you think you've found a player you think you know, you realise it can't be him, because he is in fact off the field. The teams are divided into two armies who switch on and off depending on which of them is on the offensive, marshalled by another army of watchful coaching staff in headphones clutching sheets of tactics. And we haven't even mentioned any of the rules (I wouldn't dare). Or why they wear towels.
It's as bizarre to Brits as cricket is to Americans. And yet, even without understanding a thing, it is a compelling spectacle.
One player hiking the ball from the ground in front of him to his team-mate behind him, who throws it to another team-mate, who will, in theory, catch it and run with it does not sound like the most difficult thing in the world.
But, firstly, (and the following simplification is more for my benefit than yours, I promise), the quarterback and the offensive line have to hold off the opposition trying to charge him down for long enough in order to make that pass. At the same time, the recipient of that pass has to break his cover and get free, then catch the ball, and then hang onto it as he tries to gain some yards. And that's in the knowledge that players who are just as fit, fast and powerful as he is will be careering into him in a way that they say feels like being in a car crash 12 times in an hour. And all of that is just for a first down, a first step forwards. Then they start all over again.
Meanwhile, the other 19 people on the field aren't just standing around watching. They are blocking, charging, diving, all in some way either trying to make the play possible, or prevent it.
All of which means that when all those moving parts come together, as these players and teams seem to manage every given Thursday or Sunday or Monday, they have achieved so much more than just kicking a ball to one another, as our kind of football players do.
Then there's the players themselves, celebrities from high school to college to league. Some are as worshipped as Messi (see Adrian Peterson, Peyton Manning, Calvin Johnson), some of them far more controversial than Joey Barton could ever dream of being (see Manti Te'o, Michael Vick, Ben Roethlisberger). Even their names have character. D'Brickashaw Ferguson. Baccari Rambo. Barkevious Mingo. Captain Munnerlyn. And Chad Ochocinco. Although he made his up.
All of which is to say that the more you learn about football, and my knowledge is infantile to say the least, the easier it is to understand why it is the sport that dominates the American national consciousness.
"It all starts with game itself, the strategy, the power," Roger Goodell, Commisioner of the National Football League told a group of curious English writers at a Sports' Journalists Association event in London.
"But it transcends the game. When you add the fans' passion, it just becomes explosive. It brings communities together in a way that I don't think any other sport can. Part of it is that in our game every team has hope. The hope is a great thing for us."
That appeal is also why, slowly but surely, it is making itself better known on this side of the Atlantic too, and, since 2007, there has been an annual NFL game played at Wembley, the nation's most famous stadium.
"Initially, it was difficult to get teams to do it," Goodell admitted. "There were risks involved. One, you were taking away a home game, which the fans didn't like. And two, the coaches would worry about the possible disruption, because it is still a game that counts, and they only get 16 a season."
Those teams also had to be compensated for loss of earnings, travel expenses, and such, figured to be "a seven-figure loss" on each game.
"But every team that has come over has had a great experience," Goodell continued. "And the fans might not like losing a home game, but they understand that in some ways it's very good for their communities. It's building now to the point where we have far more teams who want to come."
This year, that 'NFL International Series', as it is officially named, expanded to two – the Minnesota Vikings against the Pittsburgh Steelers a month ago, and last night's encounter between the Jacksonville Jaguars and the San Francisco 49ers. This year too, for the first time, it wasn't just the attendees of each game who got an NFL experience. This year, for the first time, a sort of tailgating came to Wembley, the tradition where fans arrive early and sit, drink and be merry outside the stadium in the hours before the game begins.
The success to date has been such that next year, Wembley will host three NFL games – the Jaguars back again to play the Dallas Cowboys, the Atlanta Falcons to play the Detroit Lions, and the Oakland Raiders to play the Miami Dolphins.
In fact, last night's appearance by the Jaguars is the first of a once-a-year-four-year agreement brokered by their new owner, Shahid Khan, also the owner of Fulham Football Club, who has made no secret of the fact that he would like to see the Jaguars (or Jaguras, as they were embarrassingly mis-spelled on the field last night), play a game a year at Craven Cottage from 2016 onwards.
But current demand aside, there is the lingering wonder whether the novelty of this shiny new sporting toy will simply wear off. What if future games are not the high-scoring touchdown triumphs that this year's pair have been? Will a matchup between two unknown teams garner the same interest as a blockbuster face-off?
It is after all not the first time that the NFL has tried, and failed, in Europe. The American Bowl, a series of pre-season exhibition games held at sites outside the US, ceased in 2005, and NFL Europe, a developmental league that began in 1991, was discontinued in 2007. But those iterations were not the real deal.
The current International Series, by contrast, is part of the season proper, featuring some of the biggest and best players in the sport in games that matter. And that top-down approach is what is proving to be the draw. Just ask the 180,000 people who turned up to Wembley, many of them leaving with merchandise and a taste for more. Or Channel 4 and Sky, both of whom are broadcasting selected NFL games this season. Or one of my friends, who has not one, not two, but three fantasy NFL teams this year, and burns the 3am Sunday and sometimes Monday Night Football oil every week from London.
So it is that Goodell, regarded as one of the most powerful men in sport, is at present not saying never to the idea of an NFL team based in London, although there is a sense that he wants a team back in Los Angeles first.
"The great thing about our fans in the UK is they seem to want more and more, and we want to deliver that," he said, when pushed for a timeline on the topic. "And as long as we continue to see that growth, I don't know where it will go, but I don't rule out there being a franchise here in the UK."
The greatest impediment to a London team would not be money, the NFL has plenty of that, but more the toll that the travelling would take on the teams. Convincing a few teams to travel to London once a year is one thing, but requiring eight different teams to take on a long-haul flight and a time difference for the eight London home games, especially those based on the West coast, is quite another. Not to mention the London-based team travelling eight times the other way.
Logistics aside, the NFL's international ambitions do not stop with a hop across the pond. 'The London experiment,' as Goodell calls it, is one part of a long-term view for the NFL, which is simply to grow awareness, fandom, commercial power, everywhere.
"We are trying to globalise our game," he said matter-of-factly. "But we're not trying to tackle the whole globe at once, we have do it differently from basketball, soccer. But if we create the success here [in London] to the extent that they want franchises in Frankfurt, Moscow, Shanghai, that's a good problem to have."
This is not to say that the NFL and the sport does not have its problems – the concussion controversies rumble on, drugs are always a fear factor, what players get up to when they are not on the field, the discussion around who pays for new stadiums. But those seem to be pinpricks in its popularity, to the extent that a New York Times opinion piece recently described baseball as "irrelevant compared to the leylandii-like growth of the NFL". To the extent that 45% of the NFL fan-base is female. To the extent that Goodell maintains that 85% of American parents want their kids to play football. This very website, SportingIntelligence, reported it as the best-attended domestic sports league in the world.
The jewel in the NFL's crown is that being a football fan is not just about watching and understanding what happens on the field itself. There are so many other things which revolve around and add to what those men on each game day's 'active' list are up to which make it must-see TV, in a way that is so big and bold and refreshing when compared to our more genteel, traditional attitudes. The pre-gaming, the anthems, the cheer songs, the food, the beer, the jerseys, the fantasy leagues, the apps, – even the NFL RedZone countdown clock  – you are told it is the biggest and best thing out there. And guess what, it is.
"Everything is an event," Goodell said. "And we want to make each of our events bigger and better, to capture that same attraction. The draft is now an event, it is now bigger than most sports' play-offs."
Next year's SuperBowl in New York, for example, will see 14 blocks shut down around Times Square for the entire week preceding February 2nd to create what will be 'SuperBowl Boulevard.'
"We can only put 76,000 people inside the stadium. We want another half a million to experience the SuperBowl. It goes beyond just a simple game," Goodell said, asserting that "there's never been a better time to be a fan."
So, British sporting enthusiasts. Next Sunday evening from 6pm, why not turn on Channel 4 or Sky,  pick a game, pick a team, and see if he's right.
You may not understand it, but hopefully you'll enjoy it.
Visit the Sporting Intelligence home page for the latest news and exclusives
More on NFL / More from Willis
Tags:
American Football
,
football
,
Jacksonville Jaguars
,
Minnesota Vikings
,
NFL
,
Pittsburgh Steelers
,
Roger Goodell
,
San Francisco 49ers
,
Shahid Khan
,
sport
,
Wembley