By Brian Sears
5 November 2013
Manchester City's mauling of Norwich on Saturday was their biggest ever win in the Premier League era.
It was also the 32nd time in the Premier League, since 1992, that one team has thrashed another by scoring seven or more goals.
The graphic below details every one of those matches, and shows who have been the thrashers most often (Manchester United) and who have been thrashed most often, on the end of seven goals or more (Sheffield Wednesday and Southampton).
On average, a seven-goal thrashing happens between once and twice per season, although no team score seven goals in a game in 2000-01 or in a few of the seasons since. And in 2009-10, there were as many as five 7+ hauls in league games, four of them by Chelsea.
Thirty of the 32 thrashings have been by the home side, the exceptions being Nottingham Forest at Sheffield Wednesday in April 1995, and then Manchester United at Forest in 1998-98. (A contemporary report here describes how Beckham and Solskjaer masterminded that one).
No team has ever scored 10 goals in a single Premier League game but nine have been scored twice, eight six times and now seven 24 times.
Article continues below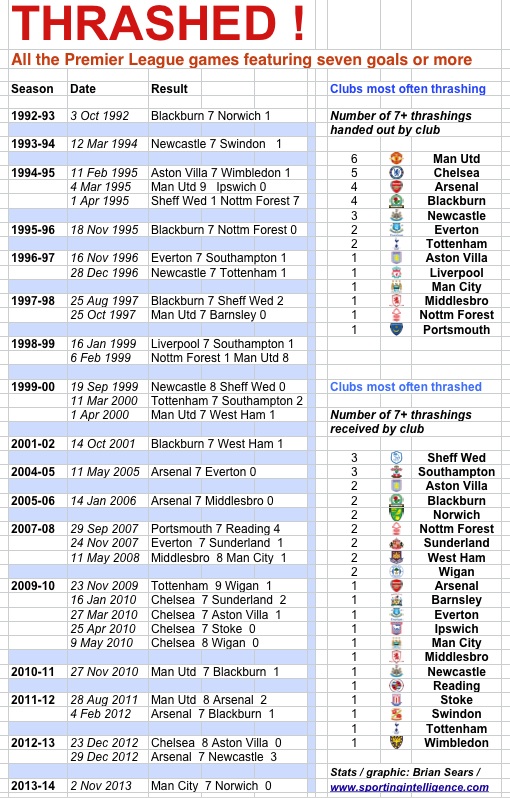 .
And another thing ….
Manchester City are currently statistically remarkable for another reason.
They have the current longest run in the Premier League of not losing consecutive league matches.
In fact they have not lost back-to-back games in the Premier League since October 2010, when they lost 0-3 at home to Arsenal and then the next week lost 1-2 at Wolverhampton.
Since then, over the last 114 league games, City have managed to keep their defeats isolated: they have not lost consecutive games.
There are just 12 other clubs that have been ever-present in the Premier League over that period of time and none of them can claim to have avoided consecutive defeats.
Chelsea and Manchester United are the nearest to match City's record but they have each lost two matches in a row on three separate occasions. United have lost fewer games than City in total in the period but City don't lose two together. Not recently.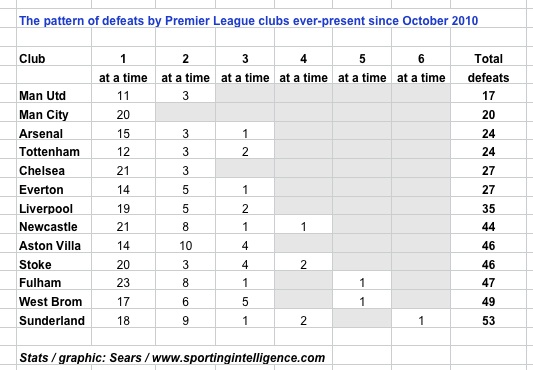 More on Man Utd / Arsenal (or search for anything else in box at top right)