By Nick Harris
SJA Internet Sports Writer of the Year 
23 January 2013
Bradford City's remarkable run to the final of the 2013 English League Cup gives them the chance to become the first club in football history from any European country to win a national cup competition while playing in the fourth tier.
A win in the event – known as the Capital One Cup – would also make Bradford the first fourth-tier team in world football history to win any national cup in any significant football nation (one ranked inside Fifa's top 100).
To date the only team to have won a cup from any fourth tier was the Sri Lanka Navy in 2010, although they were a side of top-division calibre (in Sri Lanka), only playing in the fourth tier that season having withdrawn from the top division "due to fighting commitments". A report on a later cup win, in 2012, described the 2010 triumph, under the guidance of the vice-admiral of the SL Navy.
It should be stressed the level of even Sri Lanka's top division is low; and the Sri Lanka national team are currently ranked No190 in the world by Fifa.
Even fourth-tier finalists in national cups in major footballing nations are extremely rare. Only Rochdale in the English 1962 League Cup final and Calais in the 2000 French Cup final (lost to Nantes) fit that bill.
Bradford's achievement this season in England is unparalleled in any country where football holds any significance in the sporting landscape.
On Tuesday evening they completed a 4-3 aggregate win over Aston Villa of the Premier League in the Capital One Cup semi-final to reach the final at Wembley, scheduled for 24 February. They will meet either Swansea or Chelsea in that final.
Bradford's run is all the more astonishing because they beat another Premier League team, Arsenal, in the quarter-finals, having earlier beaten another top-flight side, Wigan, in the fourth round.
Only once before in Engllish football history have a fourth-tier team reached a cup final – and that was Rochdale in 1962, who subsequently lost 4-0 to Norwich over two legs in the 1962 final.
Only three times in English football history has any team even as low as the third tier (or equivalent) won any cup.
In 1901, non-league Tottenham (of the third-tier Southern League, below the First and Second divisions of the league) beat Sheffield United 3-1 in an FA Cup final replay after a 2-2 draw at the first attempt.
In 1967, QPR of the Third Division won the League Cup (against West Brom), while in 1969 Swindon of the Third Division won the League Cup against Arsenal.
The rarity of even third-tier finalists in global football, let alone fourth-tier finalists or winners, is show in this graph: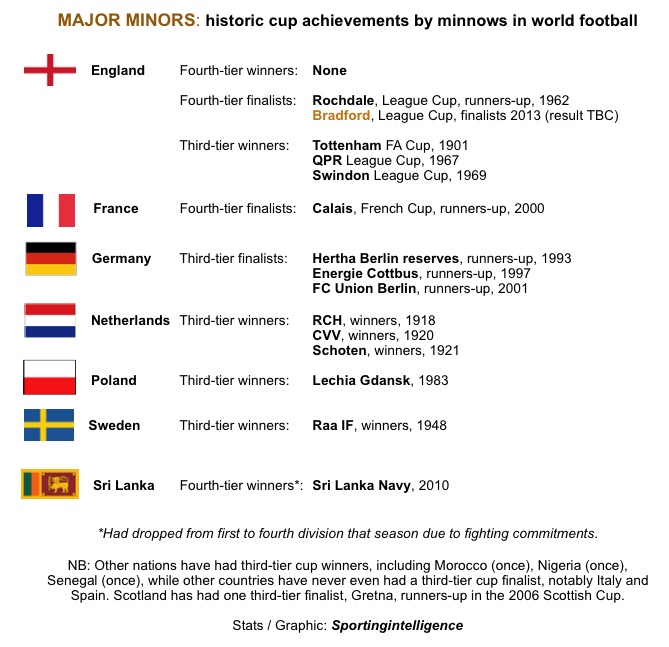 Follow SPORTINGINTELLIGENCE on Twitter