By Brian Sears
19 October 2012
Newcastle's manager Alan Pardew still awaits a first Premier League win since signing his extraordinary eight-year contract but takes his side to Sunderland on Sunday in the knowledge Newcastle have a first-class record in north-east derbies in the PL era.
They have played 46 derbies in that time, 26 against Middlesbrough and 20 against Sunderland, and have lost just six of them (or 13 per cent), with three defeats to each league neighbour over the past 20 years.
In the 20 completed Premier League seasons, Newcastle have finished top of the north-east trio in 11 of those seasons, with four top-four finishes in that period, including runners-up spots in 1996 and 1997.
Sunderland have finished as north-east top dogs five times, including in the past three seasons. Middlesbrough have finished best of the north four times, including, ironically, in the first Premier League season, when they were relegated and neither Newcastle or Sunderland were even in the revamped top division.
See the graphic further below for details of the top finishers each season as well as detailed north-east head-to-head records. Newcastle have played 20 Premier League games against Sunderland, winning nine, drawing eight and losing just the three.
The six north-east derbies Newcastle have lost are here …. (what do you notice?)
.
25 Aug 1999 Newcastle  1    Sunderland  2
18 Nov 2000 Newcastle  1    Sunderland  2
17 Mar 2001 Newcastle  1    Middlesbro  2
5 Mar 2003 Middlesbro  1    Newcastle  0
22 Oct 2006 Middlesbro  1    Newcastle  0
25 Oct 2008 Sunderland  2    Newcastle  1
.
Yes, that's right. Even on the six occasions Newcastle have lost derbies, it's only been by a single goal on each occasion.
And since that last derby defeat at the Stadium of Light, Newcastle have gone seven league derby games (fivewith Sunderland and two with Middlesbrough) undefeated, winning three and drawing draw.
Newcastle don't just win more games and finish higher; they have missed just two Premier League seasons in the top division. Boro are currently missing their seventh, and Sunderland have missed out on nine.
.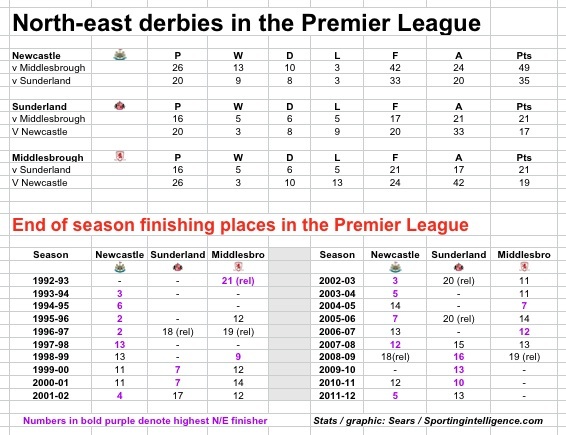 .
And another thing …. 
QPR, from the foot of the Premier League table, will be viewing this Sunday's visit of Everton with mixed feelings.  In 21 Premier League seasons Everton, currently 4th in the league, have only in one season had a better points total from their first seven games than now.  That was eight seasons ago when they ended that campaign in their highest Premier League placing: 4th.
But old-stagers at QPR will know that Everton have allowed QPR to pocket a grand total of 20 points in their five shared seasons of Premier League football before this win. That includes six QPR wins and 23 goals scored – more points, more wins, more goals scored than against any other club. (See graphic).
QPR's first stint in the Premier League was in the early seasons of the era – 16 points came from those first eight games against Everton – but that average was maintained last season with a 1-0 win at Goodison in August and a 1-1 home draw this March.
.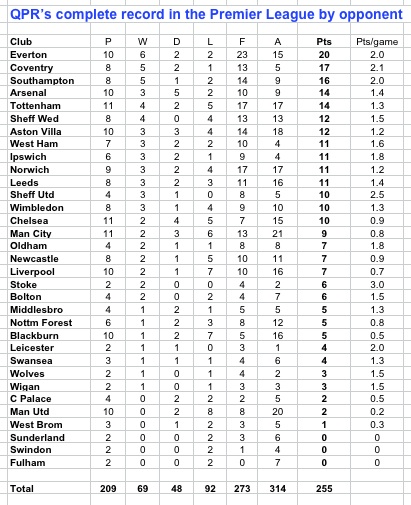 .
More on Newcastle / Sunderland / Middlesbrough / QPR / Everton (or search for anything else in box at top right)
Follow SPORTINGINTELLIGENCE on Twitter