By Brian Sears
16 August 2012
Liverpool and Southampton have the toughest starts in the 2012-13 Premier League season, with Swansea and West Ham having the easiest set of opening fixtures, according to a Sportingintelligence analysis of each clubs' opening six matches.
Within an objective 'tough rating' system, the lower the rating, the harder the start. Liverpool have the lowest rating at 41, followed by Southampton at 44, while at the other end of the spectrum, Swansea's rating is 87, and West Ham's is 78.
Liverpool's first six games include facing all of last season's top three clubs: Manchester City, Manchester United and Arsenal, as well as West Brom, Norwich and Sunderland.
Saints must also face last season's top three (within their first four games) plus Everton, Wigan and Aston Villa.
Swansea by contrast don't face anyone from last season's top six in their opening six games, and only Everton from last season's top 10. Similarly West Ham only face Fulham from last season's top 10 in their opening six games.
To arrive at the 'tough rating', we simply added the finishing positions of last year's Premier League teams (1 to 17), and then rated Reading at 18 (automatic Championship promotion in first place), Southampton at 19 (second) and West Ham at 20 (play-offs).
The full tough rating table is below.
How important is a good start? Well that depends on what club you're talking about, but the club with the toughest start last season (Bolton) found it heavy going and ended up relegated, while City, the eventual champions, had among the easiest starts. (See last year's ratings).
Ultimately, of course, every club plays every other, home and away. But the tone for a season can be set in these crucial opening games.
Article continues below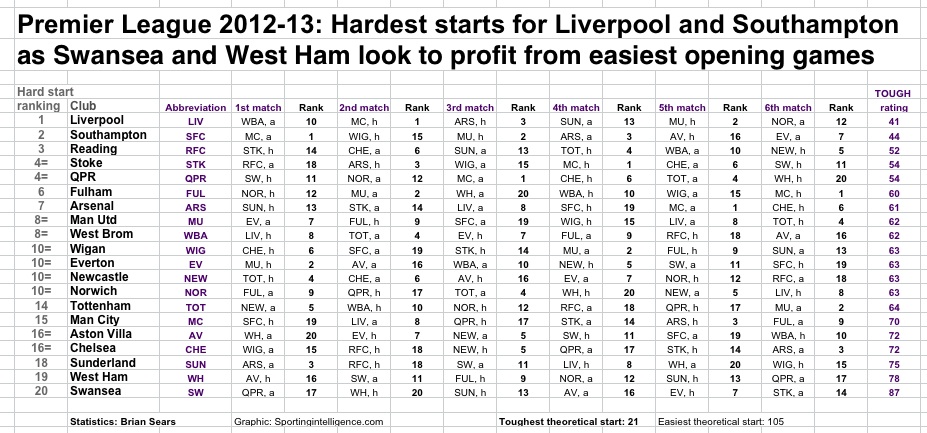 We have also done the same exercise with the Championship clubs, but considering only their first four games.
Here, Leeds have the toughest start and Birmingham the easiest.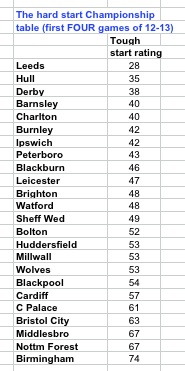 . .
More from Sears / More on ARSENAL / MAN CITY  / UNITED / LIVERPOOL / CHELSEA
Follow SPORTINGINTELLIGENCE on Twitter