By Brian Sears
11 May 2012
So another Premier League season, the 20th since the top flight of the English game was revamped into the cosmopolitan cashfest of today, is coming to a close.
And yet there is still so much to be resolved, not least from a statistical point of view the following eight questions.
.
1: Can the scoring record be broken again?
Can the Premier League scoring record be broken for the second season in succession on the final day? Last season there were 1,063 goals in 380 matches (2.797 goals per game) and so far this season we've had 1,034 goals in 370 games (2.795 goals per game).
To equal last year's record, there need to be 29 goals in this weekend's games. To beat it, there need to be 30. It really is too close to call.
Much could depend on whether this season's free-scoring sides, Manchester City foremost among them, are playing with ease or as tight as drums. Already this season has been the fourth most productive campaign, as the detailed chart below shows.
.
2: Will this season see a record for away wins?
Just one more away win is required to set a new Premier League record in a 20-team season of 380 games. At the moment the present total of 114 is precisely the total managed in the whole of season 2001-02. When 462-game seasons of 22 teams have been treated pro rata, none of them top 114 either.
So who is capable of that elusive win we need? Blackburn at Chelsea? Arsenal at West Brom? Manchester United at Sunderland? Stranger things have happened. This record is a statistical cert to fall: just one win in 10 needed away.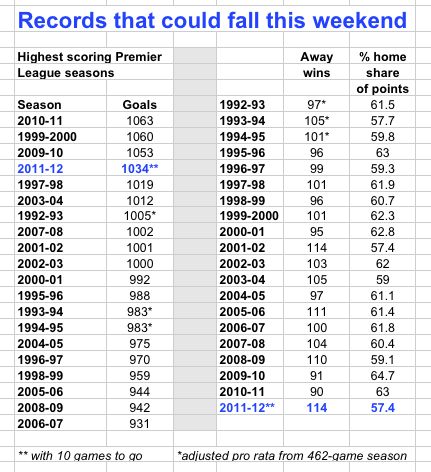 .
3: Will the share of home points from the total be the lowest ever?
See the graphic above for details. The home share of points could reach an all time Premier League low. It's running neck and neck with that season 2001-02 again. That season is lower by 0.004 per cent as things stand. A few bad home results this weekend and another record tumbles.
.
4: Is there room at the top for a new title winner?
There have only been four different winners in the 19 completed seasons of the Premier League. Can Manchester City make that five?
Manchester United 12 times PL winners.
Arsenal Three times.
Chelsea Three times.
Blackburn Once. (Doesn't that seem a long time ago?)
.
5: Can all the promoted clubs stay up – for only the second time?
Will this be only the second season in 20 years when all the promoted clubs retain their status?  Swansea and Norwich are already safe but they need to be joined by QPR. The other season?  Yes, it was 2001-02 again, when Fulham, Blackburn and Bolton all stayed up and Ipswich, Derby and Leicester were relegated.
.
6: Can Aston Villa extend their bore draw record, already established this season at 17 draws?
Aston Villa with 17 drawn games already this season have the record total of draws for a 38-game season.  They've pipped the clubs with 16: Nottingham Forest in 1996-97, Coventry in 1997-98, West Brom in 2004-05 and Fulham in 2010-11. But can Villa make it 18 draws (at Norwich) and equal those who managed 18 draws in a 42 game season – Man City and Sheffield United in 1993-94 and Southampton in 1994-95? Does anyone care except statisticians?
.
7: Can City stay unbeaten at home?
On 11 previous occasions in the 19 completed seasons of the Premier League have teams remained unbeaten at home all season. If Manchester City don't lose at home to QPR in their last match, they will become the 12th club to achieve the feat. And if they beat QPR, they will go in with a bullet to the very, very, very top of this exclusive stable of teams: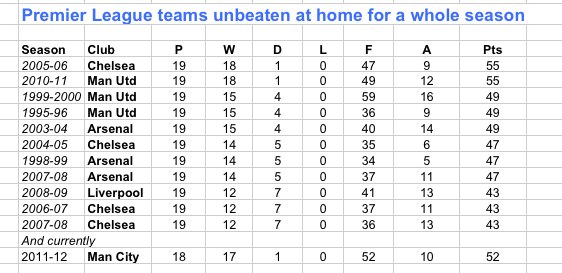 .
8: Can Manchester United maintain their fine record in final games of the season? And can QPR buck their own woeful last-day history?
As the Premier League comes to the end of its second decade we publish the table of how the current 20 clubs have performed on the final day of the previous 19 seasons. Seven of those clubs have spent the whole time in the Premier League but for Swansea those 19 seasons have been spent travelling around all three levele of the Football League.
Manchester United are head and shoulders at the top of this league.  They've only lost two last-day fixtures in 19 seasons, at Tottenham 1-3 on 19 May 2001 and at West Ham 0-1 on 13 May 2007. On both occasions, United were already Champions.
In contrast QPR visit Man City as the only current Premier League club to have their final day defeats over the last 19 seasons running into double figures. City: there is a big open goal ahead – over to you.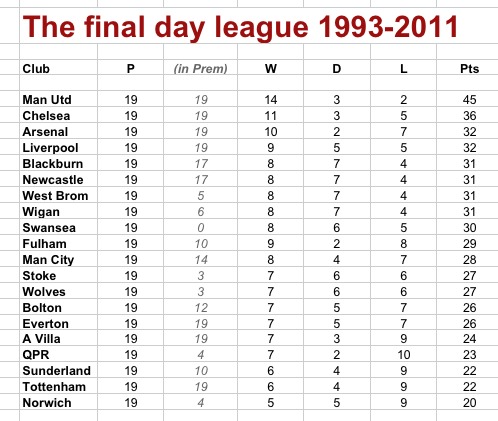 .
Follow SPORTINGINTELLIGENCE on Twitter