By Nick Harris
SJA Internet Sports Writer of the Year
22 April 2012
AS the Premier League title race comes to the boil, Rio Ferdinand has spoken about the culture of success at Manchester United, 'the desire' for glory that pervades Old Trafford, and why he hopes that United's blend of experienced winners and fearless youngsters can get United 'over the line' to their 20th English league title, and their 13th in the Premier League era.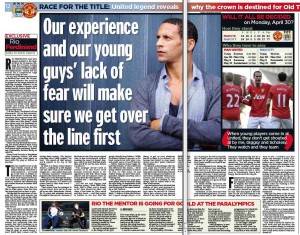 .
One version of an interview I conducted with Ferdinand this week is in the today's Mail on Sunday (left) and can be read online at this link. As always, there is only finite room in the paper, so below, along with some but not all of the bits that did make the paper, are some of the bits that didn't, including why Ferdinand believes Diego Maradona still deserves to be called the greatest player of all time, ahead of Lionel Messi.
.
Rio on … Manchester City this season
'City haven't surprised me this season, how well they've done. They've spent so much money, I don't think their owners will be sitting there saying, "Oh, they're punching above their weight". You spend all that money, you'd expect to be top of the league.'
.
Rio on … the desire for success at United
'When you come through the doors at Manchester United, you smell the desire for success, and at United it all comes back to that same word – desire.
'That comes from the manager to a great extent. How can he do one job at one club, Manchester United, for 20 years, and maintain success throughout that period? Because of his desire to win.
'How can you spend time in that environment without wanting the same? It doesn't happen.
'And if you don't feel that desire then you'll be out the door before you know it. The manager doesn't need to remind us of this every week because everyone knows it. It's ingrained in the club.
'When young players and new players come in, it's not about the older players – me included now – shouting from the rooftops. It's not me and Giggsy and Scholesy going "Blah, blah, blah, blah, this is what you're meant to do".
'New players do what I did when I first came in. They watch and learn, and aspire to behave in the way that the people already there behave.
'You quickly learn to trust your team-mates, believe they'll be doing the right thing, be dependable in the last minute of a game that matters.
'You look at every other player and think, "I believe in him and believe he's a good enough player to be there, to get us over whatever hurdle is there to be cleared". By having that belief in your teammates, you don't panic, whatever the situation.'
.
Rio on … the next England manager, and why it's irrelevant whether he's English
'I understand the sentiment of those who say the manager should be English. Then again if the best man for the job does happen to be foreign, then so be it.
'As a player I want to win. I couldn't care less where the manager is from, Timbuktu, wherever.
'I understand the argument that everybody on the staff of a national team should be from that country. But as long as he makes me a winner then I'll be happy.'
'I'm not going to talk about candidates because it's not my place, and I wouldn't talk about someone who's already the manager of another team. We'll just have to see what happens.
'Whoever they give it to has just got to get on with it. It's about the manager making the players play as a team and not as individuals.
'We've got some great individuals as everyone knows. We see that weekly with individuals playing for their clubs. But having a great team on paper doesn't mean anything. We've rarely done it in a team environment as England. That's the main job of the next England manager, making it work as a team.'
.
Rio on … Lionel Messi, and Maradona
'You have to appreciate Messi in the context of the whole Barcelona team. I'm just like anyone else in having debates with my mates about who's the best of all time. Is it Maradona? Pele? Of course people add Messi into that debate now, and it's obvious why because he's a brilliant footballer.
'But I love Maradona, that was my era as a fan growing up. I still argue that Maradona remains above Messi.
'He took Napoli, who were a mid-table team, and inspired them to win Serie A, twice, in 1987 and 1990, and they were runners-up the two years in between, 1988, 1989. They'd never won the title before and haven't since. They also won the Uefa Cup with him, in 1989.
'And he took Argentina, who didn't have any world renowned players at the time, to be world champions almost single-handedly, playing every minute of every game. That was the most one-man dominated World Cup there's ever been.
'And all that was at that time when there was little or no protection for a player like him. You could kick people off the pitch if you wanted to, taking people out was not a problem.
'To keep getting up, getting the ball, being brave, he was extraordinary. Nowadays players are protected a lot more.
'It's not any detriment to Messi to point out that he's also in a team surrounded by several other truly world-class players, and I mean Ballon d'Or contenders Xavi and Iniesta. That tells you what you need to know about the team he's playing in. That's not to talk down Messi at all but to put in context the case for Maradona.'
See 20 of Maradona's goals HERE.
See Messi's first 234 goals for Barca HERE   and   read a statistical breakdown of how he scored them HERE
.
Rio on … a role model from another sport
'Roger Federer. That guy has been at the top and he's dominated his sport for so long, for years, certainly until the recent rise of Djokovic.
'To do that continually, year in, year out, is hard work. To self-motivate yourself in a one-man sport takes a lot of mental drive, and desire.
'I interviewed Federer for my magazine and it's the most nervous I've been when interviewing anyone. It was in summer 2009, the day after he'd won his fifth Wimbledon title and his 15th Grand Slam singles title to beat Pete Sampras's record of 14.
'I love him as a tennis player and as an athlete. I was interested in his training particularly, wanted to find out what he does.
'Sometimes these top tennis players are involved in match lasting five, five-and-a-half hours. If you've ever played tennis you know how physically demanding that can be. So I asked him what kind of training he does, and he says he doesn't do loads and loads.
'He doesn't do endurance training, just loads of short stuff, lots of short movements but for long periods of time.
'Any time I speak to young players these days, the word "desire" cannot be undervalued. You have to have the desire for hard work and self-sacrifice, the desire to achieve things, to work and train hard. If you haven't got all that then you'll never achieve what you dream of.'
.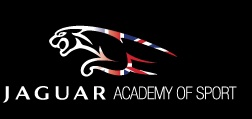 Ferdinand is an ambassador to the Jaguar Academy of Sport, a bursaries and mentoring programme with a goal 'to recognise, celebrate and inspire the next generation of British sporting heroes by giving them the opportunity to work with and learn from the best British sportsmen and women.'
In his role as an ambassador and mentor, he meets and encourages a range of aspiring athletes from across the whole sporting spectrum.
He is pictured (right) with the former professional footballer and now Paralymic player, Alistair Patrick-Heselton, who almost lost his life in a car crash in 2006 that left one friend dead and another badly injured. You can read more about Heselton's story here.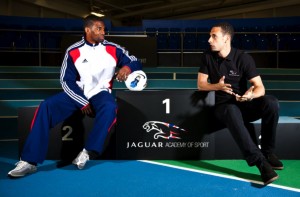 Heselton was a recently former QPR player at the time of the crash, trying to revive his career in the non-league game after a cruciate injury. The crash happened on the A40 in London, throwing Heselton through the windscreen and fracturing his skull.
'I was in a coma and woke up three months later to be told what had happened,' he told me.
'The doctors didn't know if I'd survive, let alone walk or play football again. I had severe head trauma and brain scarring but, when it all sank in, I was determined I'd live the best life I could, if not play again.'
The possibility of further damage deterred him from going back to football.
'I was told that they couldn't guarantee that one header wouldn't kill me, or leave me eating through a straw for the rest of my life,' he said.
It was friends and contacts in the Football Association who, after four years of encouragement, eventually persuaded him to try CP (cerebral palsy) football, in which teams are comprised of players with different degrees of handicap.
Swift progress, in part assisted by the Jaguar Academy, has culminated in Heselton being picked to play for Team GB at the Paralympics this summer.
'At one stage I thought I'd never kick a ball again,' he said. 'Now I'm looking forward to giving it my best to win a medal.'
.
More on Man Utd (or search for anything else in box at top right)
Follow SPORTINGINTELLIGENCE on Twitter