By Brian Sears
5 March 2012
After seeing their team lose to Manchester United (again) on Sunday, many Spurs fans must be thinking their record against United is one of the poorest in head-to-heads in the history of the Premier League.
It is poor, certainly, with just three wins in 40 meetings since the top division was revamped in 1992-93.
Chuck in eight draws and Spurs have won just 17 points from United, while United have won 95 points or 2.38 points per game.
United have won 84.8 per cent of the points of all those split between the pair.
But it's not all bad news. United's dominance over Spurs in the era is merely the fourteenth most one-sided pairing in the Premier League era, as our chart here shows.
We've looked at every head-to-head combination in the Premier League era, using a minimum of 10 meetings between sides for inclusion.
The most one-sided fixture is United v Wigan, with United winning 13 of 13 meetings, and 100 per cent of the points.
Next comes Chelsea v Portsmouth (97.6 per cent of points to Chelsea with 13 wins from 14 games, and a draw).
The rest is self-explanatory and notable for how poorly Tottenham and Everton, among the 'challenging next tier' fare against United.
Article continues below …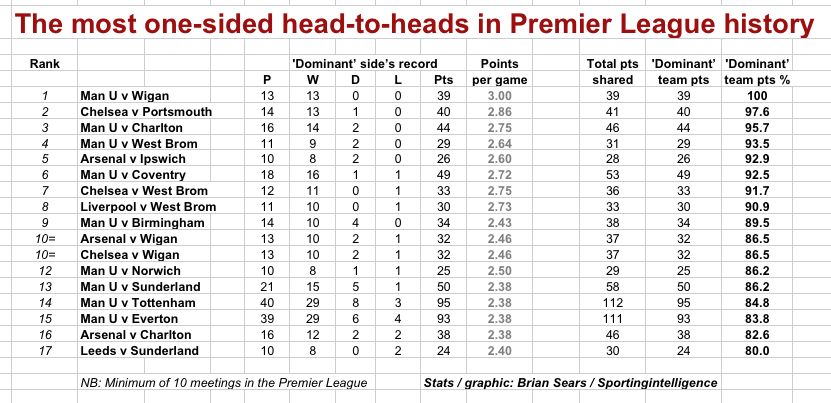 .
United's head-to-head record against every team who they've met in the Premier League at least 10 times is in the second graphic below.
United have a dominant position against every club bar one: Chelsea.
Changing your managers as often as you change your super-yacht might have some benefits after all …
.
More on Man Utd / Man City /Arsenal / Liverpool / Chelsea (or search for anything else in box at top right)
Follow SPORTINGINTELLIGENCE on Twitter
Sportingintelligence home page
.