By Sportingintelligence
24 July 2012
Uefa's Financial Fair Play (FFP) rules will start to bite at the end of the forthcoming season (2012-13) when clubs in Uefa competitions will need to start meeting the FFP 'break even' requirement, namely not losing more money than they earn. Limited losses are allowed in the early years.
One of the ironies of FFP is that Uefa's flagship tournament, the Champions League, has helped the wealth gap between Europe's haves and have-nots to grow. It will do so to an even greater extent when Champions League prize money rises by around 21 per cent for 2012-13.
A select band of elite clubs in England, Spain and Italy make massive sums for the CL each season, helping them stay ahead of their domestic rivals – and keep coming back into the Champions League to make more money the next season.
The table below (adapted from Uefa official document linked here) is self-explanatory, showing the money the 32 clubs in the 2011-12 made from Uefa central funds from the Champions League.
The usual suspects are all raking it in. Relatively few clubs across Europe (see the top of the list) compete in the Champions League every season.
Chelsea made the most money in 2011-12 from the tournament: £48.43m for winning, followed by Bayern Munich (£33.72m as runners-up), with Barcelona, Milan, Real Madrid, Inter and Arsenal next.
See how 2010-11's money was split in detail here.
See how 2009-10's money was split in detail here.
Other resources on football finance (wages, shirt deals and more)
.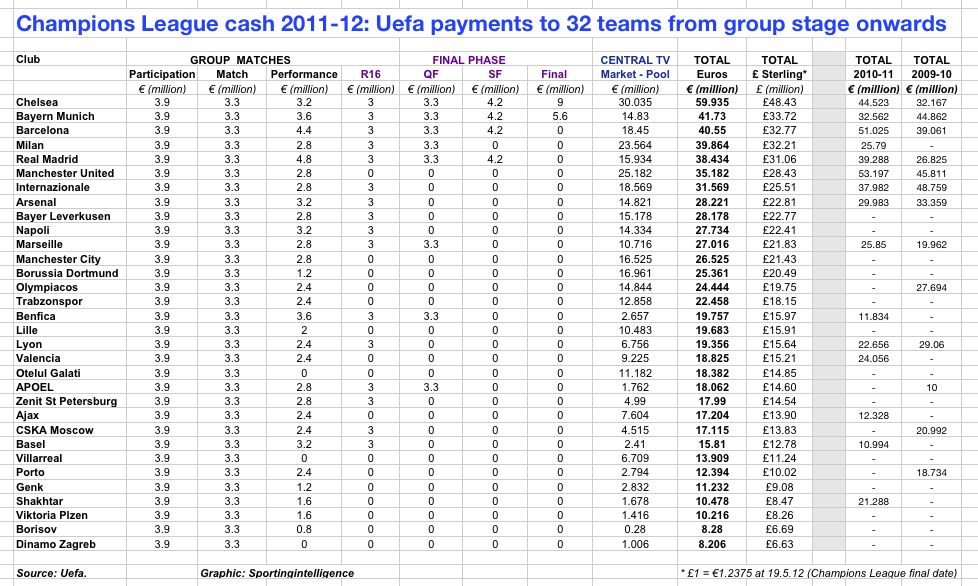 .
Follow SPORTINGINTELLIGENCE on Twitter
Sportingintelligence home page