By Alex Miller
and Nick Harris
SJA Internet Sports Writer of the Year
24 July 2012 
The combined shirt sponsorship income of the Premier League's 20 clubs has jumped 25 per cent in a year from £117.5m in 2011-12 to £147.1m for the 2012-13 season, according to new research by Sportingintelligence.
This is the third annual shirt sponsorship survey of England's top division for this site. The 2010-11 report can be found here; the 20 clubs had shirt income of more than £100m for the first time that season.
The 2011-12 report is linked here. The year-on-year surge on that occasion was fueled by Manchester City's Etihad deal (background to that linked here).
The £29.6m increase in sponsorship revenues for 2012-13 reconfirms the strength of the Premier League as a product, allowing clubs to benefit despite uncertain economic conditions.
The robustness of the Premier League's income streams was highlighted by the astonishing new £3bn live domestic TV deals from 2013 onwards (details here) and by the increased sponsorship deal with Barclays (details here).
The graphic below shows the value of the 20 clubs' shirt deals last season, and the figures for the 20 clubs who will play in the Premier League in 2012-13.
These numbers have been sourced via official spokespeople for the firms involved and / or industry insiders and checked, club-by-club, by individual club sources.
Article continues below
.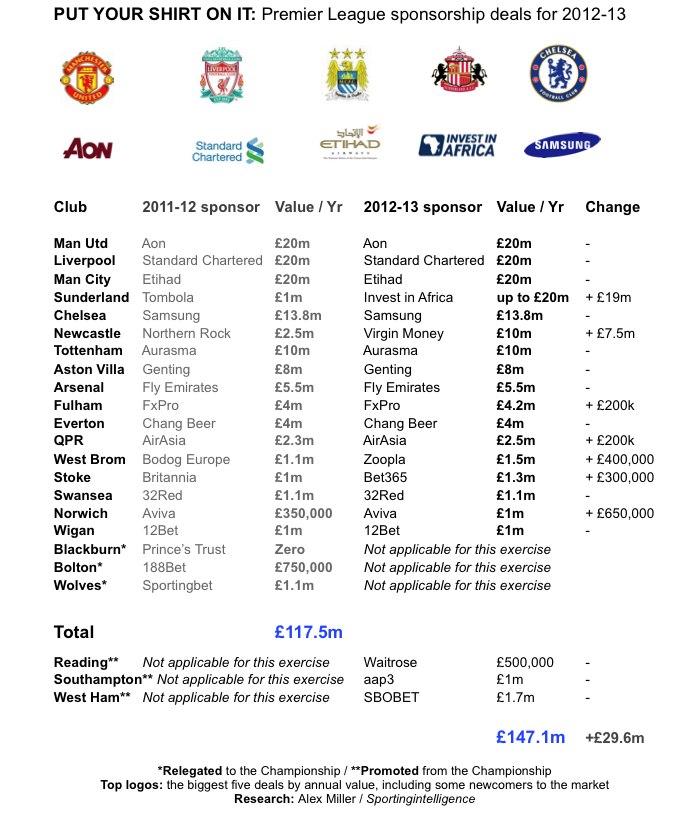 The headline total would be higher if 'auxiliary' kit deals were included, such as Manchester United's training £10m-per-year kit deal with DHL, and Tottenham's additional £5m-a-year from Investec to be the shirt sponsor for all cup games over the last two seasons. The north Londoners are in discussions to extend the arrangement.
We include only the single main shirt sponsors however.
The biggest financial leaps this season have come from clubs in the north-east, with both Sunderland and Newcastle both successfully negotiating lucrative new deals.
Sunderland recently signed a staggering agreement with Invest in Africa which several sources say is worth up to £20m a year. Of all the deals in the graphic, the phrase 'up to' is most applicable in Sunderland's case because there are bonus and other 'flexible' elements involved, sources say.
But the sum the club will receive in any case is 'substantial,' and could be as lucrative as the highest deals enjoyed by Manchester City, Manchester United and Liverpool. The deal could mean an extra £19m a year for the Stadium of Light coffers compared to the club's previous arrangement with Tombola.
Newcastle owner Mike Ashley has overseen an uplift of £7.5m a year after thrashing out a £10m a year deal with Sir Richard Branson's Virgin Money. The deal follows Virgin's acquisition of previous club sponsor, Northern Rock. Newcastle's previous shirt deal with Northern Rock was worth £2.5m a year.
Sports sponsorship expert Repucom International said the owners of Sunderland and Newcastle should be proud of their new deals.
EMEA and South Asia President Danny Townsend said: "Sunderland have pulled off a difficult piece of business by leveraging connections in Africa. The strength of the Newcastle brand meant that Richard Branson wanted to renegotiate and prolong a sponsorship he inherited. Those two clubs deserve credit."
In return for the cash, Sunderland will carry on their shirts the name and logo of Invest In Africa (IIA), which Sunderland described as a 'ground-breaking, not-for-profit initiative' to help promote investment in Africa.
Though a quasi-charitable tone to the deal may have been inmplied when former Foreign secretary David Milliband – Sunderland's vice-chairman – and Sunderland's Texan chairman, Ellis Short, a Texan, were at a launch that mentioned Sunderland 'giving something back' to Africa, this is not a charity deal in any shape or form.
Invest In Africa, which describes itself as a 'not-for-profit business initiative', has been set up and, for now, remains solely funded by oil firm Tullow, a £12.5bn stock market-listed firm with major operations around the world, especially in Africa.
The IIA website boasts that it is 'building a partnership of companies operating successfully on the continent to inspire other businesses to follow their lead'. So far IIA has only one partner, Tullow Oil, and employs just one person, director Will Pollen, who actually works for Tullow. (A LinkedIn profile which showed this has recently been deleted, although an internet cache, right – click to expand – still exists).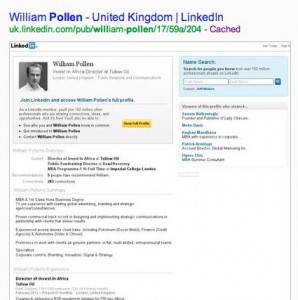 Sunderland will profit from the cash windfall and hope they gain fans in Africa through having the word on their chests. Tullow want a more westernised business culture across Africa to help boost their own coffers.
Arsenal's long-term sponsorship deal with Emirates appears increasingly low as every year passes. When announced in 2004, the combined 15-year sponsorship deal for shirt sponsorship and stadium naming rights worth £100m looked massive. Worth in the region of £5.5m a year for the shirts, the deal now looks on the low side compared to their biggest rivals and leaves the Gunners in ninth spot this season.
West Brom, Stoke, Norwich and QPR have earned financial uplifts due to new or renegotiated deals this season. West Brom will earn an extra £400,000 a year as a result of a new £1.5m a year deal with property website Zoopla. Stoke will enjoy an additional £300,000 after announcing a £1.3m a year deal with bet365. Norwich renegotiated a four-year, £1m a year deal with insurance company Aviva, worth an additional £650,000 a year, while QPR successfully renegotiated an extra £200,000 a season with AirAsia.
The overall total is boosted as the three newcomers to the Premiership – West Ham, Reading and Southampton, will earn a little more combined for their shirt deals (£3.2m) than the three relegated clubs, Bolton, Wolves and Blackburn (£1.85m together) last season.
The League's relationship with gambling firms continues with five clubs now advertising gambling firms on their shirts: Aston Villa, West Ham, Stoke City, Swansea and Wigan. The growing influence of Asian and Middle Eastern money continues too, with five clubs sporting sponsors from the regions (Man City, Chelsea, Arsenal, Everton and QPR).
Townsend added: "Brands across the world find the proposition of sponsoring teams in the Premier League attractive, in order to build brand awareness and credibility. The top clubs such as Liverpool and Manchester United are driving lucrative deals and there is room to move in terms of additional revenues, because they are delivering for their sponsors too".
.
Follow SPORTINGINTELLIGENCE on Twitter