By Brian Sears
30 January 2012
Very early in the current English football season, we considered the freakish number of away points being accumulated across the divisions. At that stage a minority of points were being won at home.
That was never going to last but with almost 60 per cent of the Premier League season gone, the top division remains on course to see a higher percentage of points won on the road this season than ever before
Currently this season, 45.3 per cent of points have been won away: a record level as our graphic shows.
As recently as 2009-10, it was as low as 35.3 per cent.
.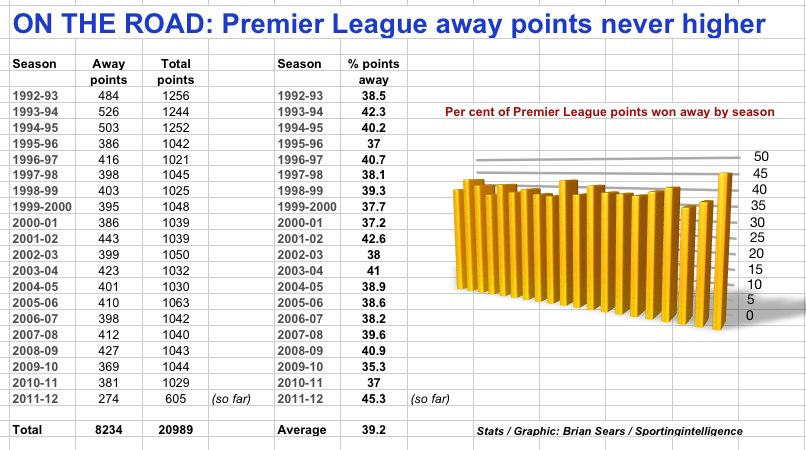 .
As many as eight Premier League clubs have so far gained more points or as many points away from home as they have gained at home.  That octet are led by West Brom, who have won only eight points at the Hawthorns but 17 on their travels. (Or 68 per cent of points away).
In terms of absolute number of away wins rather than per cent of points, Manchester United lead the way with eight, followed by Manchester City and Tottenham with six away wins each. Every club has won away at least once.
Other clubs are still relying on home comforts. Swansea have amassed 20 points on Welsh soil but only six points on English turf, while Fulham with 18 points at the Cottage have managed a meagre eight away from it.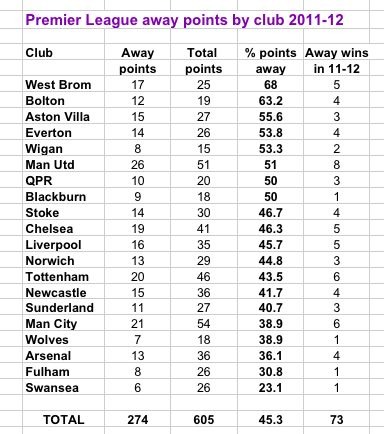 The 73 away wins so far in the Premier League  this season, with 58 per cent of the campaign gone, means we're on course for 126 away wins for the whole season, if away wins are sustained. The previous highest number for a 20-club Premier League season was 114 away wins.
We already know that the list of six clubs not winning a single away game in a whole season will not be extended this time round.
Those clubs were:
1992-93 Leeds (finished 17th)
1999-2000 Coventry (14th)
2003-04 Wolves (20th and relegated)
2004-05 Norwich (19th, relegated)
2007-08 Derby (20th, relegated)
2009-10 Hull (19th, relegated)
.
More on Tottenham / Man Utd / Man City (or search for anything else in box at top right)
Follow SPORTINGINTELLIGENCE on Twitter