By Brian Sears
21 December 2011
The Premier League's 20,000th goal will be scored in one of Wednesday evening's seven fixtures – barring a freaky night of low scoring that would be entirely counter to this extraordinary season so far.
The revamped top-flight began in the 1992-93 season, and by the time the final whistle blew at Blackburn versus Bolton on Tuesday evening, 19,989 goals had been scored.
That means 11 more goals are needed from seven fixtures on Wednesday.
The table here shows how many goals each team have been scoring per fixture this season. If these rates are replicated, we can expect around 19 or 20 goals tonight. That means the 20,000th goal will be scored roughly midway through this evening's action. (Article continues below).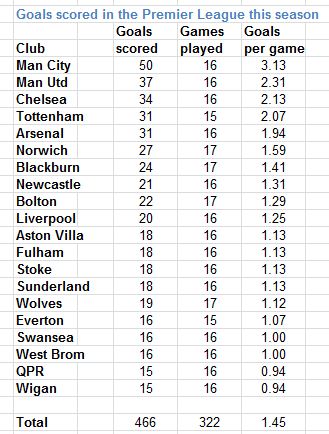 Back on 11 November, with 151 goals needed for 20,000, Sportingintelligence forecast the 20,000th goal would be on 21 December, around 8pm-ish. The appalling slackness of that prediction may now mean there is a margin or error of an hour or so.
The scorer of the 20,000th goal will get a cash sum of the same number to give to charity.
When it comes to lack of scoring, Swansea, Aston Villa, Fulham and Newcastle have one thing in common: they have all been involved in at least three 0-0 draws this season. And there have only been 12 of those 0-0 draws in the Premier League to date in 2011-12.
A table of the 0-0 frequency by club is below.
.
More on Man Utd / Man City /Arsenal / Liverpool / Chelsea (or search for anything else in box at top right)
Sportingintelligence home page
.