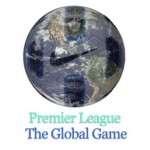 *
By Nick Harris
SJA Internet Sports Writer of the Year
27 October 2011
England's Premier League is, by far, the nation's most successful sporting export, watched live each week in more than 200 countries, and earning from foreign TV rights alone £1.437bn for the current three-year overseas deals (or £479m a year) as reported by sportingintelligence last year here and here.
But who exactly watches? And where? At home? In pubs or bars?
What channels carry the games? How much does it cost to subscribe? Why do foreign fans tune in?
Is is just popular in a few key markets, or can you really find PL fanatics in Tonga and Papua New Guinea and Gambia and Peru and all points in between? Find out what we've discovered so far (A-Z of nations, and listed by continent).
Over the coming months, we aim to find out, inviting PL viewers from around world (from as many of the 200+ different countries as possible), to share details of a single game watched.
Elsewhere in this series, find out how the League is viewed in:
Kenya, Azerbaijan, India and Sweden (all linked here).
And in the Czech Republic (here). And in Serbia (here). And in Montenegro (here).
And in Israel (where a MUFC fan watched THAT 6-1 defeat to MCFC).
Without further ado, what's it like to watch the Premier League in . . . . .
.
.Australia
.
.
Name: Adam Heap.
Age: 21.
Occupation: Student.
Game watched: Man Utd 1  Man City 6. Date: Sunday 23 October. Time: 1:30pm local time, 8.30pm Australia, although I actually watched on tape delay early on Monday morning in Australia, not knowing the score.
Where: At my house, in suburban Perth, Western Australia.
Who else was watching: My dad tuned in for bits and pieces of the game, although he already knew the score. My best mate, who's a United supporter, would have been there if I hadn't woken up early specifically to watch the recording as soon as possible – although I bet he's glad he wasn't there! We usually watch matches together whenever possible. I'm a City supporter (but only when it comes to the Premier League; this season is shaping up nicely for me to have the upper hand for once!). I'm otherwise a die-hard Burnley supporter.
TV Channel carrying the game: Fox Sports. It's a satellite channel that covers every EPL match live over here, with a feature that allows you to switch between up to five games at once on one channel. Games and highlights from most of the other major European leagues can be found on Setanta Sports Australia.
With that said, I don't mind watching online streams of Gillette Soccer Saturday – it's nice to sit in my bed with my laptop at around 10pm and listen to the entire English Saturday afternoon unfold, especially if there's nothing particularly great on TV.
It's also handy as I'm a Burnley supporter first and foremost, and with our solitary season in the Premier League come and gone it's usually the only way to get the live score, although every Championship team gets one or two games on television a season over here.
How much does it cost: To get the most basic Foxtel package with sports channels included is AUS$92 a month (£60 a month). About one in three people have Foxtel, but those who don't won't find it hard to get to either a mate's house or a pub that's showing at least one game.
What's the local tipple and how much does it cost: A half pint of good beer will usually set you back between AUS$4-$6 (£2.60-£3.90). I'm told that's quite expensive, although I don't drink so I couldn't really say.
What's the popularity of the English Premier League in the country where you live: Although the number one sport in the country is AFL Aussie Rules Football, the Premier League is incredibly popular here.
There's probably more supporters in Australia of the 'Big Four' clubs (United, Chelsea, Arsenal and Liverpool) than supporters of every team in the A-League (our national football league) combined, although quite a few people will support both an EPL team and an A-League team.
Manchester United supporters are without question the most numerous, with Liverpool not far behind. Everton also enjoy a large fanbase in Australia thanks to the popularity of Socceroo Tim Cahill in recent years.
I'm quite surprised that Fulham – whose keeper Mark Schwarzer is an Australian team stalwart – don't have as many fans, although I suspect that's the curse of a goalkeeper.
Sports bars on a Saturday night are devoted to the EPL, and Fox Sports have their own panel to discuss the main matches. My workplace has a fantasy league and over half of the staff are happy to debate results and issues in the game with a high level of knowledge. It's a constantly growing league in terms of support.
Any other observations: The influence that the Premier League has had on our local game is huge. The A-League went through a major rebranding a few years back and is growing quite rapidly now, although the gap in quality between us and the EPL is still vast. The capture of Brett Emerton from Blackburn to the A-League's Sydney FC earlier this year shows that players are now seeing the A-League as somewhere competitive to play.
Kids are benefitting from the EPL too – they see games and want to get involved, the amount of young people playing is incredible. Australia's recent appearances in the 2006 and 2010 World Cups has helped as well.
With that said, it's unfortunate that because of the shape of the EPL and the presence of the 'Big Four', many other clubs don't get the support that they should. I don't think I've ever seen anyone wearing a Wigan or Sunderland shirt.
I try to get around in my Burnley top as much as I can, and I encourage my younger friends to support someone outside the Big Four, although if that's what it takes to get them playing the Beautiful Game, I guess it's a sacrifice I can make to have a country full of United supporters!
It's definitely easier to be a fan of a Premier League club than of any other club. I support City as my Premier League team purely out of spite for Manchester United, but that aside I wouldn't trade being a Burnley fan for anything.
I'm a fourth generation Burnley supporter and I'll never forget watching the play-off final against Sheffield United on 25 May 2009 – my dad was so nervous he had to go to bed. The moment that Wade Elliott scored the goal that took us into the Premier League will be forever etched into my brain – that's how much the Premier League means!
———————-
This feature will be updated on a regular basis. Sportingintelligence invites readers who watch the Premier League overseas to send your own experiences to submissions@sportingintelligence.com, answering the questions posed above, and including a JPEG of yourself. We cannot guarantee to use all submissions (although if we've not had one from your country it's almost certain we will) and we'll be appealing via Twitter from time to time for viewers from specific nations.
.