By Nick Harris
SJA Internet Sports Writer of the Year
22 August 2011
Manchester City's storming start to the 2011-12 Premier League season has highlighted their potential and reminded us how much they've spent in recent years.
I calculate that Sheikh Mansour has spent around £750m since 2008 on acquiring the club, paying off debts, building facilities, planning more, buying players and paying their wages.
Sergio Aguero, Carlos Tevez, David Silva, Yaya Toure and Edin Dzeko each cost tens of millions of pounds in fees and enjoy six-figure weekly salaries – and they're far from alone in joining the Blue Moon revolution.
These costs have created problems, however. They threaten to endanger City's right to play in the Champions League in future years if City can't stop losing money.
Under Uefa's Financial Fair Play rules, for which monitoring comes into effect this season, 2011-12, clubs need to be breaking even, not losing money.
There is some leeway in the early years – and more background and detail can be found here on how clubs will be allowed annual loses in the low millions to begin with.
But Uefa insist that clubs aspiring to Uefa competitions should only spend what they earn in the future – so no more sugar daddies and no more oil billionaires buying success.
This is the problem for City. They lost £121m in 2009-10 alone, and will lose more when the 2010-11 figures are out; those results will be a financial car crash and it won't be the end of it. At that rate, they face a ban from Europe.
But how can they earn more money?
They can thrive in the Premier League, do well in Europe, and earn lots of TV money from doing both. They can sell tickets – and vastly improve their commercial income.
Which is where their record, ground-breaking deal with Etihad airways comes in. It was announced last month. It has variously been cited as being worth £300m to £400m.
From industry sources with knowledge of how it's been constructed, I understand it's actually worth a bit less than £350m over a decade. For sake of argument, let's call it £340m. That's the combined amount to sponsor the shirt, the stadium and the new 80-acre complex known as the Etihad Campus.
That's £34m per year on average. And that figure caused a stink among some of City's rivals, including Liverpool and Arsenal, as they asked how on earth this could be justified. Etihad, after all, is an airline with family links to Sheikh Mansour.
As such, there have been suspicions of a 'mates rates' deal, that Etihad have paid way above the 'going rate' as a favour to boost City's coffers, to help City move towards break even point – and hence not fall foul of FFP.
When I first heard of the deal, my own instant response was 'fudge', 'dodge' and 'loophole'.
I now think, having studied the numbers, I was wrong.
One of the reasons I paused for greater thought was the analysis of SwissRamble in his long exploration of the same subject.
What follows covers some of the same ground – although we have different views on certain numbers, and I've looked at some specific figures in the way in which I think Uefa will be looking.
Uefa insist they won't allow 'mates rates' deals to happen. They say they will monitor 'fair value' of deals between related parties.
Their definition of 'fair value' (scan of rule book below) is: 'the amount for which an asset could be exchanged, or a liability settled, between knowledgeable willing parties in an arm's length transaction'.
.

.
So it's a kind of market value, but not quite.
City won't have to prove, for example, that they put out to tender their shirt deal or stadium naming rights and got X, Y and Z interest, and Etihad was best.
But they will have to show that the amounts they are receiving can be justified within the context of the game, namely 'benchmarked'.
I understand that even within Manchester City's hierarchy, there is no formal, written breakdown of which parts of the package  are for the shirt deal, and which for naming rights and which for sponsoring the Etihad Campus.
But of the £34m per year (on average), it is being broadly considered that £20m is for the shirt deal per year and £14m (ish) for the other two elements, stadium and campus.
Here are a few reasons I think this can be justified.
.
1: City's peers now are Europe's top 10 clubs. City's shirt money should reflect it.
Even in the 2009-10 season, City had climbed to be No11 among Europe's richest clubs as defined by Deloitte. As this BBC report details, the top 10 were Real Madrid, Barcelona, Manchester United, Bayern Munich, Arsenal, Chelsea, Milan, Liverpool, Inter and Juventus. City were in 11th place.
Since then, City have not only got bigger financially, they have improved on the pitch. They have qualified by right for Europe's top table. They will play Champions League football for the first time in 2011-12, and can have a reasonable expectation of being Champions League regulars in the coming seasons.
So what is the average value of a shirt deal for a top 10 club in Europe this season?
As the graphic below shows, it's £15.5m.
And within England alone, where City ply their trade, Manchester United and Liverpool (who are not even in the Champions League) earn £20m a year from shirt sponsorship.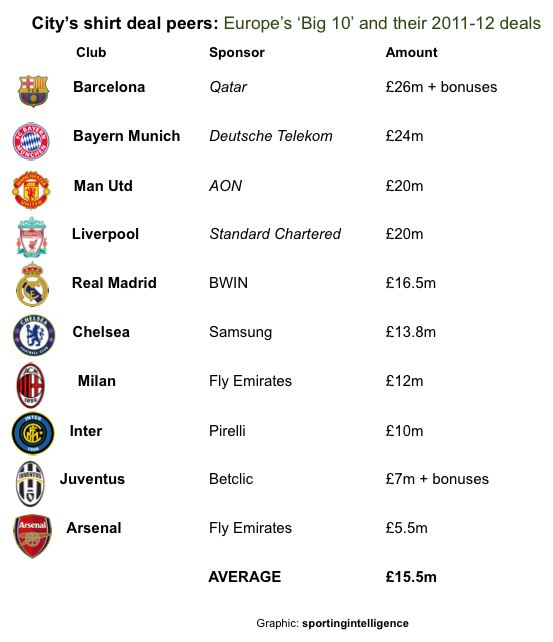 On these benchmarks, £20m per year for City's shirt is defensible.
I am not arguing that the deal needs to be making Etihad that amount of tangible return. Nor do we need to get waylaid with a pointless debate that United and Liverpool being 'bigger' clubs. Obviously they are. That's a no-brainer. (I write this as a non-partisan Southampton supporter).
The point is this: Can City make a case to Uefa that on a shirt deal benchmark, £20m is justifiable? Yes.
And it gets easier still when you look at the long-term nature of City's Etihad deal.
.
2: Inflation in a rich market could make £20m-a-year cheap in a decade
Ten years ago, Manchester United's shirt sponsorship deal with Vodafone was worth £7.5m per year. This was just before renegotiation to £9m a year, from where it rose to £20m now with Aon. In other words it's grown 266 per cent in a decade.
Arsenal's shirt deal with Fly Emirates was agreed back in 2004 at a rate that makes it worth £5.5m a year now – and that is hugely underpriced against Arsenal's rivals. Tottenham earn almost double Arsenal's money and even Aston Villa earn more. Arsenal should be earning at least double, probably triple. All 20 Premier League current shirt deals are detailed elsewhere today.
The salient point is that a deal worth £20m in 2011-12 could quite feasibly be worth £40m in 2021.
If we accept a case for City's shirt deal being worth £20m now, it could be £40m in 2021. Or more.
What if it stepped up each year over the next decade, from £20m to £22m to £24m to £26m to £28m to £30m to £32m to £34m to £37m to £40m?
That's £293m – just for the shirt deal.
I don't expect for a moment that City will argue this precise point with Uefa. But with such a long deal and precedent for growth across Europe's elite clubs, they can make a case along similar lines.
Suddenly £20m a year on average for the shirt (or £200m over 10 years) doesn't look so outrageous.
And if City did indeed win the Premier League in that time, once or more, and play regularly in the Champions League, why shouldn't they be earning as much as anyone else?
.
3: Naming rights do have a value, even in pre-existing stadiums
There is little or no value in naming rights for old venues with well-established historic names. (Emphasis on history). Think about Anfield. Or Old Trafford. Villa Park. Goodison Park. Hillsborough. Stamford Bridge. Elland Road. White Hart Lane.
Now stick Doritos or Maltesers or Argos in front any of them. It would go down like a bucket of cold sick with fans – and be pointless for PR purposes.
Few people if anyone would use the full new name. The media would do so with a lump in the craw or not at all.
There simply isn't any major economic value in such rights – and I've been told this by more than one person linked to more than one of the clubs above by people who've explored this issue in the past.
There is a value in naming rights for a new stadium, that's self-evident. The Emirates, The Ricoh, The Britannia and The KC Stadium are examples.
And there is a value in naming rights – albeit limited – for stadiums that are not particularly long-established. Medical company Galpharm paid money, albeit not massive sums, to become title sponsors of Huddersfield's home, the McAlpine, for example.
Leicester's Walkers Stadium has become the King Power Stadium too, and Wigan's JJB has become the DW – although both those venues changed names to promote the owner's businesses, rather than as a result of a transaction with an unrelated third party.
The question, though, is how to put a price on the renaming of Manchester City's stadium, to the Etihad Stadium, as it has become from this season?
Opened in 2002 as the City of Manchester Stadium, it was main venue the 2002 Commonwealth Games. CoMS never really caught on. It's too long a name. And 'Eastlands' has always been colloquial.
So the venue does fall into the category of non-established, name-wise.
On that basis, using benchmarks from other sports (and rare cases in football), I think City could probably argue that naming rights for Etihad are worth around £5m a year, perhaps a little more.
Dortmund's Westfalenstadion, home of the famous Yellow Wall, is now the Signal Iduna Park in a deal earning the club £3.5m a year. City could easily argue the Premier League attracts a premium, and also that their new name is already being used routinely, which can't be said for Dortmund.
Further afield, naming rights for FedEx Field (formerly the Jack Kent Cooke Stadium) earn the Washington Redskins of the NFL £4.6m a year, while in Miami, Sun Life pay £4.5m a year for naming rights to a venue already on its seventh different name.
In Australia, the ANZ Stadium in Sydney – which was firstly Stadium Australia for the 2000 Olympics, then the Telstra Stadium- is so-called in a deal worth £4m a year.
And sticking in Australia, there is also … The Etihad Stadium.
Built in 2000, it was formerly the Colonial Stadium and then the Telstra Dome. It's now the administrative home of the Australian Football League (AFL), as well as home base to five Aussie Rules clubs, plus a football team, and venue for rugby matches and concerts.
Etihad have had naming rights since 2009 in a deal estimated locally at £4m-£5m a year.
If that works for them Down Under, as naming rights appear to work for umpteen companies in various sports venues around the world, how can Uefa deny the Etihad Stadium in Manchester holds naming rights values worth cash to City?
They can't. And won't. The only quibbling will be on price, and the benchmarks mentioned make £5m a year, including Premier League premium, not so unreasonable.
Look at how often Etihad Stadium is already featuring in the news.
.
4: You can't benchmark something that doesn't exist elsewhere. (AKA: City's campus wild card.)
City's plans for the so-called Etihad Complex are the wild card in the FFP evaluation process. Across 80 acres they will erect a new mini stadium for training, and an academy for 400 youth players. There will be a landmark bridge – the Etihad Bridge – between the Etihad Stadium and the complex. (Update: detailed plans made public on 19 September 2011 are linked here)
There could even be an Etihad tram stop on the Manchester map. A call centre for the airline, currently based at Manchester Airport, could be relocated. The site is expected to become not just City's administrative and development base, but effectively a business park, a kind of MCFC Googleplex.
Etihad are paying cash for this to be synonymous with them. Again, it's beyond dispute that this holds some value; it could have become the Kitbag Campus, or Adidas Campus, or Umbro Campus to name just three firms that have their national or world HQs in the city. The only question is at what price?
My guess is that City are still working that out, but tinkering with a valuation of around £9m a year to be attributed to the Etihad Campus.
Contrary to some reports, Uefa are not taking any special sleuthing interest in City. They are not asking City more than any other club to submit details of their Etihad deal. They will, as with all clubs, ask for information and detail and expect City to justify what's been paid.
My hunch is City will convince Uefa of their case.
But I think that it will still leave them with a massive task to meet the FFP requirements; £34m a year is a lot of money, but City's losses are for now, still way ahead.
.
Sportingintelligence home page