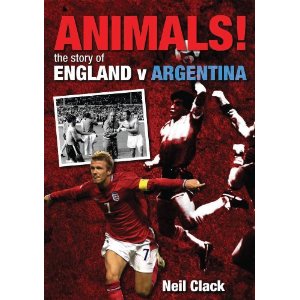 **
Based in Buenos Aires, Neil Clack is a writer who specialises in South American football. His book, 'Animals!: Argentina versus England' is now out in paperback. Below he describes what inspired him to write the history of this famously and famously acrimonious fixture, but starts with an extract from the book, and 'keeper Carlos Roa recounting the World Cup of 1998
.
.
…
By Neil Clack
19 February 2011
Extracted from 'Animals!'
"I wanted penalties," says Roa, by now reliving the match moment by moment in front of me, leaving his cream cake uneaten, wrapt in decade-old, yet still fresh memories.
"I wanted to be there. I had come from playing for Mallorca in the Spanish Cup final, which had gone to penalities, and I had done well. I felt confident."
The penalty shoot-out took place in front of the Argentina fans. It lasted six minutes and 54 seconds, with tense, nervous hearts paralysed in both countries, eyes almost incapable of watching as the players picked up their tired legs one by one.
Shearer, Owen and Merson were obvious candidates for England, but Anderton and Scholes had been substituted, so were not eligible to take a penalty, and dead-ball expert Beckham, of course, had long gone.
"There is a bit of intuition, and a bit of looking in the eyes of the penalty-taker," explains Roa of his penalty technique. "They always say the goalkeeper guesses, but there's more to it than that. Nowadays, the goalkeeper looks at the opponent, above all in the way he runs up, how he shapes up to hit the ball."
Mayhem in England and torture in south America as Crespo, the Argentinean striker missed, Seaman diving to his left to pull off a good save, a carbon copy of that which had won the 1996 quarter-final shootout against Spain in the European Championships.
But immediately the balance was redressed as Paul Ince, who had declined to take a penalty in the Euro '96 semi-final shoot out, missed as well, Roa replicating Seaman's save. "Obviously, I didn't know beforehand who would be taking the penalties," Roa tells me.
"I didn't know much about the players, but you see some clues when they place the ball on the spot. Whether they look you in the eye, all these little things count for the goalkeeper. The player manifests a lot of little things in the way he walks, or if he pauses, it's all information to analyse and help you decide if you should go to one side or the other, or stay in the middle.
"I actually don't think it makes much difference if you know the player, because players don't always take the same penalty. There are goalkeepers who have good records for saving penalties, and others who have not – it's not luck.
"With Ince, I remember he took a very long run up, from the other side of where he hit it. I was thinking, 'What a run up, he's going to smash this, not place it,' and I could see where he was going to hit it, so I dived to my left. He hit it right where I thought he would, and I stopped it – that wasn't luck'."
Veron scored, but then came another hullabaloo as Roa protested about the placement of Paul Merson's ball on the penalty spot. Referee Nielsen eventually lost patience and cautioned the keeper, who admits to playing games with the young England player, who was having to bide his time and hold his nerve before taking his spot-kick
But hold it he did. Despite Roa getting his left hand to his shot, Merson scored, as did Gallardo, and Owen in succession, the young Englishman cockily rubbing his hands together in a celebratory gesture repeated across playgrounds and playing fields for years to come. 3-3 on penalties, both sides with one to go of the initial five. It was effectively sudden death.
Ayala placed his penalty low to Seaman's right, and scored. Surprisingly, up stepped David Batty for England to take the first penalty of his professional career. As he placed the ball on the spot, Roa bounced on his line.
"The eyes of the world were on us, but all I was doing was concentrating on Batty," says Roa, "I was fixed on him. It's impossible to comprehend the enormity of what you're doing, you just have to shut everything out."
The two nations gasped for breath. In England, in one of the most tense moments in World Cup history, Kevin Keegan remarked to the 26 million viewers that this reminded him of a time when he was at Grimsby Town in a league cup match.
"Quick Kevin," said commentator Brian Moore, "Yes or no, will he score or not?"
"Yes," said Keegan, just as Batty hit a tame shot to Roa's right.
The goalkeeper parried, and England were out of the World Cup.
"I knew it would go to the right. You could just tell. I was studying him when he placed the ball and in the run-up," the keeper tells me now.
"I always remember the looks on the faces of the crowd during the penalties. In those few seconds between each penalty, the faces can change from smiles to defeat. I have a clear image of the English people; smiling, concentrated, then suddenly destroyed, crying.
"They felt the colours of their country, they love the sport of football. There was this total silence during the penalties, including those celebrating the goal. They celebrated very quickly, between each penalty, and then returned to the silence, until the final one.
"After the game I spoke to a friend on the phone and he told me what had happened at home. When I made the save from Batty, Argentina exploded."
.
******************
.
The inspiration behind 'Animals' was an argument I had with a Buenos Aires taxi driver who was convinced the 1966 quarter final between England and Argentina was all a fix. Having grown up with the legend of Bobby Moore, I found his passionate lecture difficult to accept.
"And what about that son of a bitch English manager calling the Argentines a bunch of animals?", he ranted, but although he may have been the most forthright in his views, the taxi driver could not be dismissed as a one-off loony.
I had heard the same story from Argentine journalists, men in bars, and even the 60-year-old woman who ran the little Pension where I was staying; they all adamant that England's victory was a conspiracy, arranged by Stanley Rous, the English President of Fifa.
Whenever I asked how they could be so sure I was always met with the same response, "Oh, c'mon, don't be so naïve."
I became fascinated with that 1966 match, and that would lead me to interviewing many of the players that Alf Ramsey had called animals, including captain Antonio Rattin, controversially sent off by the German referee Rudolf Kreitlein at Wembley.
But my quest for truth would manifest itself into uncovering the tales surrounding all 15 matches played between the two sporting enemies who have so many other issues between them.
The story relives Trevor Cherry and Daniel Bertoni's fisticuffs in the electric atmosphere of Boca Junior's Bombonera stadium during a time when Argentina was in the throes of a brutal dictatorship (1977), and obviously there's Maradona's defining performance in 1986, Beckham's sending-off (1998) and then his redemption (2002), but the book also looks at the footballing relationship between the two countries.
There are some amusing moments as well; a harassed Don Revie being interviewed in a Buenos Aires lift, and three years later, the same persistent Argentine journalist stalking Ron Greenwood in London, prior to the friendly at Wembley in 1980, a match in which, pre-Falklands War and pre-Hand of God, Maradona received a standing ovation from the England fans as he left the field in Kevin Keegan's shirt.
Incredible to think it today, in the age of Messi, but two days before that match, the Argentine team, world champions at the time, trained in Hyde Park, amongst a totally nonplussed English general public, sitting in deck-chairs and walking their dogs.
'Animals' is first and foremost a book about football, with a chapter dedicated to each of the 15 internationals played between England and Argentina. The story is told through the eyes of players, both Argentine and English, who starred in the games, tracked down and interviewed for the book.
Press comment from the time of each match is also used extensively to relive the occasions, and put each one in it's correct context. Right from the first match in 1951, when Argentina were the first foreign team to play at Wembley, there were always differences in style of play, most notably the Argentine use of the 'Enganche' (hook, or link), the roaming free-man behind the strikers, who has caused English defences so many problems over the years, from Onega through Maradona to Riquelme.
But the Argentines have always been susceptible to the English strength of headers and crosses, not to mention pacey strikers like Michael Owen.
The players offer tactical analysis and enjoy recalling amusing anecdotes, as well as revealing some startling cultural differences, such as the Argentine players in 1966 misunderstanding the significance of the Wembley's crowd's slow handclap as they knocked the ball around at the back, trying to keeping possession at 0-0 after captain Rattin had been sent off. To this day, they believe they were being applauded for their good play!
Many football fans from the modern era are probably not aware of the roots of the rivalry, nor how much British influence shaped the early days of Argentine football. Sailors and railway workers bought the game to Buenos Aires in the 1860s, and British ex-pat teams dominated for many years, so, for Argentina, it had always been an obsession to try and take on and beat their 'masters'.
.
Animals can be ordered here now
.
Some of sportingintelligence's other 'melting pot' features
Other articles on this website mentioning Argentina