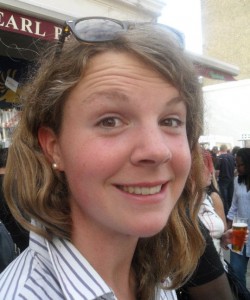 ALEXANDRA WILLIS is the former Deputy Editor of ACE Tennis Magazine, and alongside mag work and an affair with social media, has had the dubious honour of sitting in on a few tennis tournaments from time to time as part of her professional duties. If you happen to bump into her court-side, she'll probably tell you that she went to Oxford (and not just shopping).
.
.
.
.
By Alexandra Willis at the O2 Arena

22 November 2010
We are back in London. The tennis caravan, which rumbles so gracefully around the world, hopping plane to plane from East to West and back again has alighted once more on the banks of the Thames. And, while the rows upon rows of press tap away at their laptops like a well-oiled hamster wheel, London's O2 Arena, turned into a tennis court for one week of the year, has patriotic bottoms on practically every blue padded seat. Just ask the Federer fanatics, complete with giant Swiss flag, who travelled 3,000 miles to get here last year, and loved it so much, they've made a second trip. Or Diego Maradona. He's been hanging around a bit too, although no-one quite knows why. Rumour has it Kylie Minogue's even putting in an appearance tonight.
But this year's Barclays ATP World Tour Finals is not last year's. There are nips and tucks, tweaks and twists aimed at making this the world's best indoor tennis event. The timings are better – the doubles matches still get their slots in the spotlight, but the singles matches start an hour earlier, which makes all the difference as far as getting to and from North Greenwich goes. Not to mention the fact there's no jubilee line strike this year. Well done TfL. There are also two new practice courts, suited and booted with space for 400 spectator seats, and part of a new Fan Zone to get the paying public more and more mad about this crazy sport. In fact, you don't even need to have a ticket to watch the world's best in practice action. You can simply wander in. Genius.
And the main court surface has changed a little bit too. It's still a rather complex wooden jigsaw, but apparently it's a little slower than last year. Less boom boom tennis, more ducking and diving. In summary, so far, so very good for 2010 at the O2. Forget the fact that poor David Ferrer had to meet the Prime Minister in a pale grey suit rather than the requisite navy blue. He wore it well.
The most overwhelming difference, lest I jinx it, has been the players themselves. Last year, we had creaking bones, aches and pains and frustrations. Try as they may, those eight singles dudes just looked wiped out. But for some reason, they don't look so jaded this year. When they talk about how much this event means, why it is prestigious, and why they all want to be here, they look like they actually mean it.  And, they're in good spirits. A bit of friendly banter at the pre-event round tables? Well I never. Travelling along the Thames by boat every day, handy for avoiding trademark tube congestion (note to the Olympics organisers), Andy Murray even pulled out a Titanic pose.
"All the players at the start of every year want to try and make it here," said Murray last Friday. "I almost did it in 2006, had a bad wrist injury and had the one match to do it. I've had a few very good years on the tour, and I want to try and qualify here as many times as I can. Roddick's done it eight times, Federer nine, it's a tough thing to do. It shows you've had a good year. I think it's similar to the Masters Series, it's very different. I haven't won one, so it's probably best to ask one of the guys that has done. I've enjoyed winning Masters Series, and I really enjoy playing here, and hoping I can know what it feels like to win."
Perhaps it's also the good news that the ATP have announced they will be shortening the season by two weeks that has done it, even if they have to wait until 2012 for the new calendar to take effect. Heaven knows these players work hard for their money. And the women did finish a whopping month before. Or maybe it's that they've been very strategic throughout the year. Federer took a month off after Wimbledon. Rafa hasn't played for five weeks. Muzza's been smart with his scheduling too. Dare I say it, they've been doing more of a Williams than a Wozniacki.
"I think it's a good thing," said Federer yesterday. "Time will tell. Will we have less or more injuries because the calendar is more packed? I don't know. I definitely think it's a step in the right direction."
And then there's the small matter of this eight-some being more than happy to spend time with each other, somewhat miraculous, considering how they're technically baying for each other's blood 40-odd weeks of the year. Although even that has it moments, as Murray revealed with a bit of a giggle. "It was quite funny actually, when we went to Downing Street, we were put in a room where we waiting, and the eight of us just stood there, I guess everyone was just totally out of their comfort zone, we stood there for 30 seconds before anyone said anything, everyone was a little uncomfortable, which is strange because we know each other very well! It's nice to be around the top guys and be part of this event. I just remember thinking it was  strange because most of the guys usually talk a lot!" Oh to have been a fly on the wall…
Having said all that, there's a long way to go yet for the 2010 Barclays ATP World Tour Finals. After all, we're only three matches in, (well played Muzza, Fed and Djoko), and who knows if the players or the press parade will still be as chirpy in a few days time. Judy Murray might have snaffled all the cupcakes in the player lounge by then.
But so far, the World Tour Finals is proving to be a delight.
.
Sportingintelligence home page for all our latest exclusives
.
Want to comment on this story?
The subscription and comments policies of sportingintelligence have recently changed. Any user can comment on any story, however, by emailing using this link and including the story topic in the subject box. Your comments will then be manually posted by an administrator.