By Brian Sears
20 October 2011
Aston Villa are the most successful Midlands team in the Premier League's 20-year history, being the only ever-present club in the revamped top flight and managing 1.43 points per game on average in their 742 games to date.
West Brom are the least successful Premier League team from the Midlands in the era. Although they've spent longer in the division than Wolves and Stoke (who have both played 122 games), they've got the lowest tally of points per game: 0.89.
And the Baggies have been relegated from the Premier League three times.
The best and worst of the Midlands meet on Saturday.
And though the best and worst also shows up in the head-to-heads, with five Villa wins and four draws and just one WBA win in 10 Premier League meetings to date, the actual games have been close.
How close? Never more than a single goal in it (see below right)..

.
The Baggies do now seem to be finding their Premier League feet though. Last season they made their first mid-table finish and they seem to be getting on terms with their Midlands peer group.  Last Sunday they gained their first Premier League victory over Wolves and at the end of last season they achieved that first victory in 10 attempts over Villa themselves.
Aston Villa have not only been ever-present. On 17 occasions (in 19 completed seasons) they have been the top Midlands club.  In 1994-95, Nottingham Forest were 15 places above Villa, and in 2002-03 Birmingham pipped Villa by three places and three points. 
Currently Stoke are just one point and one place ahead of Villa.  A win for West Brom at Villa Park would put them and Villa on level points..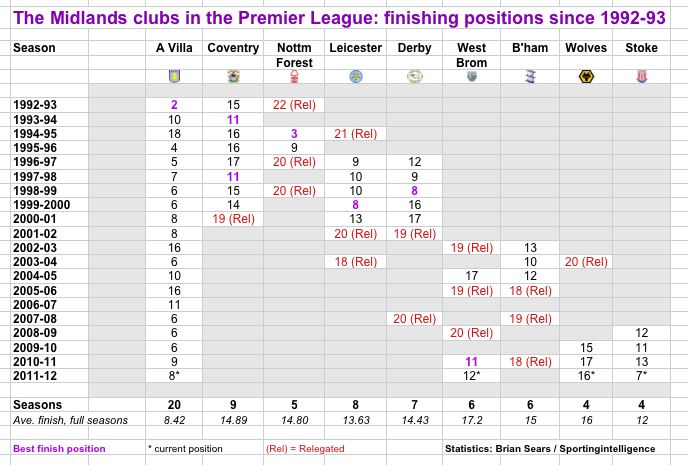 .
And another thing …
There is the small matter of a Manchester derby this weekend. United and City have played each other 28 times in the Premier League, and the era opened with a time of famine for City fans. It was not until the 11th encounter that City gained their first victory after they had endured eight United wins and two draws. 
Then over the next six seasons City even edged the meetings with five wins against four wins to United and three draws. That run climaxed with the famous City double over United four seasons ago.  Since then? The days of famine have returned.
United have gained five wins in the last three seasons with the one respite coming for City when this time last year they contested a goalless draw on their own turf. That makes the complete Premier League record : Games played 28, City wins 5, United wins 17, Drawns 6.
In the current Premier League table, City lead United by two points. 
At the end of post-war seasons (65 of them), City have been higher than United 10 times. 
The last time was in 1990-91, when City were fifth, three points above United in sixth in the old First Division. 
It was 44 seasons ago that City finished as champions of the top division for the only time in the post-war period, two points clear of runners-up … Manchester United. 
Five Manchester City wins against United (from 28 Premier League meetings)
9 Nov 2002 Man City 3 Man Utd  1
14 Mar 2004 Man City 4  Man Utd  1
14 Jan 2006 Man City 3 Man Utd  1
19 Aug 2007 Man City 1 Man Utd  0
10 Feb 2008 Man Utd  1  Man City  2
..
Sportingintelligence home page
More on Villa / West Brom / Man Utd / Liverpool / Man City / Arsenal / Chelsea (or search for anything else in box at top right)