*
By Pete Wilson
11 May 2010
A Chinese multi-millionaire internet tycoon has held provisional talks about buying Liverpool in the past two weeks and sportingintelligence publishes the first photograph of him in the British media today (below).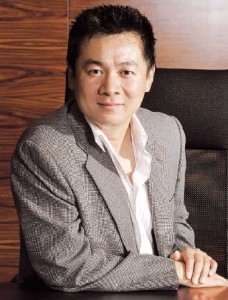 Zhu Jun, 44, is the founder, chairman and chief executive of The9 Ltd – one of China's leading online gaming firms – and is "sincerely interested" in the club.
Zhu has not yet tabled any offer. There are significant differences over price, and Liverpool's bankers are still very much open to exploring all options available. But Zhu has a background in football (he owns Shanghai Shenhua), is undeniably rich, and sources say he wants to head a consortium that could also involve other football contacts from the Chinese Super League.
More details can be found in this story today by sportingintelligence's editor, who also writes for The Independent.
Zhu made around £60m when his firm was floated in 2004 on the Nasdaq stock exchange. He has reportedly held two exploratory meetings about buying Liverpool with Barclays Capital (BarCap), the global investment bank hired by Liverpool's new chairman, Martin Broughton, to find a buyer. He had one meeting in Hong Kong, and one in Shanghai, sources say, both in the past fortnight.
Zhu is one of dozens of parties contacted across the world by BarCap who have expressed an interest or may have an interest in Liverpool. BarCap declined to comment. Asia, especially China, is seen as a likely place to find a buyer, highlighting again the global reach of the Premier League.
Zhu told an interviewer in 2007 that his success in business was based "on simple business logic", summarised as: "Be swift, respond quickly to changes, aim for steady growth, and never lead the industry."
Zhu has already turned out against Liverpool, as this article shows, which highlights his passion for the game if not a realisation he is past his best as a centre forward. Torres out, Zhu up front? Mmm.
.
Sportingintelligence home page
More articles mentioning Liverpool
Exclusive sportingintelligence interview with Carson Yeung, the Premier League's first Chinese owner