By Brian Sears
26 September 2014
The Premier League season is already 50 games old (of 380), or 13.2 per cent the way through. Early days, yes, but one statistic that already looks odd is the amount of away wins so far, 18 of them against only 14 so far at home. Eighteen games have also been drawn.
Only five of the 20 clubs have not yet won away from home. The five are Manchester United plus the current bottom four in the table: Sunderland, QPR, Burnley and Newcastle.
Eight teams have yet to win a home league game: Hull, Stoke, Everton, Crystal Palace, West Brom, Sunderland, Burnley, Newcastle. The latter three have yet to win at all.
Of the five teams yet to win an away game, only one of them are playing away on Saturday, and that's QPR, who visit Southampton.
This is QPR's seventh season in the PL in different spells and they have played 122 PL away games, winning 28 of them (23%), drawing 26 (21%) and losing 68 (56%). They've scored 126 goals away in the PL and Juan Mata's goal against them for Manchester United recently at Old Trafford was their 200th away goal conceded in the PL.
Only against two current PL clubs have QPR won as many as three times away. Everton are one of those clubs. This weekend's opponents Southampton are the other.
Article continues below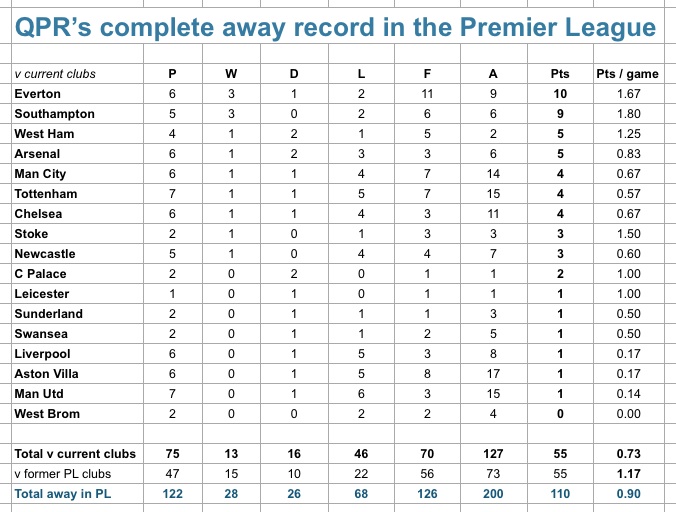 .
And another thing …
How unusual was Manchester United's defeat against Leicester? Pretty unusual, statistically: they had previously lost just 8.3% of games against promoted teams.
In the Premier League era United have played promoted teams 133 times including three in quick succession this season already.
They have now lost 12 of those 133 games, 11 of them in 21 seasons under Sir Alex, none last season under David Moyes (who steered United to five wins and a draw) and one defeat so far from three under Louis Van Gaal, against Leicester, following a win over QPR and a draw at Burnley.
The Leicester defeat was United's first to a promoted club for five years since a single-goal defeat to Burnley on 19 August 2009.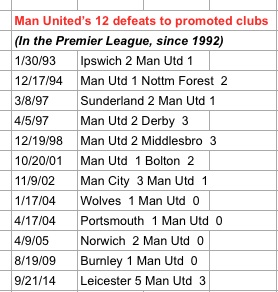 .
More on Man City / Liverpool  /Arsenal / Chelsea (or search for anything else in box at top right)