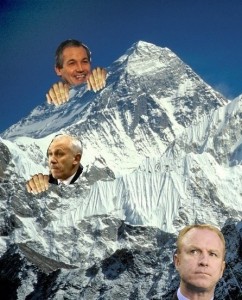 By Brian Sears
9 April 2010
A top six finish in this season's Premier League is probably beyond Birmingham despite their fine campaign under Alex McLeish. But another kind of top six finish is realistically within their grasp: they remain on course to achieve one of the best ever seasonal performances for a club in the Premier League in the year after being promoted from the second tier, aka the Championship.
As can be seen from our first table below, George Burley's Ipswich Town from 2000-01 currently hold the No1 spot. In the year after coming up via the play-offs, Ipswich had a storming Premier League campaign, amassed 66 points, and finished fifth. That was enough to earn Georgey B the 'Manager of the Season' gong, and well deserved it was too, statistically speaking. Others have been trying to replicate that peak achievement ever since without coming close.
In the No2 spot are Sunderland from 1999-2000, who won 58 points to finish seventh in the year after promotion (under Peter Reid), then come Reading from 2006-07, and so on.
In the era of the 20-team Premier League (which is since 1995-96, when it was slimmed down), 44 teams have been promoted.
And with five games remaining this season, McLeish's Birmingham already have the 13th best record for a promoted side (46 points), with a maximum of 15 points more up for grabs. If Blues won all five games, 61 points would make them the second-best promoted team behind Ipswich.
Given that their remaining games are away at Manchester City (this weekend), then at home to Hull, away at Villa, at home to Burnley and away at Bolton, a more realistic achievement would be something like six or seven more points, for a total of 52 or 53, and that would put them into the top six in terms of best Premier League performances by promoted teams.
City only need three more points to improve on their own best "promoted year" record of 48 points from seven seasons ago.
Elsewhere, Birmingham's fellow promoted sides this season, Burnley and Wolves, will be looking to avoid joining the ranks of the "one-year" stayers. Over the 17 completed seasons of the Premier League to date, there have been 24 "one-season" stayers, and they are shown in the second table today. Crystal Palace have been "one-season wonders" no fewer than three times, while Bolton, Leicester, Sunderland, Watford and West Brom have been OSWs twice each.