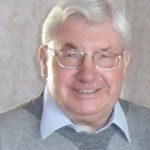 JOHN ROBERTS wrote for the Daily Express, The Guardian, the Daily Mail and The Independent, where he was the tennis correspondent for 20 years. He collaborated with Bill Shankly on the Liverpool manager's autobiography, ghosted Kevin Keegan's first book, and has written books on George Best, Manchester United's Busby Babes (The Team That Wouldn't Die) and Everton (The Official Centenary History).
As Matthew Engel once wrote in the British Journalism Review: "I suspect posh-paper sports writing changed forever the day John Roberts left the Daily Express to join The Guardian in the late 1970s, was handed a piece of routine agency copy and picked up a telephone to start asking questions."
.
.
By John Roberts
15 March 2010
.
In conversation with Dixie Dean: Part Three
.
JR: You started the [record-breaking, 60-goal] 1927-28 season with one goal at home in a 4-0 win against Sheffield Wednesday.
DD: I must have had a bad day that day.
JR: One at Middlesbrough [2-4]…does that strike a chord with you?
DD: Yeah, they used to have a little fella Jackie Carr, who was making a bit of a mug out of our centre-half that day. Our centre-half turned round and shouted at Jackie: 'Hey, listen you, you little so and so, get jumping for the ball.' Jackie said: 'See that big building over there? And that big chimney? Well I can't jump, if I start jumping now our old fella is in there and he'll want me to get him out. That's the bloody workhouse.'
JR: One at Bolton Wanderers [1-1].
DD: Bolton were a great team. They had nine internationals in their side.
JR: You got two at home to Birmingham City [5-2].
DD: Yes, well they also had one or two tidy internationals.
JR: You got another one against Bolton at Goodison [2-2].
DD: Yeah.
JR: Two goals at Newcastle [2-2]. Any memories?
DD: Yes, that was when the Geordies invaded the pitch after the second goal. I thought they were coming for me, but they weren't [aggressive]. They were putting their arms around me, saying: 'Hey, ya' ******* 'ell man, give us one like ya give us the last time.' There's no getting away [from it], they're a great crowd.
JR: You got two at home against Huddersfield Town [2-2]. They'd had some great years. Won the championship three times in a row [1924,25,26, and runners up in 1927 and 1928].
DD: Yeah, Huddersfield had practically a half-back line and forward line of internationals.
JR: You got two against Tottenham Hotspur at White Hart Lane [3-1]. Was that a favourite ground of yours?
DD: Yes, I could always get one or two there.
JR: Hey, this isn't bad, is it? Five at home against Manchester United [5-2].
DD: Well, that was before half-time. I could always get goals against both Manchester teams, home or away. I've got four against Manchester City at Maine Road before half-time one day. That was when Tommy Browell was playing centre-forward for Manchester City.
JR: When you scored those against Manchester United, was it a case of unsettling them so much early on?
DD: I wanted to go for a cup of tea!
JR: You then scored three at Portsmouth [3-1].
DD: Yeah, I could always get them down there.
JR: Three at home to Leicester City [7-1], who went on to beat Portsmouth 10-0 the following October.
DD: They were a pretty good side, a nice side to watch. They had one or two internationals.
JR: Two at Derby County [3-0].
DD: You were playing on top of the spectators at the Baseball Ground in those days. And opposite the stand that you come out of was a long row of houses. The people that owned those houses, they used to let people come up the bedrooms, and there'd be thousands of them leaning out the windows.
JR: Two at Bury [3-2].
DD: That was when old Tiny Bradshaw was centre half. Tiny was about six foot six.
JR: You weren't a giant of a man.
DD: No, I was five foot ten and a half.
JR: Three at Aston Villa [3-2].
DD: Yes.
JR: One at Arsenal [2-3]. They played a big part in your career.
DD: Yeah, when Herbert Chapman took over he came up to Everton and put an open cheque on the table for me.
JR: Did he?
DD: Well, he said that's how he built his team. He just simply went to them and said: 'Is there anything doing?' If not, off he went.
JR: And Everton said 'No, nothing doing.'
DD: Yes.
JR: You scored two at home against Cardiff City [2-1].
DD: I nearly lost my temper with Fred Keenor, their centre-half. He called me a black head so and so.
JR: You were never booked were you? Never sent off…
DD: I was never spoken to….the only time was with bald old Lol Harper, the referee from Stourbridge. He was putting a mint in his mouth. I said: 'Give us one.' He gave me a mint.
JR: Two at Sheffield Wednesday [2-1]. Were they a fair side then?
DD: Yeah, [Tom] Cooper and [Ernie] Blenkinsop used to be the international full-backs. They played with me for England.
JR: Two in a defeat at Blackburn Rovers [2-4].
DD: They were a big, hard, strong lot.
JR: Two at home against Middlesborough [3-1]…one in a defeat at Huddersfield [1-4]. Three at Liverpool [3-3]. Why have you got a white arrow pointing here?
DD: Well it's against the red devils. We were the blue devils, that day. It was three in the first nine minutes. Elisha Scott and Jimmy Jackson…Jimmy was the 'Parson' by the way.
JR: He was a parson?
DD: Well, he was at the end of his studies to become a parson. He finished up in Leicester. After I scored the third goal, he came up the pitch and put his arm around my shoulder, and he said: 'William, I shall never play in front of this man again.'
JR: Was he referring to Elisha Scott [the goalkeeper]?
DD: Yeah…his language. I mean, you can imagine, me getting three in the first nine minutes. You can imagine the words, Irish words that you'd never heard before.
JR: Then came three home matches in which you scored two against Derby [2-2], two more against Blackburn [4-1] and one against Bury [1-1]…followed by two at Sheffield United [3-1].
DD: Aye, old Billy Gillespie was one of their forwards. They had a tidy little side once upon a time.
JR: One at home to Newcastle [3-0]…and that left you with the three games you've talked about to score nine for the record: two at home to Aston Villa [3-2], four before half time at Burnley [5-3] and three at home to Arsenal (3-3].
.
To be continued . . . (the fourth and final is now available, here)
.
Some material from the interview also appears in 'Everton: The Official Centenary History' and 'The Legendary Dixie Dean' CD book.