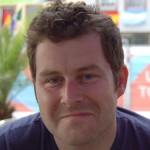 DAVE BOYLE is the chief executive of Supporters Direct, the organisation that works with supporters trusts at football clubs to help them buy shares and increase influence at their clubs. A former long-serving National Council Member of The Football Supporters' Federation, he supports AFC Wimbledon. He was also, rather marvelously, the advisor on football matters to series Three, Four and Five of the TV soap opera 'Footballers' Wives'
.
..
.
By Dave Boyle
2 March 2010
So Portsmouth are in administration, in a serial dating relationship with the High Court, looking for their fifth owners of the season, and might as well have kissed goodbye already to all of next year's £16m parachute money from their inevitable relegation. It's both a tragedy and farce as history repeats itself for a club in administration 10 years previously.
Reading some of the commentary on the events at Fratton Park, you would get the impression that these unfolding events are an unpredictable development. That would be wrong for several reasons.
The first is that the problem is less events at Fratton Park, since most of the club's problems are due to events taking place variously in Israel, Hong Kong and South Africa, and possibly Saudi Arabia too if Ali Al Faraj a) actually existed; and b) owned Portsmouth, although those eventualities seemed more apparent than real at times.
As important is that nobody seemed to think that a club with a stadium capacity of 22,000 could reasonably take out loans coming to £60m. And when faced with a shortfall, the club did what any self-respecting club would do – it stopped paying its tax. You can spend all you like supporting community projects but when you deprive the community of £11m of tax revenue, your good work is somewhat undermined.
The real crime though is that Portsmouth acted as if they could put off the evil day when economic gravity would grab hold of them and bring them crashing back to earth. They paid for players in installments then sold them before they'd finished paying but banked the sale money anyway.
This isn't a series of unfortunate events affecting a poor put-upon club. This is the chickens coming home to roost. Cluck, cluck, cluck.
This is what happens when you're not diligent about who buys clubs, and more importantly, why and how and what for, and what with. This is what happens when you drink the elixir that says markets are always efficient and shareholders are always going to act in the best interests of the company.
John Maynard Keynes' once said that 'Practical men, who believe themselves to be quite exempt from any intellectual influences, are usually the slaves of some defunct economist.' Football men pride themselves on their practicality, and they too have been slaves.
The defunct economist here is Friedrich Hayek, more a philosopher than economist, but he was an economist in Germany and in America and at the LSE in London. He viewed markets as magnificent, companies and shareholders as sovereign and best placed to make the decisions. This was allied to the notion that lots of people acting in their own self-interest at their own companies would combine on a society-wide level to make things work out just fine. In fact, not only would things always turn out for the best, any attempt to guide this process would actually lead to disaster.
Of course, clubs exist in a marketplace: they compete, they pay salaries, sign contracts. They're not fluffy-bunny anarcho-syndicalist communes. But there are a host of ways in which organisations can be structured to exist in a marketplace other than as a shareholder-owned company driven by the profit motive.
Clubs were structured like this by accident; people used what was to hand when clubs were created in the late 1800s. But in the hands of men like Martin Edwards, Irving Scholar and David Dein, the prevailing ownership wisdom became that football clubs were and should be run as businesses, and that their owners can and should take a profit from them.
That view, echoing Hayek, said that the best people to regulate a business are businesses themselves. So these businesses (our clubs) fought regulation from the FA and from the government and are currently fighting Uefa's eminently sensible proposals to get to grips with club finances. But as FT columnist Willem Buiter once wrote, "unfortunately, self-regulation stands in relation to regulation the way self-importance stands in relation to importance."
David Gold, a man who turned Birmingham from lower-division basket case to healthy Premier League club in 16 years, knows a thing of two about running a top-level football club, and he knows all this to be true. He said: "We have to face up to the fact that we can't be trusted. We are a bit like alcoholics. The first thing we have to do is accept that we have a problem. Until we do so we all face becoming the next Leeds United or Ports mouth. We are all in denial. All 20 clubs, collectively, must come together to save ourselves from ourselves. We need leadership, we need to take the first step towards financial sanity. If we don't we truly face the abyss."
But we're left with the structural problem. The supporters who have been arguing these points for years are on the outside of clubs boardrooms, on the outside of league committees and on the outside of the FA's power centres. Until and unless we get into those rooms and those meetings to drive the change needed, David Gold's words will join the thousands of words written since the Chester Report in 1967, the Task Force in 1997 and countless inquiries, investigations and reports and column inches that all adequately diagnose the patient but are unable to administer the necessary surgery.
.
A version of this column appears in the current edition of FC Business magazine, the trade magazine for the UK & Republic of Ireland football industry
.
See what's on sportingintelligence's front page today
.
For more columnists, click here
.
Find out more about the work of Supporters' Direct by clicking here
.

.
.
.