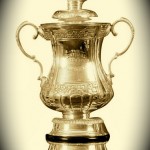 By Brian Sears
10 February 2010
Omens, omens. The last time Chelsea and Cardiff met in an FA Cup match (in 1927), we all know what else happened that year. That's right. Saudi Arabia became independent of the United Kingdom. (And Cardiff went on to win the Cup). If you're interested in such ephemera and coincidence and, let's be honest, such pure tomfoolery, then our first table below is the place for you.
It won't give you any idea who will win this weekend's fifth-round FA Cup matches but you'll be able to marvel at the fact that Tim Henman and Victoria Beckham were born within months of each other in 1974, and that a whale swam up the Thames in 2006, the same year that West Ham, just as improbably, threw away a 3-1 lead in the FA Cup final and lost to Liverpool.
On a more recent and practical note, our second table shows that in this most open of Cup years (with giants Manchester United, Arsenal and Liverpool already all out) Chelsea are the sole "big four" team remaining, and my goodness their record shows it. In the last 10 years alone they have won the FA Cup three times and been runners-up once. Only Portsmouth of the other 15 teams remaining have won the Cup in that time, against Cardiff in 2008.
In the past decade, Chelsea have won 41 FA Cup matches, while their opponents this weekend, Cardiff, have won 17. Home win banker, surely. By the same logic – using comparative records over the past decade – Southampton can expect to beat Portsmouth, Aston Villa will win at Crystal Palace, Spurs will win at Bolton, Fulham will beat Notts County, West Brom will win at Reading, and Man City will beat Stoke. The tightest game will be Derby against Birmingham, the latter winning in a replay, we say.
If only it were so easy to predict. Yet shocks are the lifeblood of this glorious competition, for those who do the shocking at least. Already this season there have been five "giant killings", defined as top-division sides being beaten by lower-division opponents. As we reported before the fourth round, there had been 100 Premier League teams "scalped" in this way since the League began in the 1992-93 season. Liverpool were the 100th victims, when losing to Reading. Since then, Burnley have fallen to Reading, Wolves to Palace, and Wigan to Notts County. There are five more potential victims in the weekend's eight matches.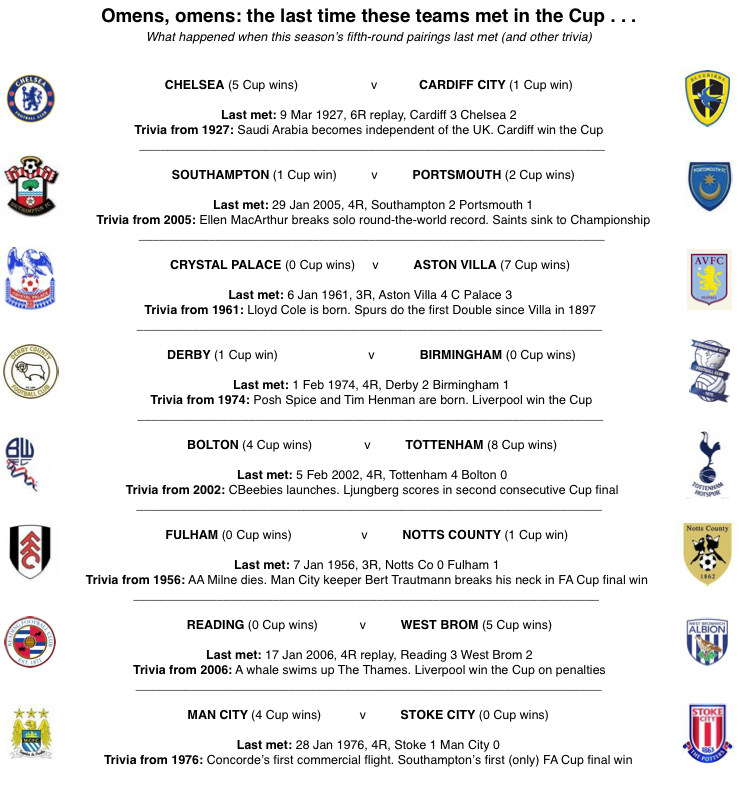 .