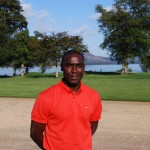 By Andy Cole
20 January 2010
Manchester United would have benefited from taking up their option on Carlos Tevez last summer instead of letting him go, to Manchester City as it transpired. I know that's a view that puts me at odds with Gary Neville – sorry Nev – and even with Sir Alex Ferguson, who ultimately made the call.
In my own defence, I also have to say my view has been consistent on this since last summer, and not informed only by the fact the busting Argentine put two goals past United (who I still very much consider to be my club) yesterday in the League Cup.
Of course there will have been financial considerations involved in Tevez leaving Old Trafford. I think Nev's point, made a few days ago, was that perhaps Tevez or his representatives wanted too big a fee and / or wages, and that no player can call the shots at United in that way. I can't comment on that because I don't see pay slips and I'm not inside Tevez's head to understand his demands.
What I did see, clearly, was a footballer of immense ability who was pivotal to United's success in 2007-08 when they did the Champions League and Premier League double. And while his impact was arguably lower last season, he could reasonably argue that was down to fewer starts. But the goals he scored were still important, and he is one of those rare players who can spark something from nothing to change and win a game.
Let's assume Tevez and his advisors had already made up their minds he wanted out. And let's also assume that United thought a fee of £25m (or more) to his owners, plus more for a big contract, was pricey. I still think there might have been some better solution. Why wouldn't Tevez want to stay at the biggest club in the world's most popular league, if given the chance? And did United, by balking at the cost, make an error?
I'd never, ever dream of telling Sir Alex, the greatest manager of all time, on what basis to make a decision. But I do wonder whether part of him is regretting that they couldn't have found a way to keep Tevez. Fair enough if United didn't want to pay X and Y, but remove money from the equation and it's a no-brainer; he's good enough for United and therefore should have stayed.
Finances at United have been high on the agenda in the past week or so, and to honest a lot of the talk about numbers and balance sheets and bonds just escapes me. Are the players sitting around talking about it? My guess is not at all. Your focus as a player is getting in the team, winning matches and staying in the team. That's it. And to be practical about it, what can any player actually going to do, in a meaningful sense, to alter anything? Write a letter to a club owner? Ask from him do this and that to the balance sheet? It's just not realistic. It's not going to change anything.
Where players will be affected, perhaps, is when the fans get involved too, demonstrating during games. No player is immune to fans venting their frustration, for whatever reason. But again, having acknowledged any fans' right to express their views, what exactly could a player do to make a difference? Not a lot. The players' best reaction has to be to win the game in front of them.
Clearly a bad financial situation at a failing club would hurt players if they didn't get paid. That's when you'd hear dissent something, as would be the case at any business or factory. Until then, players want to play football, not ponder other things beyond their control.
Mancini lucky with his timing – time will tell if he's the real deal
So City beat United 2-1 in the first leg of the League Cup semi-final. Should we already be hailing Roberto Mancini as the man who lead them to great things? For me, the jury is still out. I'm not predicting that he'll falter, I just don't think we've yet had the chance to see if he can hack it consistently. Let's face it, he came in at an ideal time, fixture-wise. Home to Stoke, away to Wolves, then Boro in the Cup, home to Blackburn. These, surely, were winnable games for any manager with his squad? Then came his toughest assignment yet, away against a decent Everton team at the weekend, and City lost 2-0. Congratulations where they're due for Tuesday's win over United, although even that tie is far from over. But let's wait a few months longer before we see whether Mancini can maintain the great results, week-in, week-out.

The fee for Andy Cole's column is donated to Alder Hey hospital and sickle cell anaemia research. He works on charitable projects with the sport and media team at law firm Thomas Eggar.
A version of this column also appears in The Independent.