By Brian Sears
20 January 2010
.
Nine top-flight clubs are in danger this weekend of becoming the 101st Premier League giants to be slain in the FA Cup by lower-division opponents. Since the English top flight was revamped in 1992, there have been 100 such "slayings", with Liverpool the 100th and most recent victims to fall, last week, against Reading.
.
It was apt in many ways that Liverpool should be the landmark fallers; they have been slain more times in the period in question than any other Premier League club. How many times exactly? A not very magnificent seven!
.
The nine Goliaths quaking in their sandals this weekend are: Fulham, away at Accrington; Aston Villa, at home to Brighton; Bolton, at home to Sheffield United; Wigan, away at Notts County; Chelsea, away at Preston; Burnley, away at Reading; Tottenham, at home to Leeds; Wolves, at home to Crystal Palace; and Manchester City, away at Scunthorpe, and the only one of the nine to be playing on Sunday. The rest play on Saturday.
.
.
On past upsets, Manchester City (four times slain) would appear susceptible at Scunthorpe, although maybe these days the cash of Sheikh Mansour makes them less vulnerable. And there should be no problem with Roberto Mancini, as a foreign manager, misunderstanding the importance of the venerable old tournament. He's even played in the FA Cup, once, back in January 2001 for Leicester City as they won 2-1 at Aston Villa in the fourth round. That wasn't a slaying of real proportions because Leicester were still a Premier League club back then.
Next in the danger zone, in terms of being slain most historically, are Villa and Fulham, both victims three times before. The full list of the slain is as follows.
.
Eliminated from the FA Cup, as a Premier League club, by lower-division opposition
7 times: Liverpool.
6 times: Everton.
5 times: Leeds, Southampton, West Ham.
4 times: Blackburn, Charlton, Derby, Man City, Sunderland.
3 times: Arsenal, Aston Villa, Fulham, Ipswich, Leicester, Middlesbrough, Newcastle, Sheff Wed, West Brom.
Twice: Birmingham, Bolton, Chelsea, Coventry, Crystal Palace, Nottm Forest, Wimbledon.
Once: Bradford, Man Utd, Norwich, Oldham, Portsmouth, QPR, Sheff Utd, Stoke, Tottenham, Watford, Wolves.
.
The Davids: clubs outside the Premier League who have knocked Premier League teams out the FA Cup
6 times: Sheff Utd, Tranmere, Wolves.
4 times: Bolton, Burnley.
3 times: Cardiff, Charlton, Fulham, Gillingham, Reading, Swansea, Wrexham.
Twice: Barnsley, Birmingham, Blackburn, Bristol Rovers, Coventry, Hartlepool, Leicester, Luton, Millwall, Nottm Forest, Oldham, Portsmouth, Port Vale, Sunderland, Watford, West Brom, West Ham.
Once: Bradford, Brentford, Bristol City, Chesterfield, Crystal Palace, Grimsby, Huddersfield, Ipswich, Leeds, Leyton Orient, Man City, Oxford, Preston, Rotherham, Shrewsbury, Stockport, Walsall, Wimbledon, Wycombe.
.
Where the giant killers were living when they slayed the Goliaths
Championship or equivalent: 70
League One or equivalent: 26
League Two or equivalent: 4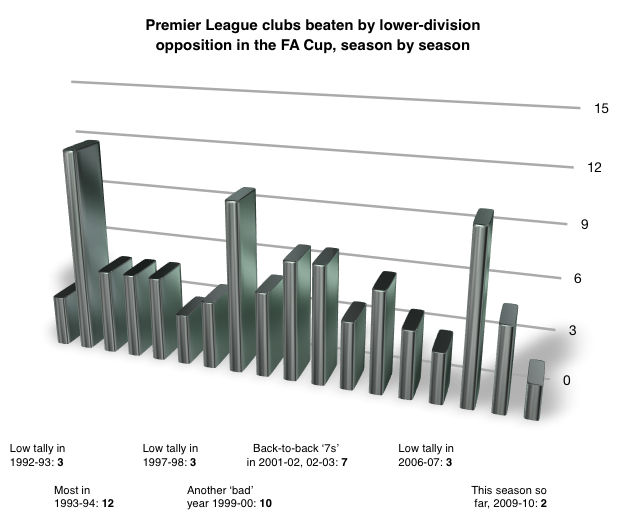 .