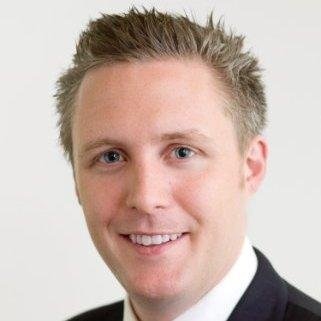 By Dr Tom Markham
21 August 2015
Manchester United are by far the most valuable football club in England, worth £1.848 billion, and the only other club worth more than £1bn is Arsenal, at £1.118bn.
By 'worth', the definition is market value, using a fixed set of financial criteria – hard economic data – to look at what they earn and what they spend, and their assets, to come up with a 'rational' value for the club.
For those who want to know in great detail how this formula works, and how it produces 'real world' prices, then see this detailed methodological paper on the Markham Multivariate Model (MMM). It explains how the numbers are reached and how 'real' prices achieved in the sales of English clubs over many years very closely mirror the figures the formula produces. More of which in a moment.
For those who want a short cut, here is the formula.

In one sense this is a reprise of a piece of work published on this website two years ago. But it updates the numbers applicable to the 20 current Premier League clubs in a market place where values can change significantly, and within relatively short periods of time.
The ongoing financial health of the Premier League, underpinned by bumper TV deals that will grow even more from 2016-17, has seen United's MMM value rise by 74 per cent from £1.06bn two years ago. Arsenal's growth is 19 per cent. Manchester City's has been nothing short of spectacular at 126 per cent to move them to No3.
And Southampton's has been by far the biggest in the division, at 350 per cent growth in value to £259m now from £57.5m two years ago when they were still very much a club who could feasibly end up in a relegation battle. They still could, of course; but they had only one full year back in the top flight under their belts then.
The current valuation makes the Saints more valuable than any club outside the 'Big 5' and Tottenham.
What are the world's best paid sports teams? FIND OUT HERE
Chelsea and Tottenham have grown 60 per cent in value in two years, and Liverpool a bit more than 50 per cent. West Ham and Swansea have doubled in value and Newcastle are alone in dropping in value, by 20 per cent, from £276m to £221m under the mercurial ownership of Mike Ashley.
Elsewhere, Stoke and Palace and Swansea are all worth more than Aston Villa while Sunderland are above only Bournemouth in relegation zone of values. The reasons will follow, but first the list in full:
Article continues below
.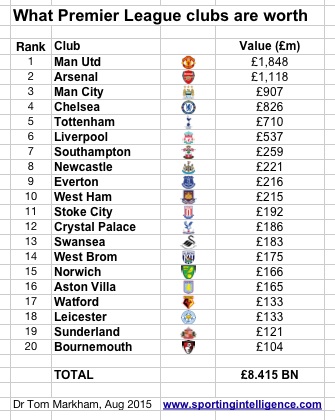 Before we look at more background to the MMM, here is a quick summary of why each club has fared as above.
Manchester United: Global giant with global commercialisation. They have the biggest stadium in England by far, and the biggest shirt sponsorship deal and kit supply deal in the world. They are valued at $3.01bn (£1.9bn) on the NYSE although only 10 per cent of the club is listed on there. It's worth noting United are the only current PL club listed on a liquid stock exchange and the MMM valuation is very similar.
Arsenal: The pin-up boy of big clubs for financial stability. Playing to large gates in a big modern stadium in London. Profitable and increasingly cash rich as commercial money increases. Market Cap is $1.54bn (£982m).
Manchester City: There are potential negatives at City, not least the threat (probably now gone) of further punishment for FFP breaches and / or being hampered by FFP restrictions. And they don't own their stadium, which is rented from the council. But they've spent £200m on their NASA-esque training complex and that value is now on their balance sheet. They get cheap rent at Eastlands and don't have the upkeep of stadium, which has just expanded. Some will ask – fairly – how City can be above two big London clubs but both Tottenham and Chelsea need to spend £400m to £600m on new stadiums to get up to speed. Once they have, this will be reflected on their balance sheets and both are likely to be worth more than City.
Chelsea: The issue here is what is limiting Chelsea's value: the need for a new stadium or a major revamp of Stamford Bridge. They've still increased in value by 38 per cent in two years but that stadium will come at a massive cost in London given the property prices and location. Match-day revenue is currently only a little over half of Manchester United and Arsenal.
Tottenham Hotspur: The new stadium has been revealed with minimum detail in terms of timing, all permissions and completion date. The cost in London should be offset by the NFL deal and naming rights. Spurs's value will leap when the stadium is there.
Liverpool: Anfield is badly in need of the revamp ongoing. Liverpool's corporate offering needs to be improved in scale and every other way to stay on the coattails of the current Champions League clubs. Match-day revenue is less than half of Manchester United and Arsenal.
Southampton: The poster boys of how to run a 'smaller' PL club. Excellent infrastructure. Development and sale of younger players is keeping the coffers healthy but there is also re-investment in talent to keep performance relatively decent. Made a profit of £31m in 2014.
Newcastle United: Traditionally their big stadium has sold out to an intensely loyal following. Will this continue?
Everton: A sleeping giant with a strong squad with good residual value in the transfer market. Very profitable in 2014 (£28m) but still have the underlying issue of a new stadium which would cost a minimum of £250m. With this, Everton would be back in the big time and potentially knocking on the door of CL qualification.
West Ham United: The owners sold the Boleyn Ground at Upton Park to property developers, Galliard, in 2014 ahead of their move to Olympic Stadium in 2016. Valuable asset lost on club's balance sheet. Replaced by lease.
Stoke: Established PL side with a turnover of nearly £100m. Now have the financial clout and stability to spend big money on sought after talent including Xherdan Shaqiri and Ibrahim Afellay.
Crystal Palace: Well on the way to becoming an established PL side under Pardew (and Pulis before him). Needs capital expenditure on stadium and training ground but despite this, the club appeals to overseas (particularly US) buyers as it is in London and now profitable. Subject to a failed bid from US-based Apollo this year.
Swansea: Profitable, established PL side. Subject to a failed strategic investment from a US bidder. They don't own their own stadium, which reduces their value a little. They are 20 per cent owned by fans, unique in the Premier League, and that would perhaps influence a potential buyer's view if that buyer wanted full control. 
West Brom: Tight ship. Profitable but subject to two failed bids. The only 'smaller' Premier League club to be profitable for the last five years. No capital infrastructure spending required on a potential acquisition.
Norwich City: Well run club in a wealthy part of the UK. Carrow Road remains almost sold out on every match day as it did when the club was in League One. Most of revenue comes from PL media deal.
Aston Villa: Sold best players and squad needs major overhaul. Large wage bill (£69m) in 2014 for limited squad that was embroiled in relegation battle. The £178m owed to Randy Lerner is significant for a club that has seen two attempted takeovers fall apart in a year
Watford: Same as other promoted teams. Media rights so important. Owned by someone with portfolio of clubs and the extent to which Watford are prioritised in the most lucrative market could determine their fate.
Leicester City: Managed to stay in the league following an extraordinary run at the end of 2014-15. Lions share of revenue comes from media deal but also making inroads in Thailand commercially (notoriously difficult to monetise).
Sunderland: Loss of £16m in 2014 when the vast majority of PL were profitable. Barely kept PL status in 2014-15. High wage bill (£68m) for limited squad.
Bournemouth: Tiny stadium so most of the club's revenue will come from Premier League media deal. Fantastic achievement to have made it to the world's most lucrative league. The longer they stay, the higher the value will go, not least with new larger TV revenues about to pour in from 2016-17.
.
Background to the model
Between 2005 and 2010, twelve Premier League clubs changed hands. Despite the dramatic increase in club acquisitions in recent years, it was apparent that finance professionals within the football industry used vastly differing methods to ascertain a club's value and get different results. This was the underlying motivation for research that led to the MMM and you can download it free by clicking here.
Prior to developing the model, six established valuation methods were assessed for their accuracy in estimating an PL club's worth. Of these models, three were general company valuation techniques: Market Capitalisation, Discounted Cash Flow (DCF) and Bankruptcy Value.
Three were contemporary football industry valuation models: Revenue Multiples, Forbes 'Most Valuable Soccer Teams'and Broker Values.  For comparison purposes the models were calculated for a period of nine seasons between 2003-04 and 2011-12. This coincides with the first publication of Forbes 'Most Valuable Soccer Teams' in 2004.
The article from two years ago, here, or the linked paper, above or here, recap all the strengths and weakness. Traditionally, football clubs in England have been loss making entities (though this is changing) so regular valuation techniques simply did not work to ascertain their values. This led me to develop the MMM which allows all clubs to be valued on comparative basis.
These valuations (in the table above) are a snapshot of a club's worth at a specific point in time. In reality, clubs' valuations are always changing primarily based on on-pitch performance, the competitions they are taking part in, commercial deals and ultimately profitability. I have done a number of valuation reports for Premier League clubs in recent months which tend to focus on modelling future club valuations – this is inherently important to anyone looking to buy or sell a professional football club at any level.
.
Dr Tom Markham has advised numerous buyers and sellers of football clubs on valuation. Clubs, researchers or other interested parties wanting to know more about the model can contact him via Twitter  @TMfootyfinance or via LinkedIn
Two of his other research papers are available for download here:
The performance of football club managers: skill or luck?
Does managerial turnover affect football club share prices? 
Follow SPORTINGINTELLIGENCE on Twitter