By Nick Harris
4 June 2010
As Liverpool's search for a new manager begins in earnest, and umpteen re-evaluations of Rafa Benitez's time at Anfield are underway, sportingintelligence's resident statistician Brian Sears has crunched a few numbers to illustrate why, statistically, the Spaniard was Liverpool's best manager of the Premier League era.
The table below speaks for itself, but Benitez averaged a decent 1.9 points per league game in his time in charge, which was, by coincidence the identical number of games that Gerard Houllier had, 228. Houllier was next best, just ahead of Roy Evans, with Graeme Souness least impressive.
In the Premier League overall, Benitez did not measure up to Carlo Ancelotti, Alex Ferguson or Arsene Wenger, but was better than anyone else in the top eight in 2009-10, including Harry Redknapp at fourth-placed Tottenham, and Martin O'Neill.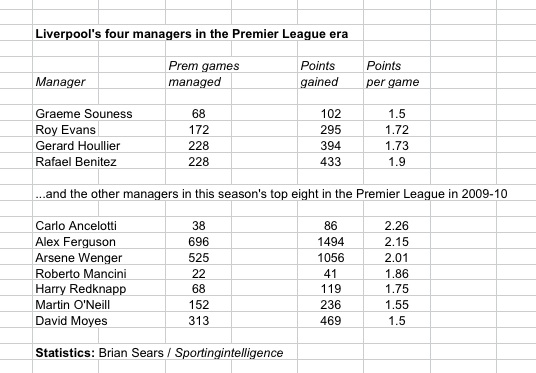 In other Liverpool news today, the Spirit of Shankly fans group announced it will start its own scheme to try to raise a buyout kitty. SoS said in a statement that it has been involved in detailed discussions with Share Liverpool (an earlier movement) over the last six months regarding the progress that had been made by Share Liverpool in promoting a supporters' ownership scheme.
The statement said: "The discussions centred on the perception from our members (and supporters generally) that progress had stalled under the Share Liverpool scheme and that an opportunity was being lost which might not be available again for some time. The Management Committee of the Spirit of Shankly reached the conclusion that a merger of the two organisations would be appropriate in order to use the momentum and resources that the Union had together with the expertise that undoubtedly existed within Share Liverpool.
"The merger discussions reached a point where the Union put a formal proposal to Share Liverpool for merger and Share Liverpool met on 2nd June to consider the offer. Unfortunately Share Liverpool have rejected a merger which has left the Union with no alternative but to put into place a contingency plan that we have been working on for some time.
"This plan involves the creation and launch of a credit union scheme to collect payments from supporters to establish a fund for the purchase of a stake in the Club. It will allow for members to make monthly payments to reach the starting point of £500 per supporter.
"This will be launched this summer.
"In addition the best of the Share Liverpool proposals relating to the structure of how the scheme will work and the approach to wealthier supporters and commercial organisations will still take place except now there will be transparent progress. Members will see their funds safely secure and will be able to see the growth in the fund.
"We would urge all those that made an initial pledge to Share Liverpool to fall in behind the Union with the promise of action, progress and the best effort that can be made for us to secure a preliminary stake in our Club.
"Further information around the Supporter Ownership issue can be found on our website."
A Spirit Of Shankly spokesperson said: "It is disappointing that the two organisations were not able to work together, as we all want what is best for Liverpool FC. We all want the present ownership out and we all feel future ownership of the football club would be better in the hands of those who truly care and are fit and proper – the supporters.
"We didn't want to go with a separate option, but as we have made clear we feel there is no other option. Recent events at Liverpool FC are the latest in a long line of reasons why we need change. We plan to push forward with our proposals to make sure that change can happen, to make sure it is accessible for all fans, and to make sure that our ultimate aim is one day achieved – to have fans sat in the boardroom of the club we love."
.
More on Hicks & Gillett / Liverpool