By Brian Sears
7 March 2014
There have been seven 'ever-present' clubs in the Premier League, none of them relegated from the top flight since England's top division was revamped in 1992-93: Arsenal, Aston Villa, Chelsea, Everton, Liverpool, Manchester United and Tottenham.
That means each of those seven have now faced each of the others 21 or 22 times at home in the Premier League, and 21 or 22 times away.
And all the ever-present seven have won at least one Premier League away match against each of the others. Except in one case.
Tottenham, in the 21 completed years of the PL, have never won at Chelsea. Not once.
Our first graphic today illustrates quite how remarkable that is; and also highlights why Manchester United have been the outstanding club of the PL era, how their realistic challengers among the ever-present seven have only been Arsenal, Chelsea and Liverpool, and how Villa, Everton and Spurs have struggled in that company.
Note United have won 61 of 131 away PL games against the others in this group (46.6 per cent), with Everton in contrast winning just 12 of 132 (or 9.1 per cent). Unlike Tottenham, though, Everton have won at least once at each of the other ever-present clubs' grounds.
Tottenham themselves have managed seven wins at Goodison, five at Villa Park and two each at the homes of Arsenal, Liverpool and United. But they still await their first Premier League win at Stamford Bridge.  True they have sometimes come close; close enough to claim 8 draws but that means 13 defeats as well in their 21 visits.
Article continues below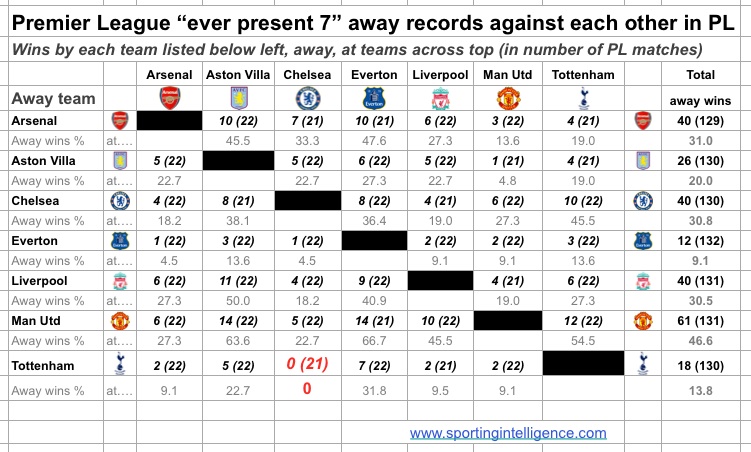 .
Tottenham fans with good memories will recall the last Spurs league win at Stamford Bridge, so long ago it involved a winner from Gary Lineker:
10 February 1990 Chelsea 1 (Bumstead)   Tottenham 2 (Howells, Lineker)
Article continues below 
.
Even at White Hart Lane, Tottenham have struggled to win Premier League games against Chelsea, taking all three points on just three occasions in the PL era.
5 Nov 2006 Tottenham  2 (Dawson, Lennon) Chelsea  1 (Makelele)
21 Mar 2009 Tottenham  1 (Modric) Chelsea  0
17 Apr 2010 Tottenham  2 (Defoe pen, Bale) Chelsea  1 (Lampard)
So altogether Chelsea have gained 86 Premier League points from Tottenham home and away in the 43 games played at precisely two points a game on average. Tottenham's points from Chelsea total 26, at 0.6 points a game.
Currently Chelsea are 10 points clear of Tottenham in the Premier League table with 10 games to go. And when it comes to solely London derby games, Chelsea are five points above Spurs, with Chelsea unbeaten (see below). Tottenham have already lost at home to West Ham and away at Arsenal.
How that Inter-London Premier League currently stands:

.
Today's third graphic demonstrates the financial mismatch between Chelsea and Tottenham – adding the cost of the assembly of their current squads to the amount of wages they're paying their respective groups of players.
Article continues below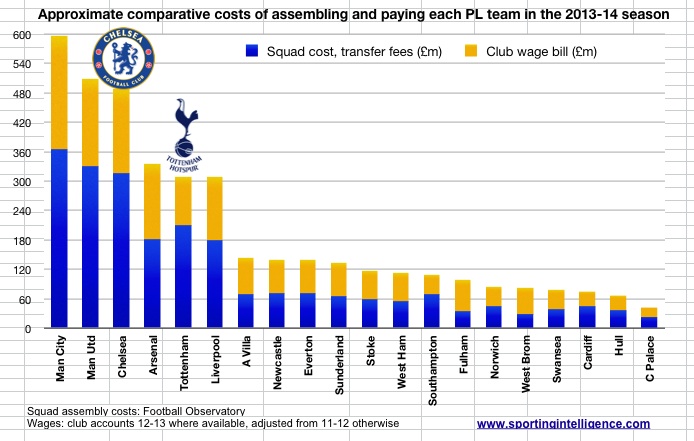 .
The methodology used here takes the amount spent on assembling the first-team squads for each Premier League club for 2013-14 (data from the Football Observatory, here) and adds the wage bill for each club (total wage bill as listed in most recent accounts, 2012-13, or the season earlier and adjusted).
Is this an imperfect measurement of a club's financial power? Of course, there is no perfect measurement, not least as spending is dynamic.
Does this graphic give a clear like-for-like comparison of resources? Absolutely.
Manchester City's squad cost £362.6m in fees to assemble for example, and their latest total club wage bill (a large percentage of which goes on players) was £233m, for a total spend of £595.6m. Manchester United, Chelsea and Arsenal round out the top four, and frankly from an economic point of view those four clubs 'should' finish in the top four. (But quite possibly won't as United are in transition).
Spurs are in the next group (of two, alongside Liverpool), trying to crack that top four. Breaking hoodoos like the one they face at Stamford Bridge would be a start – and remains a big task.
.
More on Man City / Chelsea / Man Utd / Arsenal (or search for anything else in box at top right)