By Brian Sears
13 September 2013
If you win nothing with kids then Aston Villa and Southampton will win nothing – but their fans might appreciate they are trying to succeed with promising young players.
There's a huge contrast in the age of Premier League starting line-ups so far this season, from nippers Aston Villa (average 24.7 years) and Southampton (24.9) to oldies Fulham (30.2 years) and West Ham (29.1).
The youngest top-flight line-up in England this season was the Villa side who met Liverpool and lost by a single goal to a tean that was almost three years older per player.
It should be noted that Liverpool – so far – have an age profile this season most likely to deliver the title.
Why? Because it is typical that a title-winning team in Europe's 'Big 5' divisions will average 27 years old, give or take a few months. Last season, United's title winners had an average age of 26.76 years. Barcelona's title winners in Spain had an average age of 26.73 years. PSG's title winners in France averaged 26.87 years. Bayern's title winners in Germany averaged 26.2  years and Juventus's title winners in Italy averaged 27.7 years.
With a long way to go and many changes to come (caveat, caveat), Liverpool's age profile at 26.9 years on average is looking better than too-young teams at Spurs and Arsenal and too-old teams at Man City, Chelsea and Man Utd.
Remarkably, the 21 different players chosen by Aston Villa manager Paul Lambert (on the pitch or the bench) for Villa's opening three games have all been 28 years old or younger.
Southampton meanwhile have been promoting teenagers.  Only six teenagers have started Premier League games this season and three of them have been in Southampton colours, with Luke Shaw, 18 in July, being the youngest.
At the other end of the age spectrum Fulham have already used 17 different players in their three starting line-ups (no other club has used so many) and 11 of them have already celebrated their 30th birthday.
Elsewhere Ryan Giggs (40 in November) and Jussi Jaaskelainen (38 last April) are the Premier League's most senior starters this season.  Indeed when Luke Shaw was born, Giggs had already played five seasons for Manchester United, chalking up 148 league appearances and scoring 28 goals.
The graphic below gives each club's average ages this season. Article continues below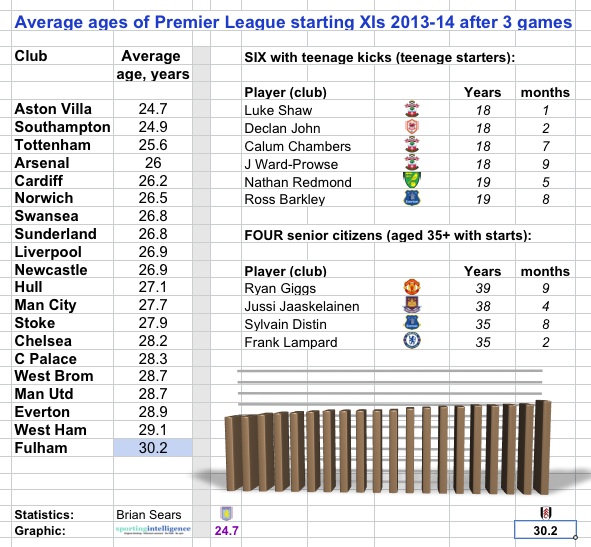 .
… and another thing
There's no easy way of saying this: the Premier League is suffering a goals drought.
Up to the start of this season, 766 August games had been played in the 21 completed seasons of Premier League football, yielding 1,954 goals at a rate of 2.55 goals per game.
This season the 27 August games yielded a pitiful 54 goals at exactly two goals a game – a shortfall of more than 20 per cent on the all-time average figure.
Not only that: this slump comes at a time when the last three seasons have seen goals being netted at record rates. Only once before, in August 1998, have Premier League goals been in shorter supply at the start of a campaign.  Then 29 games saw only 51 goals scored.
Article continues below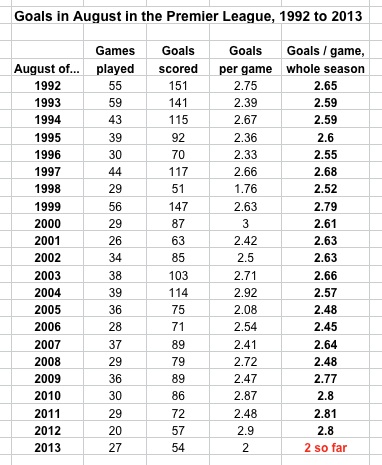 Part of the cause of this season's slump has been the apparent resurgence of the 1-0 score line, and that almost certainly came about as a direct result of Sod's Law after we wrote in August that the 1-0 score line was definitely on the wane.
We reported at the outset of the season how 1-0 has given way to the 2-1 result in recent years. Then what? Ten of the 27 August games were settled by the single goal and only two games stretched to 2-1.  Pah!
And September has started no better for those who have been enjoying the Premier League goal feast of recent times.  The three games played on the first day of September yielded a total of four goals and included two more of those 1-0 score lines.
More on Aston Villa / Fulham (or search for anything else in box at top right)