By Brian Sears
13 September 2013
Newcastle have been in the Premier League for 19 of the completed 21 PL seasons since the top division was revamped in 1992-93. They missed that inaugural year, and then the 2009-10 season.
Of all the teams they've played in those 19 seasons, this weekend's opponents Aston Villa have provided them with the most Premier League points: 68 of them from 19 wins and 11 draws.
A couple of the current Premier League clubs, Crystal Palace and West Brom, have allowed Newcastle more points per game (2.17 and 2 respectively), but they have only played Newcastle six and 14 times in the PL, whereas Villa have met them 38 times.
In those 38 meetings, Newcastle have lost just eight, two of them from 19 games at St James' Park plus six at this weekend's venue, Villa Park.
The graphic below shows Newcastle's PL record against every opponent, split into current PL clubs (left) and former (right).
They have excellent records against Norwich and Sunderland of the current clubs, even better records in the PL against Oldham, Forest and QPR, and excellent records versus Birmingham, Coventry, Sheffield Wednesday, Watford, Swindon, Barnsley and Derby.
When Newcastle's whole Premier League record is considered it's also apparent how much they miss the Premier League presence of near-neighbours Middlesbrough from whom they plundered 49 points in their 26 derby games.
At the other extreme, Newcastle's next visitors to St James' will be Hull, who Newcastle failed to beat in two PL meetings five seasons ago in a campaign when Newcastle were relegated and Hull survived by being one point better off.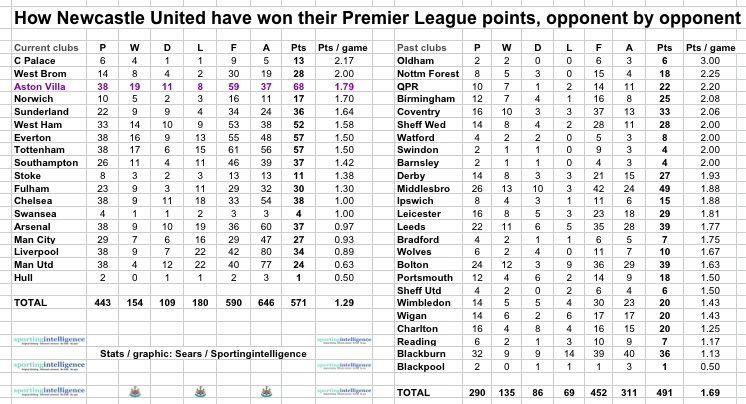 More on Newcastle (or search for anything else in box at top right)