By Brian Sears
18 January 2012
The ominous news for Manchester United's major rivals in the Premier League is United have never had as many points at this stage of a season (22 games) and have rarely  been as far ahead of the pack as they are at this stage.
The gap between United and their closest challengers Manchester City is seven points. They have only had a bigger lead at the top at the same stage in 2001-01, when they were 11 points clear of Arsenal and Liverpool and went on to win the title, and in 1999-2000, when they there 10 points clear of Arsenal and Liverpool and also went on to win the title.
Our graphic shows United's points total after 22 games in each of the 21 Premier League seasons, and also shows the points for all their current major rivals at the same stage each season, and the gaps at the relevant times.
Using Manchester City's comparable record as an example, see United's lead is seven points now, but back in 1993-94 it was as big as 33 points at the same stage. Conversely last season, United actually trailed City by three points.
City's worst relative record is in bold red in the table, while their best relative record is bold blue.
The same applies to the other clubs.
Note than Arsenal (21 points behind United) and Liverpool (24 points) have never been as far behind United at this stage in any previous season.
The asterisks indicate the 10 times that United have eventually been beaten in final Premier League tables. (The only other time it has been done outside of this group of clubs was when Blackburn were Champions in 1994-95. Then after 22 games Blackburn had 52 points and  United had 46).
Article continues below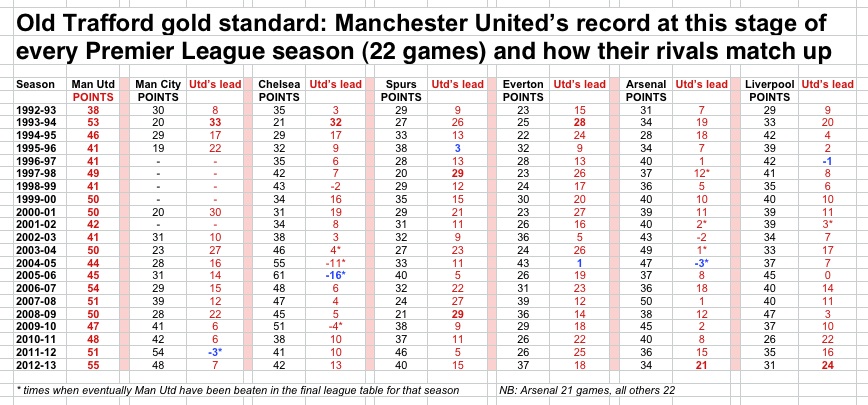 .
And another thing …
Though United's dominance this season has been a theme, on 29 September 2012, Tottenham did manage to end one of the longest winless runs in the top division of English football when they won 3-2 at Old Trafford, their first league win at the home of United for 23 seasons.
In that time Spurs had endured 18 Old Trafford defeats and had managed just four draws.
Astute Spurs fans will be recalling that in that 1989-90 season their team followed up the 16 December 1989 1-0 win at Old Trafford (goal scorer Gary Lineker) with a 2-1 win on 21 April 1990 at White Hart Lane over United (Gascoigne and Lineker for Spurs, Steve Bruce replying for United from the penalty spot).
It was the 5th such double Spurs had achieved over United in 38 post-war seasons of playing each other. United had meanwhile notched up six over Spurs and there was to be one more in 1991-92.
But the advent of the Premier League heralded sore struggle for Spurs in their meetings with United.
Might Spurs now be ready to achieve their first double over United of the Premier League era to begin to counter the NINE doubles that United have already amassed in the opposite direction in the two decades of that era?
A Spurs win would be only their fifth win in 41 Premier League games played home and away with United: 29 defeats and 8 draws.
Those previous four wins have seen Spurs scoring at least 3 goals each time:
1 Jan 1996 Tottenham  4    Man Utd  1
23 Oct 1999 Tottenham  3    Man Utd  1
19 May 2001 Tottenham  3    Man Utd  1
29 Sep 2012 Man Utd  2    Tottenham  3
Not only have Spurs found it hard to wrest points from United since that 1989-90 season but they have consistently fallen below them as far as league position is concerned. In 1989-90 Spurs finished 10 places above United but four seasons later they were as many as 14 places below.
At least in the last four seasons Spurs have consistently narrowed that gap.
More on Man Utd / Arsenal (or search for anything else in box at top right)