By Brian Sears
14 December 2012
Chelsea will face Corinthians of Brazil on Sunday in the Club World Cup for a trophy that would nominally make them the finest club side on earth.
Yet they do so against a backdrop of elimination from the 2012-13 Champions League and as their domestic form implodes.
With every team in the Premier League having played 16 games this season, Chelsea have registered by far the steepest decline in form over the past eight games when set against their results from the first eight.
In the first eight league games, they won seven and drew one, beating Arsenal and Spurs along the way as they scored 19 goals.
In the last eight games, they've won just once, lost to Manchester United, West Brom and West Ham, and have also failed to win in four home games in that run. Those four home games ended in a defeat and three draws.
The graphic below highlights that decline and compares it to performances of the other clubs in the division.
Article continues below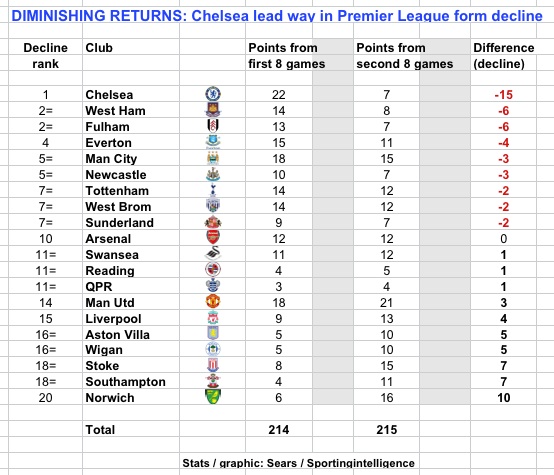 .
Chelsea's first eight games won them 22 points and their last eight won them seven points, a 'decline difference' of 15 points.
The only teams with fewer points from their last eight games than Chelsea's seven are QPR – on a record winless run – and Reading, who are one place above bottom-placed QPR.
West Ham and Fulham have both had '-6' dips in form but nothing like Chelsea's -15,
At the other end of the scale, Norwich are showing the biggest gain in points: winning 10 more points (16 against six) in the second eight games than in the first eight. Stoke and Southampton have both made healthy improvements of seven points each.
Southampton were due to playing Chelsea this weekend in a game postponed as Chelsea bid to become 'the planet's finest'.
.
More on Chelsea / Liverpool  / Man Utd / Arsenal (or search for anything else in box at top right)
Follow SPORTINGINTELLIGENCE on Twitter
.