By Brian Sears
14 December 2012
Arsenal fans continue to bemoan the woeful returns of the Arsene Wenger era: three titles (two as Doubles, one as Invincibles), four FA Cup wins, a Champions League runners-up slot, no finish outside the Premier League top four in Wenger's time and 13 consecutive seasons in the Champions League. (As well as a new stadium, breathtaking football and the redefinition of the game in England at elite club level).
To this rubbish, Arsenal fans are now being subjected to a campaign in which they are as many as TWO points off a Champions League spot for next season (behind two clubs who have spent £1bn more than them over the past decade), through to the knockout stages of this season's Champions League, and only remain in contention for ONE of the two domestic cups.
But maybe some relief is at hand.
Because on Monday, Arsenal play at Reading, who have gained precisely 100 points from their various spells in the Premier League to date, but never a single point against Arsenal.
This first graphic shows Reading's PL record by opponent.
Article continues below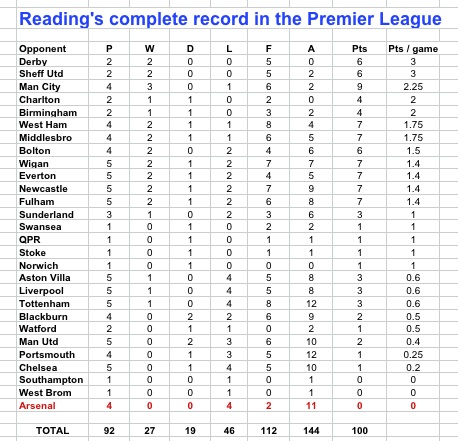 *
And another thing …
Newcastle's current stay in the Premier League dates back to August 2010.  Since then, they have played 92 matches and gained at least one point from every club they have played against except Southampton (only the one game played, last month, at St Mary's) and Manchester City.
They host City this weekend in the early Saturday kick-off as City look to put their title hopes back on track after last weekend's derby defeat to Manchester United.
City have dished out a "double double" of defeats to Newcastle in the past two seasons: 2-1 and 3-1 in 2010-11 then 3-1 and 2-0 last season.
Here's Newcastle's complete record club-by-club by opponent over those 92 games.
.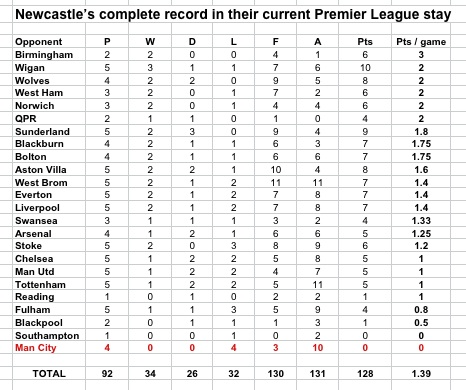 .
More on Chelsea / Liverpool  / Man Utd / Arsenal (or search for anything else in box at top right)