By Brian Sears
26 December 2014
Yes, I know it's more than 10 years since Leicester last graced the Premier League.
And yes I know that it's so long ago that in their eight seasons of Premier League occupation, they played clubs including Wimbledon, Barnsley and Watford.
And yes I know that they haven't won a Premier League game since September  – 5-3 against Manchester United – and since then have won only two points from 12 games played.
And yes I know the curse of being bottom of the Premier League at Christmas. As a statistician I know all too well that only two sides have escaped relegation from that position in the 22 completed seasons: West Brom in 2004-05 and Sunderland last season.
And yes I know that Tottenham seem to be getting a grip of their season and have made it to the semi-final of the League Cup and up the table a bit.
BUT I've just noticed that when Leicester used to play Tottenham in the Premier League, no club presented the Foxes with more points per match, either in total or per game.
Article continues below
.
Leicester chalked up as many as eight Premier League wins against Spurs. And this Boxing Day I'm just wondering if the ghosts of seasons past might put in an appearance at the King Power Stadium to remind the Leicester faithful of days gone by and give them cause for celebration?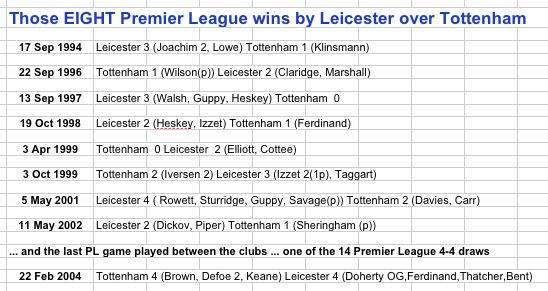 .
More on United / Liverpool (or search for anything else in box at top right)