By Nick Harris
SJA Internet Sports Writer of the Year
11 September 2012
One amusing vignette in the first episode of FOX's forthcoming fly-on-the-wall Liverpool documentary features a brief exchange between midfielder Charlie Adam and the Boston Red Sox outfielder Cody Ross.
It takes place in the locker room at the home of the Red Sox, Fenway Park, during Liverpool's summer tour.
The camera switches to Ross, who asks Adam: 'Do you play cricket? Have you ever played cricket?'
Adam, slightly bemused, replies: 'No. I've never played cricket.'
There is a pause from Ross, who shakes his head as if he can't believe it, then he asks: 'Just soccer?'
Adam says: 'Yeah, just football.'
Ross corrects himself with a smile: 'Football.'
.
Shortly before that we see Liverpool's manager, Brendan Rodgers, walk into the office of his Red Sox counterpart, Bobby Valentine, a white-haired, white-toothed 62-year-old veteran dressed in a Red Sox uniform.
Valentine says: 'Welcome to beautiful Fenway Park in Boston.'
Rodgers says: 'I was here, my very first ever [baseball] game, the other night.'
Valentine says: 'I hope we won.'
Rodgers says: 'No. It wasn't [a win].'
Valentine utters a word or short phrase evidently too obscene to be broadcast on US television because his mouth is very briefly blurred out so the viewer cannot see it, then he says: 'I hate it when we don't win.'
Then he buries his head on Rodgers' shoulder. He doesn't stop smiling. He is, frankly, a little odd.
.
A few moments later we cut to a scene where one of Liverpool's Spanish players, Daniel Pacheco, is holding a baseball and he asks somebody: 'What is this?'
He is helpfully told: 'A ball'.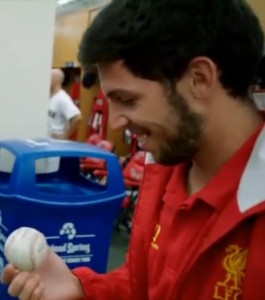 Pacheco then looks at the object for several seconds with a huge smile on his face (right), as if he cannot take it in.
.
Later, with the Liverpool team gathered in the Red Sox dressing room as the Red Sox prepare for a baseball game at which the Liverpool group will be guest spectators, Valentine presents Rodgers with a Red Sox jersey.
Rodgers then gives Valentine a Liverpool shirt, with a No8 on the back and the name 'Gerrard'.
Valentine accepts it and says in a comedy voice: 'NICE!'
For Liverpool fans, it will be a wince-inducing moment.
Valentine then jokes that the while the Liverpool footballers 'just roll a ball out and go and play', his 'professional athletes' really must get ready for their game.
.
All these incidents happen within a three-minute section towards the end of the first episode of the six-part FOX series, 'Being: Liverpool', which will debut in America on Sunday, 16 September, and will be shown in Britain on Channel 5, starting on Friday 21 September.
Judged on these snippets alone, one might conclude that these two worlds were not designed to collide, these two worlds being as comfortable together as haddock and gravy.
Having seen a screening of the first episode and re-watched it a couple of times, it's fair to say that FOX have got themselves a unique programme about English football.
They have had privileged behind-the-scenes access to the club, its manager, his family, the players, their families, the dressing room, the board room – the whole shebang. And they show it.
Hence in the first episode alone we see:
Rodgers in the dressing room before Liverpool's opening game of this season, telling his players: ' 'We concentrate on the performance and we'll win the games. Okay? Good luck. Let's enjoy, and let's get the three points.' (They lose 3-0 to West Brom).
Footage of fans watching the the 2012 FA Cup final in the Storrsdale pub, about five miles from Anfield, as narrator Clive Owen talks about a 'storied' club that is 'cementing a now three-year lull in mediocrity for a club virtually synonymous with glory'.
Chairman Tom Werner and co-owner John Henry discussing why they sacked Kenny Dalglish. Werner says: 'We came to the conclusion with Kenny that we needed to move in a different direction. And hopefully we'll see improvement this year but these decisions we make with a great weight on our shoulders'.
Henry saying: 'When we first talked with Kenny about coming in, he understood and we understood that at some point there was going to be a time where he was going to step aside when we found the right person for the long term. And he said to me in the first conversation we had that he would be ready for that.'
Steven Gerrard at home with his wife Alex and three daughters, Lilly, 8, Lexie, 6, and Lourdes, who turns one in November. Driving home to see them, Gerrard talks to camera from the wheel of his car, saying: 'What you'll notice when you go into my house is that no-one's really interested in talking about football. I've got three young girls, and my wife Alex is not really a keen football fan. So football gets parked up unless I put it on the TV.'
Gerrard telling his two older daughters they are 'going to look like scruffs on the camera', then Lilly tells us she wants to be a singer when she grows up.
The narrator, Owen, says: 'Gerrard has spent his entire 14-year professional career at Anfield, earning two FA Cup titles along the way. He is by consensus already one of the greatest English players in history.' (There is no mention of the Champions League, Uefa Cup, three League Cups or England caps).
Lucas Leiva (whose injury struggle appears to be one narrative thread that will develop) at home with his wife Ariana, and unwinding with team-mates Luis Suarez and Sebastian Coates – playing Monopoly round at Leiva's.
Youngster Jon Flanagan training, and highlighted as 'a product of the club's esteemed academy.'
Fabio Borini signing, and having his medical, where he is asked whether he has trouble sleeping. No, says the Italian. 'Except during the Euros'.
Rodgers at home, where one of his main rooms is adorned with a large picture of him on one wall. We meet his niece Lilly, his daughter Mischa, and her boyfriend Theo (son of Rodgers' assistant Colin Pascoe). Rodgers tells us Theo used to model for US clothing firm Hollister.
The Rodgers' dogs, Lola and Honey. And his 'very patient wife' Susan. And his sister-in-law. And brother-in-law. And his downstairs indoor swimming pool.
Bits of Liverpool's pre-season tour, where Werner says: 'Part of the reason that we are so pleased with Brendan is he very personable and very affable and is very articulate about his strategy and I think we are going to have a very good season.' Henry adds: 'He is so organised. He spent three hours the other night giving me a primer on how his system works and what he wants to accomplish.'
.
From an image point of view, this is all insightful material allowing viewers and fans to see a side of a club they have never seen before in this way.
Rodgers is quite patently a very promising young manager and a decent man. He has earned his shot in charge of one of England's biggest clubs.
But the jury must be out on whether it will do him many favours to be front and centre in this series, because by definition he is forced, over and again, to talk into the camera and explain himself and his philosophy.
This is not necessarily a bad thing. But nobody is going to look good when faced with such over-exposure – and this is, one can argue, an added headache that the owners have heaped on his plate that he really does not need.
Let's face it: the worse Liverpool's season becomes, the better TV it makes for the documentary makers and TV execs. Did Fenway really not see this?
Much, virtually all, of what Rodgers says is thoroughly sensible, indeed stirring stuff. There are moments, just a couple, when he comes across a little more David Brent.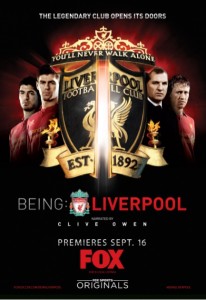 Examples of some of his quotes:
After a tour of the training complex: 'It doesn't matter if you're a football player or one of the cleaners. It doesn't matter to me. It's about respect and if we end up, in years to come, winning the Barclays Premier League, they will have had as much to with it as me sat here, because they will have played a part, and that's important.'
At his desk, with a Shankly photo on the wall: 'You're creating an environment. I've always believed that the player plus the environment equals the behaviour. The modern game has very much been taken over by money and media and everything – which is obviously great. And football has benefitted from that. But you can't get away from the nuts and bolts, which is about hard work and honesty.'
On the future: 'If you want to get there quickly you'll get there on your own. If you want to sustain it, you've got to go together.'
On the culture of the club: 'We can create that culture of winning, but winning with a certain style, and class. And that is what is the identity of Liverpool football club. It's not just about winning. It's about how you win, on and off the pitch.'
On training: 'For me it's not just about training players. It's about educating the players. You train dogs.'
On being a Liverpool manager: 'Being the manager of Liverpool is a way of life. I can say it's a club with real passion, wonderful history. And like I say, hopefully we can create many more good memories in the next coming years.'
On Andy Carroll (shortly before Carroll leaves for West Ham): 'We are a football club and we want to keep our best players … It's going to take something incredible for him to leave the football club. I think people have looked at it and think maybe he can't play in this style in which I would want to play, but I think that's a little bit unfair. If you pay £35m for a striker you would hope they could adapt and play in a number of different styles and I believe he can.'
To Flanagan, in a quiet voice during training, with Flanagan's face cupped in his hand:  'Just make sure with you, you play to your strengths, right, and your strengths for me are simple. Play behind the ball, win it, give it, get on with it. Do you know what I mean? Your strengths is your reading of the game, staying behind the ball. I don't need you to be [gestures attacking] … it's not your game, you're not the one that's bombing on for fun – Cafu – you're the boy that stays behind, serves the ball simple, gets organised from behind. Get possession, fine, do you know what I mean? And it simplifies your game then.'
On his philosophy of development: 'Every player I see as my own son. I want to do the very best for them that they possibly can. I want to be able to push them in their lives so that they can do it for their children. We do everything in life for our kids and for our children and to be the very best that they can and I don't ever want to miss the chance of letting players understand that – that this is why we do it.'
.
Time will tell whether letting the cameras show Liverpool, warts and all, will be a good thing for the club, or just a good way to make them better known in the home economy of the club's owners.
But perhaps it would have been better to wait a while. Those same owners, after almost two years, still haven't made a firm decision on what to do about a new stadium, although one source tells Sportingintelligence there are detailed plans in place now to redevelop Anfield in phases, firstly the Main Stand, then the Anfield Road stand. This new-look proposed ground would have 60,000 seats including 7,000 'corporates'. The permissions are in place to acquire and demolish local houses to make this all happen. But a club spokesman insists no final decision has been taken.
Those same owners have yet to appoint a CEO with the requisite experience; or fill all the roles in the management / coach / scout set-up that has now replaced the director-of-football plus manager system they first put in place, then scrapped.
Those owners remain, for some fans, too remote, mostly in the US where the Red Sox are enduring their own turmoil. They perhaps also too readily trusted that Uefa's FFP rules will quickly allow their natural size and historical power to re-establish themselves in England's and Europe's elite. Hoping that might happen is one thing; buying a club with massive faith in it coming to fruition is another.
What supporters make of Being: Liverpool remains to be seen.
But as one of them, Dave Kirby, says at the end of episode one, they will walk on in hope.
In a short, stirring section worthy of any documentary, playwright Kirby says: 'When you've got a manager with a vision, and he believes in that vision, and players believe in the vision, and the owners back that vision, the fans get passionate about the vision. That's when you all move forward together, like a crusade, like a Red army, like we've done in the past. And this could be the start of another Red crusade.'
.
More on LIVERPOOL
Follow SPORTINGINTELLIGENCE on Twitter
Sportingintelligence home page