By Nick Harris
SJA Internet Sports Writer of the Year
27 May 2012
An abbreviated version of this feature appeared in the Mail on Sunday (see scan at bottom, online link here).
AT THE end of Roman Abramovich's nine-year wait for the biggest prize in global club football, Chelsea's billionaire owner went down to the changing rooms in Munich's magnificent Allianz Arena.
There he joined his joyous Chelsea players and spoke movingly about the 'journey' that the club have taken under his ownership since 2003.
The Russian oligarch, speaking through a translator, told the players of his 'pride' that the 'dream' of the European Cup had finally been achieved and said this gave him special pleasure 'because earlier this season it looked like this had slipped away'.
Abramovich then thanked not just his players but all the other staff, including interim manager Roberto Di Matteo and the Italian's old friend and long-time No 2, Eddie Newton.
Yet, one week on from those dramatic scenes of joy, neither Di Matteo nor Newton are any the wiser about what they will be doing by July 1.
For the two men who guided Chelsea to Champions League glory over Bayern Munich to help Abramovich fulfil his dream could be out of work on June 30.
Di Matteo was Andre Villas-Boas's assistant before the Portuguese was sacked in March. Di Matteo stepped up to the No 1 role and immediately recruited Newton.
But instead of merely steadying the ship, the two men embarked on one of the most remarkable caretaker stints ever seen.
First, they led Chelsea to an FA Cup final win over Liverpool, and then – having inspired the 'Miracle of the Nou Camp' as Chelsea eliminated Barcelona in the Champions League semi-final – they coaxed a team of aging players to seize what might for many of them have been a last shot at major glory.
Now, in an exclusive interview revealing what went on behind the scenes during the pair's astonishing stint managing a club they both love, Newton says: 'It really is a bittersweet pill. It's fantastic what we've done, but as for the future, it remains up in the air. There may be a job.
'There quite possibly won't be. The reality is we don't know. Nothing is fixed. Nothing has changed. The situation is we're contracted to the end of the season, June 30.
'Football can be a strange game. Things can go right and wrong. We're still digesting what we've done. But nobody at the club is telling us anything. We all want what's best for Chelsea, that goes without saying. But we have absolutely no idea what the club think that is.'
Di Matteo and Newton have Chelsea in their marrow. When Di Matteo arrived as a player from Lazio in 1996, Newton had already been at Stamford Bridge for six years.
They hit it off immediately and have been through thick and thin together since.
In the 1997 FA Cup final against Middlesbrough, when Di Matteo scored that famously early goal (below), it was Newton who scored for 2-0 to ice the cake. (Article continues below)
.
.
When the pair had both stopped playing, they ended up on the same course to get their C Licence coaching badges. They did their B Licences together, and A Licences and Pro Licences, by which time they were already in management together at MK Dons.
That stint in 2008-09 got them the West Bromwich Albion job, where they led the Baggies to the Premier League before getting sacked early in 2011. Di Matteo was back at the Bridge as AVB's assistant by June last year, and when Villas Boas' time was up, Di Matteo's first phone call as stand-in was to Newton.
'There was a defeat to West Brom on the Saturday, AVB went after that and I got the call from Robbie on the Sunday,' Newton says.
'I had no hesitation when Robbie called. It was a great opportunity to work at Chelsea, my club for 13 years as a player and then five as an academy coach.'
Newton insists he and Di Matteo did not take over a club bitterly divided by Villas Boas, rather one where key players were low on confidence and were now freshly concerned about their roles.
'The players are full of uncertainty in a situation like that, wondering "Am I going to play now?". Any new manager will make his own decisions.
'For Robbie it was never going to be about looking back, never going involve being critical of what AVB had done. Robbie wouldn't badmouth anyone.
'We just needed to get the team through to the end of the season, work hard to turn it around. And for me, it was all about utilising the squad as necessary, making the most of the experience we had in front of us. And what experience: JT, Lamps, Ashley, Ivanovic, Drogba, you just have to use it.
'Those boys have seen it and done it. We used the senior players to motivate the rest.'
Newton reveals that at key moments in the build-up to the games that would define the season, the rallying call that he and Di Matteo used was: 'This might be your last chance.'
He says this was the message ahead of the crucial second leg against Napoli in the Champions League last 16; and ahead of Barcelona, and the FA Cup final, and Munich.
'I don't want to write anyone off, because even some of the senior players can still have important roles at Chelsea for seasons ahead,' Newton says.
'But Lamps is 33, JT is 31, Drogba is 34 and it was always going to be last season at Chelsea. Ashley Cole is 31, Paul Ferreira is 33, Meireles is 29.
'If you accept that the peak years are 27 to 30 and that you're at least in the later stages of your career once you hit 30 then it's not a surprise that some of these players are wondering whether these occasions are their last big shot at something.'
Chelsea's first games under Di Matteo and Newton were an FA Cup win over Birmingham then a Premier League win over Stoke. 'People might say they were givens but they weren't,' Newton says. 'If we didn't get the winning mentality immediately, we wouldn't have gone into the Napoli game with such confidence.
'And when it arrived we said "This could be the last chance for some of you in this competition." That was the reality.'
Chelsea won, with Drogba, Terry, Lampard and Ivanovic scoring. The renaissance, led by the old guard, was on.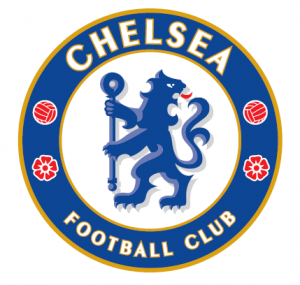 In the Champions League semi-final, Newton says he and Di Matteo convinced the players they could get past Barca, and kept repeating the message even when it seemed the longest of shots.
'The second leg was just a mad night altogether,' he says. 'You prepare and do everything properly. One thing we just did not expect was JT getting sent off. We didn't envisage that! Then Gary Cahill doing his hamstring. But the work rate and discipline was phenomenal.'
At the Nou Camp in the second leg, with Chelsea starting the game 1-0 up on aggregate after winning at Stamford Bridge,  Busquets scored for Barca in the 35th minute. Then Terry was sent off, and Iniesta made it 2-0 on the night.
'On the bench we just kept on saying "We just need one goal, then the tide turns. Don't panic",' Newton says. 'Just before half-time Rammy [Ramires] picked up that through ball from Lamps and had that exquisite finish. When he chipped it, we just watched in amazement.
'So we were 2-1 down at half- time on the night and down to 10 men, but we had the away goal and at 2-2 on aggregate if we kept it like that we'd go through.
'Obviously you're gutted to be down to 10 men, and JT apologised at half-time, but the simple fact of the matter is you need to react to the situation, not dwell on how it happened.
'There was no time for the ins and outs of what had happened. Robbie was going to do his talk and I'm doing the one-to-ones around the dressing room.
'If any team can open up a team of 10 men then it's Barcelona. We haven't got time to think about anything except how to address that. We just let the emotions settle for a few minutes. Then it was all about rejigging the formation and personnel, and doing it quickly.
'Tactically the message for the second half was being nice and compact. Playing a 4-5 rather than a 4-4-1, with Didier breaking when he can. That was it for tactical information.
'Otherwise it was a rallying cry, driving the dressing room with the message "This is now a fight for each other. If someone slips up, pick him up. Stick together out there.
"What happens in the next 45 minutes is about collective effort. This isn't about individual heroes. It's about a team of heroes."
'This wasn't foolhardy sentiment – this was reminding these players that we had the experience to do this.
'In the second half they get that penalty, for Drogba on Fabregas in the box. My immediate thought was "We've got a chance here, it's only 50-50."
'Our goalkeeping coach had studied Lionel Messi's penalties and had let Petr Cech know that he tends to hit them to the 'keeper's left.
'Petr flickered to the right but actually moved to the left and Messi missed it. We were still in it.
'Then at the end, Torres, that summed up the whole game. He'd given the ball away and we were screaming at him to get it back. Ashley Cole got hold of it and passed it forward, and suddenly we're seeing Torres is free, away.
'We're all holding each other. He rounds the keeper. And time stood still.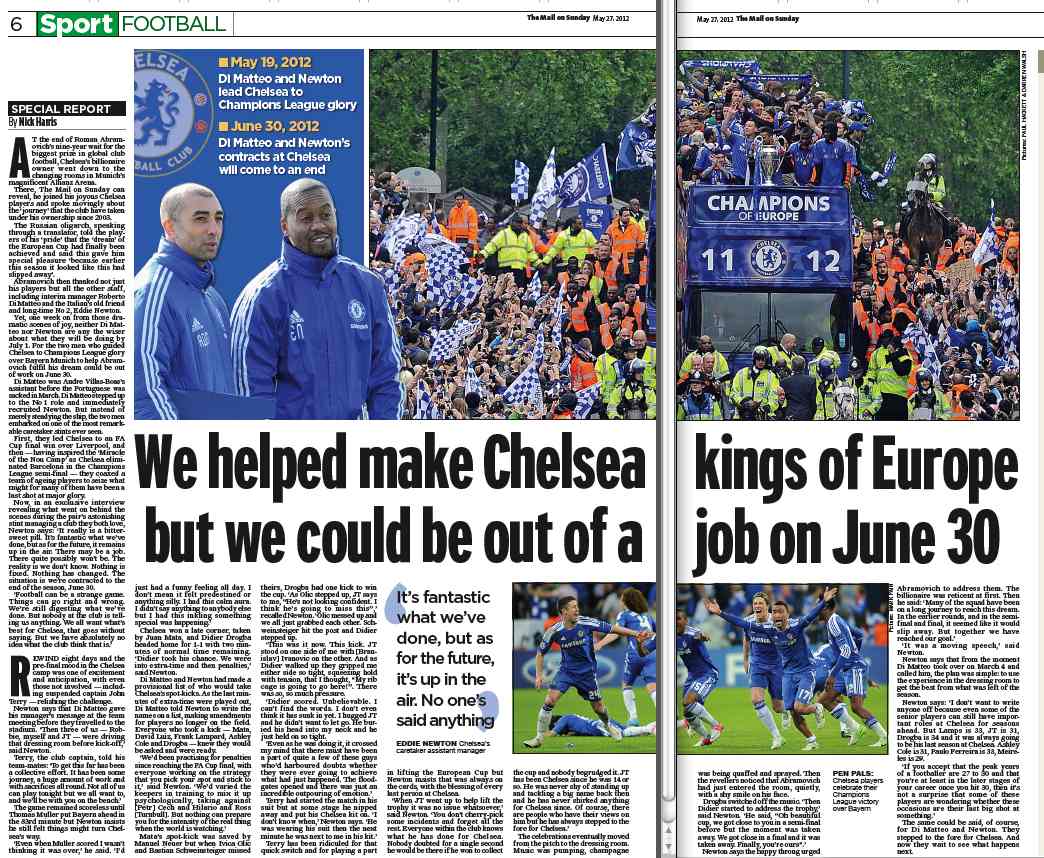 'The dressing room afterwards was quite weird to be honest. It was happy but sad because four members of that team – JT, Ramires, Meireles and Ivanovic – were going to miss the final.
'And we were consoling those players but also letting them know how important they were in getting us to the final, what massive roles they still had to play in the rest of the season, and how they could still be a positive presence in the Champions League.
'There was nothing more said about JT getting sent off. Nobody needed reminding what a fantastic servant he's been to the club. He'd apologized. It was enough. We'd got the result. We didn't need to spoil the night.'
By the end of the season, and the two finals – the FA Cup and in Munich – it was clear to Newton how much the team had united in the common cause, and been driven by the fear of leaving the last-chance saloon without silverware.
'The FA Cup celebrations told us a lot about what it meant and said a lot about the season,' he says.
'Some the boys have won the Cup four times, Ashley [Cole] has won it seven. But this was being celebrated like it was their first. It really still means so much to them to be winning trophies, but particularly after the season we'd had.
'Lamps said to me "This means more than my first one because I don't know how many more I'll be able to win".'
The pre-match mood in the Chelsea camp before last weekend's Champions League final against Bayern Munich was one of excitement and anticipation, with even those not involved – including suspended captain Terry – relishing the challenge.
Newton says that Di Matteo gave his manager's message at the team meeting before they travelled to the stadium.
'Then three of us – Robbie, myself and JT – were driving that dressing room before kick-off,' said Newton. Terry, the club captain, told his team-mates: 'To get this far has been a collective effort. It has been some journey, a huge amount of work and with sacrifices all round. Not all of us can play tonight but we all want to, and we'll be with you on the bench.'
The game remained scoreless until Thomas Muller put Bayern ahead in the 83rd minute but Newton insists he still felt things might turn Chelsea's way.
'Even when Muller scored I wasn't thinking it was over,' he said.
'I'd just had a funny feeling all day. I don't mean it felt predestined or anything silly. I had this calm aura. I didn't say anything to anybody else but I had this inkling something special was happening.'
Chelsea won a late corner, taken by Juan Mata, and Didier Drogba headed home for 1-1 with two minutes of normal time remaining.
'Didier took his chance. We were into extra-time and then penalties,' said Newton.
Di Matteo and Newton had made a provisional list of who would take Chelsea's spot-kicks.
As the last minutes of extra-time were played out, Di Matteo told Newton to write the names on a list, making amendments for players no longer on the field.
Everyone who took a kick – Mata, David Luiz, Frank Lampard, Ashley Cole and Drogba – knew they would be asked and were ready.
'We'd been practising for penalties since reaching the FA Cup final, with everyone working on the strategy that you pick your spot and stick to it,' said Newton.
'We'd varied the keepers in training to mix it up psychologically, taking against [Petr] Cech and Hilario and Ross [Turnbull]. But nothing can prepare you for the intensity of the real thing when the world is watching.' Mata's spot-kick was saved by Manuel Neuer but when Ivica Olic and Bastian Schweinsteiger missed theirs, Drogba had one kick to win the cup.
'As Olic stepped up, JT says to me, "He's not looking confident. I think he's going to miss this",' recalled Newton.
'Olic messed up and we all just grabbed each other. Schweinsteiger hit the post and Didier stepped up.
'This was it now. This kick. JT stood on one side of me with [Branislav] Ivanovic on the other. And as Didier walked up they gripped me either side so tight, squeezing hold with tension, that I thought, "My rib cage is going to go here!". There was so, so much pressure.' (Article continues below)
.

.
'Didier scored. Unbelievable. I can't find the words. I don't even think it has sunk in yet. I hugged JT and he didn't want to let go. He buried his head into my neck and he just held on so tight.
'Even as he was doing it, it crossed my mind that there must have been a part of quite a few of these guys who'd harboured doubts whether they were ever going to achieve what had just happened. The floodgates opened and there was just an incredible outpouring of emotion.'
Terry had started the match in his suit but at some stage he nipped away and put his Chelsea kit on.
'I don't know when,' Newton says. 'He was wearing his suit then the next minute he was next to me in his kit.'
Terry has been ridiculed for that quick switch and for playing a part in lifting the European Cup but Newton insists that was always on the cards, with the blessing of every last person at Chelsea.
'When JT went up to help lift the trophy it was no issue whatsoever,' said Newton.
'You don't cherry-pick some incidents and forget all the rest. Everyone within the club knows what he has done for Chelsea. Nobody doubted for a single second he would be there if he won to collect the cup and nobody begrudged it.
'JT has been Chelsea since he was 14 or so. He was never shy of standing up and tackling a big name back then and he has never shirked anything for Chelsea since. Of course, there are people who have their views on him but he has always stepped to the fore for Chelsea.'
The celebrations eventually moved from the pitch to the dressing room. Music was pumping, champagne was being quaffed and sprayed.
Then the revellers noticed that Abramovich had just entered the room, quietly, with a shy smile on his face. Drogba switched off the music.
'Then Didier started to address the trophy,' said Newton. 'He said, "Oh beautiful cup, we got close to you in a semi-final before but the moment was taken away. We got close in a final and it was taken away. Finally, you're ours".'
Newton says the happy throng urged Abramovich to address them.
The billionaire was reticent at first.
Then he said: 'Many of the squad have been on a long journey to reach this dream. In the earlier rounds, and in the semi-final and final, it seemed like it would slip away. But together we have reached our goal.'
'It was a moving speech,' said Newton.
Abramovich's gratitude hasn't stretched as far as an extended job offer, yet.
.
More stories mentioning Chelsea
World's BEST PAID sports teams
Follow SPORTINGINTELLIGENCE on Twitter
Sportingintelligence home page