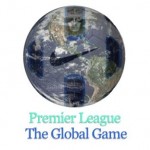 By Nick Harris
SJA Internet Sports Writer of the Year
5 December 2011
England's Premier League is, by far, the nation's most successful sporting export, watched live each week in more than 200 countries, and earning from foreign TV rights alone £1.437bn for the current three-year overseas deals (or £479m a year) as reported by sportingintelligence last year here and here.
But who exactly watches? And where? At home? In pubs or bars?
What channels carry the games? How much does it cost to subscribe? Why do foreign fans tune in?
Is is just popular in a few key markets, or can you really find PL fanatics in Tonga and Papua New Guinea and Gambia and Peru and all points in between?
Over the coming months, we aim to find out, inviting PL viewers from around world (from as many of the 200+ different countries as possible), to share details of a single game watched.
Elsewhere in this series, find out how the League is viewed in: KENYA and AZERBAIJAN and INDIA and SWEDEN and the CZECH REPUBLIC and SERBIA and AUSTRALIA and MONTENEGRO and ISRAEL and MALTA and the U.S.A and CANADA and PAKISTAN and CHINA and MALAYSIA AND THE U.A.E
Without further ado, here 's a view of what it's like to watch the Premier League in . . . . .
.
. India
.
.
*
Name: Vijay BG.
Age: 24.
Occupation: Software engineer.
Game watched: Chelsea 1 Liverpool 2. Date: 20 November 2011. Time: 9.30pm local time (4pm UK time). Although I will regularly watch multiple games every weekend.
Where: At home in Pondicherry. (At other times I'll watch in Madras / Hyderabad, where I work).
Who else was watching: I was alone.
TV channel carrying the game: ESPN STAR.
How much does it cost: Depends. The cable television rates are variable, while a common DTH connection costs Rs.250 per month, or around £3, although purchasing power is not taken into account, so the conversion is largely misleading.
What's the local tipple and how much does it cost: I do not drink. Erm, really.
What's the popularity of the English Premier League in the country where you live: Football is the second most popular sport in India, after cricket. But, it should be noted that cricket has a Google-esque dominance. Still, there are a lot of people who follow more than one sport. Cricket plus football / tennis / F1 / hockey, mostly. One can safely say football has a sizeable following. My estimate would be roughly 10 per cent of people.
Football is massively popular in West Bengal, the north-east, in Kerala and in Goa, where the combined populations would be somewhere around 180m people, plus in the cosmopolitan cities of Delhi, Bombay, Bangalore, Hyderabad, Madras and Calcutta, where Premier League is the new cool – a la rock music among the urban elite – and those areas add 80m more people.
You can get a taste of the East Bengal v Mohun Bagan match in the 120,000-capacity Salt Lake stadium in this short clip linked here, or the longer video below.
Apart from in those areas mentioned, football has a meagre following, at least till now. In my estimate, there could probably be around 100m football fans in India, out of a population of 1.2bn million.
.
East Bengal v Mohun Bagan derby, in the 120,000-capacity Salt Lake 

.
In football, the Premier League is undoubtedly the most popular league. Primarily the marketing, the conducive timing of matches and definitely ESPN STAR's good production values play a part.
Also, with India being an English-speaking country, the importance of Anglophilia and the colonial hangover can not be over-stressed. The UK is probably the second country after the United States where Indians emigrate to.
The most popular teams in India are Manchester United, Arsenal, Chelsea, Liverpool, in that order, but since football is catching up, that order could be prone to change. I really do not see any other Premier League team having anything that can be called 'a following' at the moment within India.
One must note that the way people support their team is not necessarily similar to how it is in the UK. That phrase 'glory hunter' comes to mind. Successful teams invariably attract more followers.
That said, people do mostly stick to a teams once they support it, so I guess fair play to them and more revealingly it is surprising and heartening to see a huge support for Arsenal despite their trophy drought. Liverpool, too.
I believe David Beckham's role in spreading the word of the Red Devils is largely forgotten. He was the star, who brought football into the mainstream, certainly into India and Asia. And it is also a reason why Manchester United have a heads-up advantage. He was the marketable face. Arsenal certainly could have done more with Thierry Henry, in this respect.
Any other observations: India has a football league. Apparently. In dire straits. Apparently.
All the big clubs are setting up soccer (yuck, at least Premier League clubs should avoid the term!) schools in India. But, I am not too sure about the potential impact. We will have to see.
India's sporting infrastructure is totally at odds with its Superpower ambitions. There is just no comparison with India's favourite rival, China, who happen to be the world's top sporting nation. Yet, India's shambles is an opportunity and a platform for outsider clubs like those from the Premier League, to tap into and train Indian talent. This would definitely be a better and more wholesome partnership between those clubs and India than just focussing on the 'market' of India and have all those absurdly overpriced jerseys unsold.
India has a lot of potential in the villages, than the mirage that is the metropolitan cities. Grassroots coaching is needed – and therein lies an opportunity. It is an important point because a lot of football is being targeted at the so-called elite for their consumption.
In my humble opinion, India need more La Masias than Wembleys.
The pricing of club merchandise should be looked at. The price puts off a lot of people, who might buy if the pricing was right.
If properly marketed and timed, there is no reason why La Liga or Serie A should not give the Premier League a run for their money.
It is not as if it is the best league in the world. Jokes apart, the point being that while the Premier League has given itself a head start, La Liga and Serie A are yet to realise their own 'potential' within India.
One other thing: Indian football, surprisingly, has deeper roots in India than cricket. Both Mohun Bagan and East Bengal are about a century old. And football historically has had a decent following in India. Critics of cricket consider football to be the real sport, whereas cricket is considered a lazy man's game and a great waste of time.
There are two reasons I believe football took the back seat. During India's independence, hockey was the only sport where India were world beaters, with multiple Olympic Champions. Dhyan Chand is considered among the greatest hockey players ever, and his birthday is marked in India as the National Sports Day. And hence hockey was made the national sport at that time and hockey became a source of national pride from then on.
Later, in 1983, in the cricket World Cup final at Lord's, came the most unexpected victory when India beat the mighty West Indians. That was an epochal moment in Indian sport. And it nicely coincided with the time that the middle-class Indian households started buying television sets en masse. And from then on, cricket became the unofficial national sport – or even the national pastime. It wasn't always thus.
In football, Indians have long followed World Cups, even if only World Cups. And I mean a large amount of people who don't follow football, either the European leagues or the Indian league, for that matter. It's why you can find people reminiscing about Pele, Maradona, the Great West Germany teams, the drama-filled Italia90, etcetera.
———————————
This feature will be updated on a regular basis. Sportingintelligence invites readers who watch the Premier League overseas to send your own experiences to submissions@sportingintelligence.com, answering the questions posed above, and including a JPEG of yourself. We cannot guarantee to use all submissions (although if we've not had one from your country it's almost certain we will) and we'll be appealing via Twitter from time to time for viewers from specific nations.
.