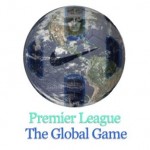 By Nick Harris
SJA Internet Sports Writer of the Year
11 November 2011
England's Premier League is, by far, the nation's most successful sporting export, watched live each week in more than 200 countries, and earning from foreign TV rights alone £1.437bn for the current three-year overseas deals (or £479m a year) as reported by sportingintelligence last year here and here.
But who exactly watches? And where? At home? In pubs or bars?
What channels carry the games? How much does it cost to subscribe? Why do foreign fans tune in?
Is is just popular in a few key markets, or can you really find PL fanatics in Tonga and Papua New Guinea and Gambia and Peru and all points in between? Find out what we've discovered so far (A-Z of nations, and listed by continent).
Over the coming months, we aim to find out, inviting PL viewers from around world (from as many of the 200+ different countries as possible), to share details of a single game watched.
Elsewhere in this series, find out how the League is viewed in:
KENYA and AZERBAIJAN and INDIA and SWEDEN and the CZECH REPUBLIC and SERBIA and AUSTRALIA and MONTENEGRO and ISRAEL and MALTA and the U.S.A and CANADA and PAKISTAN and CHINA and MALAYSIA.
Without further ado, here 's a view of what it's like to watch the Premier League in . . . . .
.
.United Arab Emirates
.
*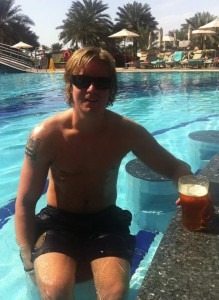 Name: Chris Doughty.
Age: 28.
Occupation: Business development manager.
Game watched: Tottenham Hotspur v QPR. Date: 30 Oct 2011. Time: 20:00 local time. (16:00 UK).
Where: My front room, Arabian Ranches, Dubai.
Who else was watching: My dad, who was over on business.
Which team do you support and why?: Tottenham. I'm an expat.
TV Channel carrying the game: Abu Dhabi Sports 5.
How much does it cost: I've got my home subscription to Abu Dhabi Sports in two different ways for two rooms. The first is a set-top box that carries AD Sports 1 to 9 plus a few limited other channels (all in HD) – this was for a one-off yearly payment of £200. The other method is to add it to my home cable package, the AD Sports package is only £5 a month on top of your basic subscription (again, all in HD).
What's the local tipple and how much does it cost: Being in a Muslim state, obviously no local brews, but across Dubai in the various bars and pubs you can get pretty much any beer you like from around the world from Carling (UK) to VB (Australia) to Warsteiner (Germany).
The average price of a pint in Dubai is around AED 36 (U.A.E dirhams), which equates to around £6, so it's pretty expensive. During games most places tend to either have 'happy hours', or some other form of drinks promotion, but still not massive savings to be made to be honest.
All bars show the football, and on Saturdays you're able to walk into a bar with seven TVs showing all the different Premier League games simultaneously, and all with English commentary and pundits at half-time and full-time (obviously all broadcast from the UK).
You also have the added bonus of seeing all the goals from all the other games going on both at half-time, and full-time.  If watching at home it's ideal as you can flick between games as the day develops (or if you find a game boring!).
What's the popularity of the English Premier League in the country where you live: Having been here for 10 weeks now, I would have to say that the Premier League is by far and away the most popular in the UAE, certainly from a TV perspective, and also from a bar's perspective. For a game like Manchester United v Liverpool, bars and pubs will be fairly full. Most Premier League teams have a certain 'home' pub here, and Spurs have one.
La Liga and Serie A are shown on the Al Jazeera network, along with Champions League, Europa league, Carling Cup, internationals, and also some Championship games.
Any other observations: With Spurs playing mostly on Sundays these days due to Europa League games on Thursdays, I tend to spend Saturday parked up on the couch, TV on, laptop on my knees, keeping updated with scores in the UK, keeping an eye on how Hartlepool United (my home town club) are getting on.
Every single Premier League game over the entire season is shown live here, all in HD, all with English commentary and pundits, plus repeats 24/7 repeats, highlights shows, preview shows, live fan discussion shows and everything else you could ever want.
That's maybe too much football according to the Mrs!
———————————
This feature will be updated on a regular basis. Sportingintelligence invites readers who watch the Premier League overseas to send your own experiences to submissions@sportingintelligence.com, answering the questions posed above, and including a JPEG of yourself. We cannot guarantee to use all submissions (although if we've not had one from your country it's almost certain we will) and we'll be appealing via Twitter from time to time for viewers from specific nations.
.