By Brian Sears
11 November 2011
The Premier League will be celebrating a milestone in the coming weeks when the 20,000th goal in the competition's history is scored.
In the 19 completed seasons plus this season, there have been 19,849 goals in 7,575 games, which gives us an average of 2.62 goals per game.
So when exactly will the 20,000th goal be scored?
We can never be precise about these things because there are still 151 goals needed to reach the target.
But let's have a stab that it will happen at about 8pm (ish) on Wednesday 21 December. Give or take a few minutes.
It will almost certainly happen in the week running up to Christmas.
Why? Because if the average number of goals in Premier League history is maintained (2.62 per game) then we'll need 58 more games, and that means it will happen during one of seven matches scheduled for Wednesday 21 December. (See the fixtures on the BBC website here).
And if this season's remarkably high average of three goals per game is maintained, then it will take just more than 50 matches, so it could happen on Tuesday 20 December. Or, given an added glut, on the weekend of Saturday-Sunday 17-18 December.
We shall see, but the 20,000th goal is nigh, and by freaky coincidence the 10,000th goal (by Tottenham's Les Ferdinand against Fulham) and the 15,000th goal (by Fulham's Moritz Volz against Chelsea) both happened in a similar week in December, respectively on 15 December 2001 and on 20 December 2006.
If Fulham are to be involved again, then the 20,000th goal might well be scored in their game with Manchester United on Wednesday 21 December. About 8pm, ish, as we said. (Please donate any betting winnings to a charity of your choice, and no, don't mention it).
CITY LEADING THE GOAL RUSH THIS SEASON
Overall in the calendar year of 2011, some 880 goals have been scored in 299 games played giving an average of 2.94 goals per game.
And scoring this season, as we've mentioned, is running at three goals per game on average, or 326 goals in 109 games, which is on course to beat last season's record of 1,063 goals in a 380-game season, or  2.797 goals per game.
One of the quirks of this high scoring season is that the norms of scorelines have gone out the window.
As this table shows, the most frequent traditional score of 1-0 (in 18.6 per cent of Premier League games before this season) is only the fourth most common score this season, while 3-1 has been the most common so far in 2011-12.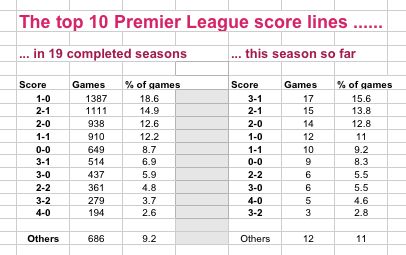 .
Only Sunderland and West Brom have not been involved in a 3-1 match this season. Thanks for asking.
And four clubs have managed as many as three 3-1s each.
For those intrigued by the division of the Premier League's all-time goal tally, the table below details a team-by-team guide to the 19,849 goals so far.
Manchester United are comfortably ensconced in the No1 spot with 1,480 goals in 745 games for 1.99 goals per game on average, well clear of Arsenal in second place (1.74 goals per game), in turn clear of Chelsea, in turn clear of Liverpool, in turn clear of Tottenham.
And by 'clear', I mean those gaps will not be bridged at any time in the current season.
Newcastle's record is worth noting: they've score five more goals than Aston Villa – in 80 fewer matches!
.
More on Man Utd / Man City /Arsenal / Liverpool / Chelsea (or search for anything else in box at top right)
Sportingintelligence home page
.