By Brian Sears
13 October 2011
We can argue until the cows come home about the biggest rivalries and the biggest clubs in English football but there's not a lot to argue about really.
Two clubs have been dominant in winning the English title (19-18 is the current score with the rest also-rans) and they meet this weekend at Anfield when Liverpool (the 18) host Manchester United (who turned 19 earlier this year).
In a week in which the Premier League have said there are 1.46bn people around the world interested in their matches, and apparently more than 600 million of those people calling themselves 'fans' of Premier League clubs, Liverpool voiced the view they should be able to sell their own overseas TV rights.
The logic is that they – and fellow 'big' clubs like United – are the ones who draw the TV crowds. And such logic is unarguably attractive.
But my colleague Nick Harris assures me that there is more chance of Pippa Middleton agreeing to a naked Playboy centerfold photo-shoot together with her sister Kate, and with Her Majesty the Queen taking the pictures, than there is of Liverpool selling their own live rights at any point in the foreseeable future.
Which is good enough reason for me to forget any theoretical debate about future broadcasting (or future issues of Playboy).
Let's focus instead on what the statistics tell us about the history of this weekend's stand-out Premier League game.
There was a time, of course, when Liverpool were a very successful team indeed, often winning the title and rarely losing. (Bear with me, please, younger readers, this really is true).
In fact there was a decade – known as the 1970s – when Liverpool were if not quite invincible, then extremely hard to beat. In fact, in the whole of that decade, guess how many league games lost at Anfield in total – in 10 whole seasons?
If you're into double digits, you're wrong.
The answer is seven. Seven! Seven defeats at home in a decade. And here is that statistic within the context of recent decades.
Liverpool's league defeats by decade at Anfield:
1950s: 38
1960s: 27
1970s: 7
1980s: 23
1990s: 33
Since 2000: 23
In the Premier League era (since the start of the 1992-93 season), Liverpool have played 370 games at Anfield, winning 232 times, drawing 87 and losing 51.
And it will be of no comfort to fans this weekend to know that nine of those 51 defeats have been to Saturday's visitors, Manchester United, who have by far and away the best record at Anfield in the era.
Another 24 clubs have managed at least one win there (see table below for full details) but after United, the most wins for a single club has been four: by Arsenal, Aston Villa and Chelsea.
Barnsley and Blackpool (from one visit each) are the only sides with a 100 per cent record there.
Eight current Premier League clubs have yet to win there: Bolton, Sunderland, Fulham, Wigan, West Brom, QPR, Stoke and Swansea.
For those Liverpool fans who prefer their stats recollections involving United to be halcyon, the 1970s is definitely the decade for you. United didn't win at Anfield that decade.
Liverpool didn't lose at home to anyone at all in 1970-71, lost only once in each of the next three seasons, twice in each of 1974-75 and 1975-76 and not again until 1980-81.
Three of the 1970s defeats were to Arsenal and one apiece to Leeds, Burnley, Norwich and Middlesbrough.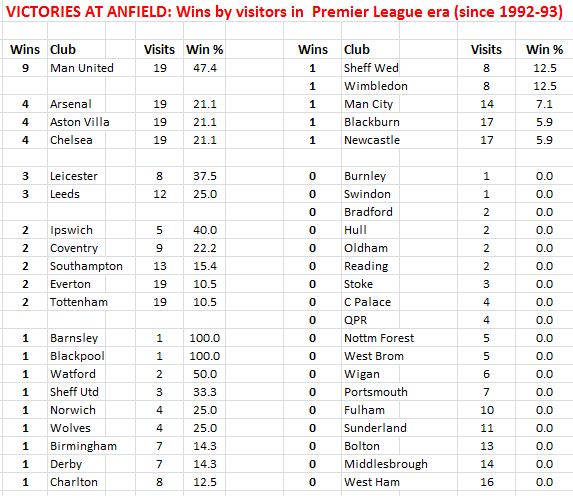 .
And another thing …
Four clubs have negotiated their first seven Premier League games of this season but a seven-game unbeaten start is only a record for one of them: Manchester City.
Prior to this Premier League season, City had never gone more than five games unbeaten at the start of campaign (the first five unbeaten in 2005-06 was their record).
The three other unbeaten clubs so far are Manchester United, Newcastle and Aston Villa.
United's best unbeaten run in the PL was last season, when they started with 24 games without a defeat. That was their first unbeaten start in double figures although they went nine games unbeaten at the start of the 1996-97 season, and again in 1999-2000.
Newcastle's best start was in 1994-95, when they began with an 11-game unbeaten run. Otherwise they've never gone more than four before this season.
Villa's longest unbeaten start was 12 games in 1998-99. Otherwise they went seven games unbeaten in 2001-02.
Away from the Premier League, three clubs remain unbeaten across the three divisions of the Football League: Middlesbrough in the Championship (after 10 games), and Charlton and Huddersfield in League One (12 games each).
Huddersfield's unbeaten stretch in league matches actually goes back 37 games through the whole of this calendar year and beyond. Their last league defeat was 1-4 at Southampton on 28 December 2010.
(Crucially, Huddersfield lost in the play-off final to Peterborough in May, but that unbeaten run in 'regular' league games is noteworthy. The longest unbeaten run in the whole of English football league history was Arsenal's 'Invincibles' run of 49 matches from 7 May 2003 to 24 October 2004. Huddersfield need a dozen games without defeat to match it, and 13 to top it.)
.
Sportingintelligence home page
More on Man Utd / Liverpool / Man City / Arsenal / Chelsea (or search for anything else in box at top right)