By Nick Harris
6 March 2011
The potentially lethal danger of 10m platform diving was brought into sharp focus last weekend when Monique Gladding, a British medal hope for the London Olympics of 2012, was involved in a horrifying accident that almost cost the 29-year-old her life.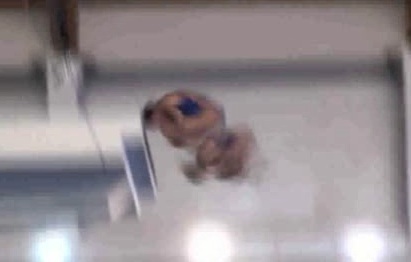 Diving in the synchro event at a World Cup meeting in Penza in Russia, 350 miles south-east of Moscow, she smashed her head into the concrete board moments after she began her third dive of the morning. The moment of impact is pictured left.
Gladding immediately lost consciousness and her limp body fell to the pool and sank to the bottom. Her husband Steve – also her coach – as well as fellow British diver Nick Robinson-Baker, dived in to save her.
With no sign of life as Monique was dragged from the pool, Steve Gladding believed for a few dreadful minutes that Monique had been killed.
But she started to breath again when out of the water and was rushed to hospital were a 'scalping' wound in her head was stitched and she underwent brain and CT scans.
Gladding was kept in hospital until midweek, and the couple were back home in Sheffield by Thursday.
I spoke to them on Friday afternoon, and a longer feature on the accident for the Mail on Sunday is linked her; VIDEO footage of the dive and the rescue is also available at the same link. The video has been edited to remove the most distressing moments of blood loss.
(NB: Some Mac users will need to use a WMV converter if you haven't already got one but the film should be viewable on most platforms).
Steve told me on Friday evening: 'For some inexplicable, freak reason, Monique took off incorrectly and that led to her hitting her head and being knocked unconscious.
'She hit the water and sank to the bottom of the pool. Nick dived in, and we pulled her from the pool but she was completely unresponsive. I didn't know if she was breathing. We couldn't find a pulse.
'To be honest I thought we'd lost her, thought she could be dead. I just removed myself to let the medics work on her and walked away, and for about four minutes I was standing there having a meltdown, believing she was gone. It was horrendous.
'I didn't have a clue whether she was with us or not, but as soon as they made it clear she was alive, I went to hold her head and help with the recovery. Thank God we had such brilliant support staff around us.
'Monique clipped the top of her head against the board, which pulled the skin off the top of her head. I didn't perceive a lot of blood at the time, but she lost half a litre.
'In some ways it's fortunate it was the top of the head. If she'd smacked her forehead then I don't think we'd be talking about Monique still being here.'
Monique recalled: 'The last thing I remembered was looking at the scoreboard and seeing us in the silver medal position ahead of our third dive.
'Since the accident I've got a hazy recollection that I felt slightly off-balance just as we began the dive, but I recall thinking "You're in competition, you have to go".
'And that was it. The next thing I remember was Lucy, the physio, giving me oxygen, though I still don't know if that was poolside or in the ambulance. I've got flash images in my mind of people, and places, but it's sketchy. I didn't really start to properly come round until I was in surgery being stitched.'
The Gladdings flew out to South Africa on Saturday to visit family and friends, and begin Monique's recovery in earnest.
The full article at the MoS website is here.
You can follow Monique's recovery and journey towards London 2012 at her Twitter feed here.
.