By Brian Sears
16 August 2012
In the 20 years of the Premier League, Arsenal have played 386 home league games and lost just 48 of them.
Seven clubs in the current Premier League have never won in the PL era at Arsenal, and the first visitors of this season, Sunderland, are among them.
They are in good company. Manchester City have tried to win at Arsenal 15 times in the PL era without success (amassing just 4 draws).
Southampton have not won in 13 visits (4 draws), Sunderland in 11 visits (3 draws) or Fulham in 11 visits (3 draws).
Stoke (four visits), Reading (2) and Swansea (1) complete the seven, without even a draw between those three.
The table below details every Arsenal home league defeat of the past 20 years, listed by clubs who inflicted those defeats. Liverpool and Manchester United lead the way with six each.
Sunderland have just 37 away wins to their credit from 11 seasons of Premier League football. As well as zero wins Arsenal, they have not won a Premier League game at Liverpool in 11 Premier League attempts (6 draws), at Man Utd in 11 attempts (2 draws), at Man City in eight attempts (1 draw) or at Reading, Swansea and Norwich, all after just one visit.
Article continues below
.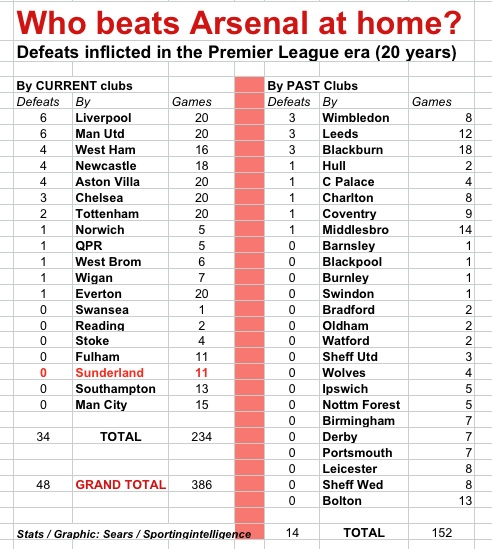 .
And another thing …
The rise of Reading, Southampton and West Ham to Premier League status makes it 62 sides who have gained promotion in the Premier League era.
The current three will be encouraged that their immediate predecessors – Norwich, QPR and Swansea – all retained their top-flight status. The only other time aside from last season that all three staved off relegation was when Blackburn, Fulham and Bolton did it in 2001-02.
They will also be encouraged by the number of seasons of Premier League football they have already experienced: West Ham (16 seasons), Southampton (13) and Reading (2) have 31 seasons of experience between them at this level.
But. There's always a but.
This week sees Reading at home to Stoke, Southampton at Man City and West Ham at home to Aston Villa – and they will be testing first-day encounters. The statistical history is daunting.
Of the 59 sides that have played their first game after promotion to the Premier League, just 12 of them have started off with a win, 15 have drawn and 32 have gone down to first-day defeats.
Reading and West Ham will be cheered that both their clubs figure in that list of 12 winners and Southampton will point out that this is their first chance to win after promotion.
Those 12 first-day winners after promotion:
2010 Wigan 0 Blackpool  4
2008 Hull  2  Fulham  1
2007 Sunderland  1  Tottenham  0
2006 Reading  3  Middlesbro  2
2005 West Ham  3  Blackburn  1
2003 Portsmouth  2  Aston Villa  1
2001 Leicester  0  Bolton  5
2000 Charlton  4  Man City  0
1999 Middlesbro  0 Bradford  1
1997 Southampton  0   Bolton  1; Everton  1  C Palace  2
1994 Ipswich 0  Nottm Forest  1
.
Strangely. sides going up as champions of the Championship and sides going up through the play-offs have gained five of those wins each but Championship runners-up have only gained two wins from the 19 attempts. (In August 1995, only two sides were promoted, Middlesbrough as champions and Bolton by way of the play-offs to reduce the size of the Premier League.)
Southampton's challenge at Man City is that as well as taking on the champions, the last runners-up side to win its opening match was in August 1999 when Bradford won 1-0 away at Middlesbrough.
.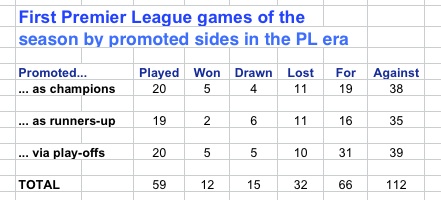 .
More on Arsenal / Liverpool / Chelsea / Man Utd / Man City (or search for anything else in box at top right)
Follow SPORTINGINTELLIGENCE on Twitter
Sportingintelligence home page