By Brian Sears
11 May 2013
Chelsea's 2-1 win against Aston Villa on Saturday, which established Frank Lampard as Chelsea's all-time leading goalscorer, took the Premier League's total goals tally for the season to 999 goals – but a new scoring record that seemed probable earlier in the season looks unattainable now.
Last season, the Premier League saw a record 1,066 goals in 380 games at a rate of 2.81 goals per game.
With 999 goals in 361 games so far this season, the comparable rate is 2.77 goals per game now, and barring an unlikely flood of scoring the battle to surpass 1,066 will be in vain.
It will require 3.58 goals per game to beat the record, which is asking a lot when scoring has dried up overall in recent months.
As the first graphic below shows, more than three goals per game were being scored in October and December, and almost as many in other months until March. But a rise in low-scoring and goalless games as the fight for points at both ends of the table has become more and more tense has put paid to that.
Manchester United, champions of England for a 20th time and 13 times in the PL era, can shoulder no blame for the lack of goals, having scored 79 in 36 matches. They are the only club to score more than two per game on average.
Chelsea, Liverpool and Arsenal and next most prolific while QPR, Stoke and Norwich have been the poorest at finding the net.
Article continues below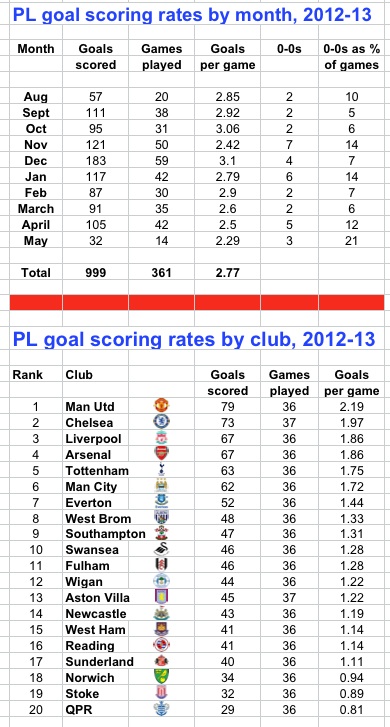 And another thing …
David Moyes will take managerial charge of Everton at Goodison Park for the final time on Sunday – and will welcome West Ham in the historical knowledge that the Hammers have provided the Toffees with more Premier League points than any other of the clubs encountered.
Everton have played West Ham 33 times in the Premier League, winning 17 games, drawing 10 and losing just six, for a total of 61 points, and with twice as many goals (60) as West Ham have scored (30) in those games combined.
Everton need just one win from their last two games to make sure of sixth place and keep themselves above Liverpool. As their season ends at Stamford Bridge perhaps Everton would do well to strike the Hammers this weekend while the iron's hot.
Everton's full record in the Premier League, opponent by opponent, is in the graphic below.
.
More on Man Utd / Arsenal (or search for anything else in box at top right)
Follow SPORTINGINTELLIGENCE on Twitter
.